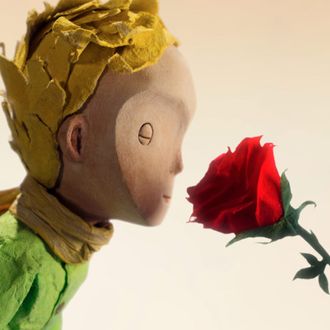 Magnifique!
Photo: Netflix
At the beginning of (and during) every month, Netflix adds new movies and TV shows to its library. We figure you might want to know about them. For more comprehensive coverage of the best titles available on Netflix and elsewhere, check out Vulture's What to Stream Now hub, which is updated throughout the month.
Pedal to the metal: The Fast and the Furious (2001), The Fast and the Furious: Tokyo Drift (2006)
If this summer's slate of blockbusters is letting you down, fear not: Netflix is getting the first and third installments of Hollywood's biggest-hearted gearhead franchise. Tokyo Drift, the first installment directed by Justin Lin (who most recently piloted Star Trek), is the most divisive entry in the Furious canon, as it deserts Paul Walker and Vin Diesel for a trip to Japan's racing scene. But who cares about characters when you have cars? Cars go fast and make cool noises. Cars crash into things in splendid displays of churning metallic beauty. Cars are cool, see, and so are these movies. Available August 1.
Pre, pre-McConaissance: The Wedding Planner (2001)
Imagine, for a moment, a world where Matthew McConaughey hasn't been nominated for an Oscar. He's wasn't the lead on a prestige TV show. He wasn't even in the career dip before either of those moments in his career. This is a world before How to Lose a Guy in 10 Days, before Ghosts of Girlfriends Past, before Fool's Gold. This, my friends, is the world of The Wedding Planner. And you know what? It's just alright (alright, alright). Available August 1.
The Tao of fjords: Slow TV
Starting with the seven-and-a-half-hour-long broadcast of a train trip from Bergen to Oslo in 2009, Norway's public service network NRK has pioneered the concept of Slow TV, the no-edits broadcast of mundane activities, such as knitting, boat travel, or chopping firewood. The programs have become immensely popular in Norway, and achieved cult status elsewhere, partially because of their novelty, partially because they present a stark alternative to other forms of TV, which inserts hooks to keep viewers stuck to the screen. Slow TV asks nothing of you, not even your attention. So just choose a Norwegian journey, and drift away. Available August 5.
Ooh la la: The Little Prince (2016)
In March, Paramount dropped this animated adaptation of Antoine de Saint-Exupéry's The Little Prince from its release schedule, with little fanfare or explanation. Luckily, Netflix came to the rescue, and the tiny royal found a home on streaming. The film won over several critics at Cannes, boasts direction from Kung Fu Panda's Mark Osborne, and has a très charmant voice cast that includes Rachel McAdams, Jeff Bridges, and Marion Cotillard. Available August 5.
What's the most you ever lost in a coin toss? No Country for Old Men (2007)
The Coen Brothers' adaptation of Cormac McCarthy's bleak-as-heck novel helped the filmmakers secure their place among the greats and earned major Academy recognition, even if it'll be forever known as "the one with the coin tosses, not the one with the milkshakes." All it took was one truly terrible haircut. Available August 11.
Hit it: The Get Down (Part 1)
Baz Luhrmann's look at a group of kids coming up in the Bronx in 1977 is Netflix's most expensive series yet, and you'll see the money onscreen: The first six episodes of The Get Down look to include some big musical numbers, swooping shots of period sets, and even a few lessons from a young Grandmaster Flash. Of course, that all depends on whether Luhrmann's maximalist style matches your taste. Did you like Moulin Rouge!? What about the crazy "Roxanne" tango in Moulin Rouge!? (If your answer was "wait, that's the best part!" this is definitely the show for you.) Available August 12.
That's amour: Blue Is the Warmest Color (2013)
Abdellatif Kechiche's French lesbian love story has been a lightning rod for controversy ever since it first premiered at Cannes. Critics complained of the voyeuristic sex scenes, alongside Julie Maroh, the author of the graphic novel the film was based on, and eventually, the leads, Adèle Exarchopoulos and Léa Seydoux, spoke out against the "horrible" conditions on set. And yet, the film itself is a marvel — a slow-burning love story that, thanks to those performances, sustains a depth and intensity of passion. Available August 26.
TELEVISION
August 1
Masha and the Bear (Season 2)
NCIS (Season 13)
Roseanne Collection (Collection 3)
August 3
Beat Bugs (Season 1)
August 5
Ever After High: Epic Winter
Slow TV: National Firewood Evening
Slow TV: National Firewood Morning 
Slow TV: National Firewood Night
Slow TV: National Knitting Evening
Slow TV: National Knitting Morning
Slow TV: National Knitting Night
Slow TV: Northern Passage
Slow TV: Northern Railway
Slow TV: Salmon Fishing
Slow TV: The Telemark Canal
Slow TV: Train Ride Bergen to Oslo
August 9
Real Husbands of Hollywood (Season 4)
August 12
Ask the StoryBots (Season 1)
The Get Down (Part 1)
Project Mc² (Season 2)
August 19
Bottersnikes and Gumbles (Season 1)
Fearless (Season 1)
August 22
Law & Order: Special Victims Unit (Season 17)
August 26
Dawn of the Croods (Season 2)
Glitter Force (Season 2)
Once Upon a Time (Season 5)
August 31
Ku'damm 56 (Season 1)
MOVIES
August 1
The American Side (2016)
An Inconvenient Truth (2006)
APEX: The Story of the Hypercar (2016)
Beethoven's Christmas Adventure (2011)
Big Daddy (1999)
Black Widow (1987)
Critical Condition (1987)
Deadfall (2012)
Destination: T​eam USA (2016)
Funny or Die Presents: Donald Trump's The Art of the Deal: The Movie ​(2016)
The Family Man (2000)
The Fast and the Furious (2001)
The Fast and the Furious: Tokyo Drift (2006)
Final Destination 3 (2006)
From the Terrace (1960)
Holding the Man (2015)
How to Win the U.S. Presidency (2016)
In the Shadow of the Moon (2007)
ISIS: Women Unveiled (2016)
Memoria (2015)
The Naked Prey (1966)
Pay It Forward (2000)
The Real Texas Chainsaw Massacre (2003)
Sleepy Hollow (1999)
Sliding Doors (1998)
Star Trek: Nemesis (2002)
Teacher's Pet (1958)
The Verdict (1982)
The Wedding Planner (2001)
What Women Want (2000)
Young@Heart (2007)
Zack and Miri Make a Porno (2008)
August 5
David Cross: Making America Great Again (2016)
The Little Prince (2016)
Punk's Dead: SLC Punk 2 (2016)
August 6
The Confirmation (2016)
August 9
T­-Rex (2015)
August 10
St. Vincent (2014)
August 11
Flight of the Butterflies (2012)
No Country for Old Men (2007)
August 13
13 Cameras (2016)
August 15
Louis C.K.: Live at the Comedy Store (2015)
August 16
Let's Go to Prison (2006)
Our Last Tango (2015)
August 17
The Curse of Sleeping Beauty (2016)
The Last Heist (2016)
Puffin Rock (Season 2)
August 19
I'll Sleep When I'm Dead (2016)
August 21
Maz Jobrani: I'm Not a Terrorist, But I've Played One on TV (2015)
August 23
Septembers of Shiraz (2015)
August 25
The Road (2009)
August 26
Blue Is the Warmest Color (2013)
Jeff Foxworthy and Larry the Cable Guy: We've Been Thinking … (2016)
XOXO (2016)
August 27
Rams (2015)
August 29
The State of Marriage (2015)
For more details on the best film and television available online, consult Vulture's What to Stream Now hub.