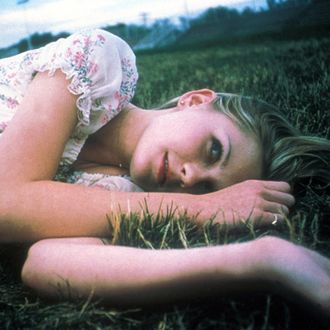 Photo: Paramount Classics
At the beginning of (and during) every month, Showtime adds new movies and TV shows to its library. We figure you might want to know about them. For more comprehensive coverage of the best titles available on Showtime and elsewhere, check out Vulture's What to Stream Now hub, which is updated throughout the month.
Pew pew pew: Black Hawk Down (2001)
Ridley Scott's based-on-a-true-story war film follows a group of American Rangers and Delta Force soldiers who touch down in Somalia on a mission to capture the country's most violent warlord. The brutal battle that ensues between the team and the Somalis is not for the faint of heart. Available August 1.
Coppolamania: The Virgin Suicides (1999)
If you thought your coming-of-age experience was bleak, look no further than The Virgin Suicides to convince you otherwise. The Sofia Coppola–directed drama finds five teenager sisters in 1970s Michigan forced to go under house arrest by their parents after the youngest attempts to commit suicide, which then spurs a very, very depressing chain of events. Available August 1.
Shaken, not stirred: Casino Royale (2006)
Let's take a moment to contemplate a time when Daniel Craig wasn't hating on the James Bond franchise, shall we? Craig's strong debut as the suave MI6 agent finds him forced to play a high-stakes poker match against the villainous Le Chiffre to thwart his organization's terrorism ties. From there things naturally get positively out of control. Available August 12.
MOVIES
Black Hawk Down (August 1)
The Hills Have Eyes (August 1)
The Virgin Suicides (August 1)
Jane Wants a Boyfriend (August 9)
Street Dance Family (August 9)
Casino Royale (August 12)
Rocky Balboa (August 12)
Godfrey: Regular Black (August 12)
The Gift (August 13)
For more details on the best film and television available online, consult Vulture's What to Stream Now hub.