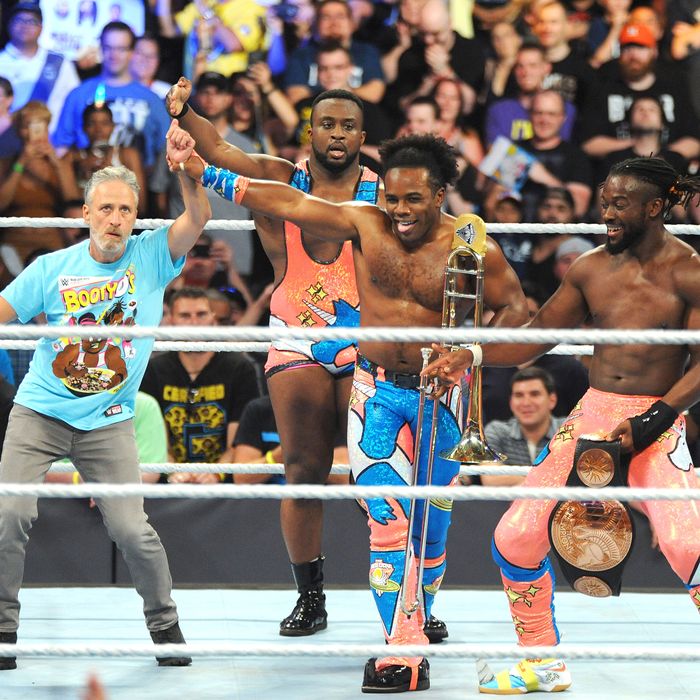 Photo: Mediapunch/Shutterstock
As John Cena roasted the sports world at the ESPY Awards this week, many of you may have been wondering, "What's the guy from Trainwreck doing hosting the ESPYS?" or "How did Jon Hamm get snubbed again?" or "What are the ESPYS?" Pro wrestling is having another moment, thanks to the groundwork laid by the Attitude Era of the late '90s and the Golden Age of the late '80s. Only this time, it seems like comedians are lead supporters of the movement. Comedy and wrestling have always been tag team partners, dating back to Andy Kaufman & Jerry "The King" Lawler's bizarre Letterman appearance in 1982. Twenty-three years later in 2015, Jon Stewart came out of Daily Show retirement to host WWE Summerslam. Current comedians/wrestling fans include Stewart, the Lucas Brothers, Dan St. Germain, Chris Gethard, Ron Funches, Gillian Jacobs, Dan Black, Mike Lawrence, Jermaine Fowler, Jensen Karp, Matt McCarthy, the late Patrice O'Neal (Karp, McCarthy & O'Neal used to write for WWE), Sean O'Connor, Danielle Radford, Dan Soder, Vince Averill, Tom Sibley, and the list goes on. There are several wrestling podcasts hosted by comedians, a handful of omnipresent John Cena memes, and the best fake brand account on Twitter, @WWESubway. This trend begs the question: why do so many comedians love pro wrestling?
Live Performance
There are obvious parallels between the mic jockeys of sports entertainment and standup comedy. As comic Matt McCarthy, a former WWE writer and now co-host (along with Tom Sibley and Vince Averil) of the We Watch Wrestling podcast, articulated, "essentially both are about a man alone seeking justice, presented in the most amusing way possible." All of the pageantry happens in front of a participatory audience, and since it's live, the unexpected can happen.
Check out this "routine" by up and coming WWE superstar Enzo Amore:
Like any good standup, Amore has the audience in the palm of his hands – down to repeating his many catchphrases. While looking like the Jersey Shore's Tarzan certainly helps hold an audience's attention, don't discount the hours spent putting up this "set" at untelevised "open mics" before bringing it to the live TV stage. Dan Black, host of UCB's Comedians of Wrestling podcast, feels a kinship with these performers:
You perform in basements for the love of the art, believing in yourself until you're not the only one who sees how great you are. Plus, succeeding in wrestling and comedy requires to you win over a crowd through your presence and personality, which fascinates me more than athletic ability. The rise of The Rock, CM Punk and Daniel Bryan should be in psychology textbooks, or sociology, I don't know the difference.
As a babyface, Enzo's job is to get the crowd behind him and his partner as heroes to root for. On the other hand, the heel's job is to give the crowd a villain to root against. Great heels like Ric Flair, Chris Jericho, and the late Rowdy Roddy Piper insult their opponents and the local sports team just to elicit heat from the crowd. While most comedians try to win the crowd over as a babyface, it would be a relief to play the heel and tell a rough audience off, Bill Burr-style. Sean O'Connor (Late Late Show with James Corden) relates to both roles:
Ultimately, I feel like one of the reasons that pro wrestling appeals to comedians is it's usually a battle between good vs. evil, and the evil guy is usually super cocky and confident, which directly opposes the self-deprecating way of the comedian. That being said, I much prefer the bad guy as he's usually closer to who I am as a person, I'm very annoying.
Noted spandex enthusiast Dan St. Germain (Not Safe with Nikki Glaser) also envies his oily brethren:
Wrestlers get to tell the crowd how much they hate a guy without having to make it funny… We're performers, and every performer secretly wants to wear a fancy costume and enter to custom music no matter what the situation is. Imagine entering a Starbucks. Now imagine entering a Starbucks and 'Enter Sandman' starts playing. Most badass way to eat a pumpkin scone ever.
Take note, comedy nerds: you can be badass while eating a pumpkin scone, even in a speedo.
Unintentional Comedy
Like any good Mystery Science Theater or How Did This Get Made film, wrestling is ripe to be made fun of. Dan Black covered examples of current material in his Tough Enough audition tapes. I could easily list hundreds of examples from the last 30 years – from the Fabulous Ones to the lyrics to the entrance music for "Mr. Ass" to Macho Man Randy Savage's in-ring proposal to Miss Elizabeth. However, there's just one video that encompasses the maximum comedy potential any live performance can reach. In 1993 "The Shockmaster" was supposed to be the next big WCW superstar, and here's his live national television debut:
J.J. Abrams cited The Shockmaster as the inspiration for Captain Phasma in Star Wars: The Force Awakens (unverified).
Intentional Comedy
Of course, everything in pro wrestling is scripted. Nobody over the age of 16 is being fooled here, not even by the WWE's definitely-scripted cable reality show. Total Divas, which airs on the E! Network, follows the company's female wrestlers and has done a great job drawing in a new female audience to the company. Unlike reality TV, the main product has some legitimate written laughs. This comes as no surprise; in the last dozen years WWE has staffed a number of comedy writers. Former WWE writer Matt McCarthy mentioned that lots of wrestlers backstage are big fans of comedy, and it shows in the product. Take Big E, Kofi Kingston, and Xavier Woods, for example – three nerdy, likable misfits who were assembled together and given free reign with their characters. Now, thanks to creative insults, a trumpet, and a silly dance, they hold the tag team titles and boast the top-selling merchandise in the company. Most importantly to the fans, the three seem to be genuinely having fun in the ring. In an interview with Splitsider in February 2015, Kenny Lucas of the Lucas Brothers mirrored the New Day's enthusiasm:
…wrestling is so comedic. Most people who watch it think it's silly. I think there's a natural progression toward, 'I want to do something that's similar to wrestling, but I can't wrestle 'cause I'm just not big enough or strong enough, so I'm gonna be a comedian.' I can be a different persona, I can kinda shoot promos on stage and I can be a different character. It's fun.
There are plenty laughs to be had during actual matches as well. Last year, Damien Sandow had a hilarious run with former Real-World-cast-member-turned-wrestler Mike "The Miz", mimicking every one of his moves on the apron as Hollywood star The Miz's "stunt double." It's impossible not to laugh at this 2001 clip of Stone Cold Steve Austin gleefully beating up Booker T inside a grocery store. In the late '90s, jobber Al Snow became a fan favorite when he started carrying a mannequin head to his matches. His theme song would ask the question, "What does everybody want?" to which the crowd would eagerly reply "Head!" This joke went unappreciated by kids at the time, but boy did adults love Al Snow. While a lot of the humor is directed at the lowest common denominator, comedians do appreciate dedication to a premise when they see one.
John Cena and his cargo jorts aside, wrestlers are making appearances in comedy all over. The Chris Gethard Show recently featured several wrestlers, including legendary podcaster Colt Cabana, on an episode to fight Vacation Jason and Jon Hamm. Linguini-haired Dolph Ziggler, who formerly dated Amy Schumer, does standup and some improv. And of course, Dwayne "The Rock" Johnson was the People's Champion long before he was named the People's Highest Paid Actor. Thanks to a strategic partnership with the ABC/Disney group, WWE talent has shown up all over ESPN and Good Morning America – likely prompting confusing questions from both your father and mother.
Even as the wrestling/comedy community grows, some feel it's not enough. "The vast majority of the comedians I know don't watch," McCarthy said,  "and I feel bad for them." Between the Raw/Smackdown Draft on July 19th and Summerslam August 21st, it's a good time to enter the ring.