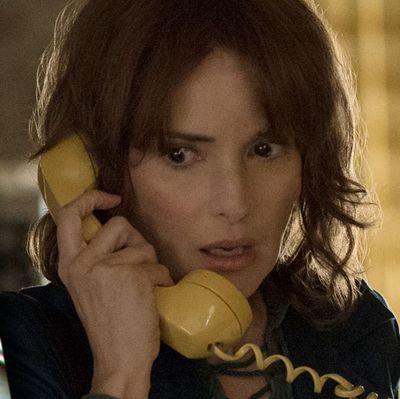 L-R: Winona Ryder in Lucas and Stranger Things.
Photo: Twentieth Century Fox, Netflix
Winona Ryder began her acting career by playing young women who live just outside the bounds of the mainstream. In her first role, as the shy Rina in 1986's criminally underseen Lucas, her character was such an outcast that even the movie's titular outcast, portrayed by an endearingly scrawny Corey Haim, didn't pay her the attention she deserved. As the decade progressed, Ryder would cement her position as a symbol of teen freaks everywhere, thanks largely to roles in Beetlejuice, in which she played Lydia Deetz, ultimate goth girl and friend of dead people, and Heathers, as Veronica Sawyer, the high-schooler pretty enough to be accepted by the cool crowd but marginalized enough to plot their destruction. By the early 1990s, Ryder had moved on to more grown-up opportunities in Martin Scorsese period pieces, gothic Francis Ford Coppola films, and adaptations of beloved Louisa May Alcott novels. But for those of us who came of age while watching Ryder do the same onscreen, a part of her would always be that on-the-fringes girl, the one whose edginess made it difficult for her to smoothly fit in with more conventional society.
That's why the reaction to her role in the new series Stranger Things — which is set in the early 1980s and has landed on Netflix exactly 30 years after Ryder's Lucas debut — is being greeted so warmly by so many, if social media is any indication.
Technically, this doesn't quite mark a comeback for Ryder; though she did take a break from acting after famously being convicted in a 2001 shoplifting case, she's appeared in a number of films and TV programs in recent years, including Star Trek, Black Swan, Frankenweenie, and last year's HBO mini-series Show Me a Hero. But Stranger Things still feels like a reemergence for her, partly because it's her first sizable part in a contemporary TV show, but also because her role in Stranger Things forces us to think of her within the context of the films where we first met her. Matt and Ross Duffer, the creators of Stranger Things, cast her because of what she could bring to the role of Joyce, a mother whose nerves become increasingly frayed after her younger son mysteriously vanishes. But given the thick atmosphere of '80s sci-fi and horror that the show evokes, they also understood that Ryder would do something other actress couldn't do nearly as effectively: fire up the neurons in our nostalgia pleasure centers.
Ryder is one of several actors who have recently joined TV shows that either subtly or overtly evoke their previous work. Jamie Lee Curtis's involvement in Ryan Murphy's slasher send-up Scream Queens is a riff on her own scream-queen days in films like Halloween and Prom Night. On The Grinder, Rob Lowe played a handsome actor accustomed to coasting on his charm in a way that cheekily referenced his own reputation. The team behind HBO's upcoming series Divorced, which stars Sarah Jessica Parker, surely is hoping the presence of Carrie Bradshaw will conjure fond memories of watching another New York–set romantic comedy that once aired on the same network. And when Sam Esmail cast Christian Slater in Mr. Robot, he must have been thinking, at least in part, about Slater's turn as Ryder's partner in crime in Heathers, as well as his work in Pump Up the Volume. After all, who better to incite chaos than this guy?
And here's Ryder — our Winona, our Wino Forever — playing a mom who, relative to the other mothers in her small Indiana town, is a bit of a misfit with two kids who have been classified in a similar fashion. Joyce is also a fighter who refuses to take no for an answer and does not give a damn what anyone thinks of her or the fact that, apparently, she can talk to her son using Christmas lights. In the '80s, when many of us were wannabe Lydia Deetzes, we weren't thinking about what Winona Ryder would be doing 30 years in the future. But if we had been, we probably would have imagined her in a role exactly like this one.
These kinds of filmography-based choices can add a layer of wink-wink meta-ness to a series. On shows like Mr. Robot and Stranger Things, which traffic very blatantly in homages and references to other movies, it's particularly on-brand to see people like Slater and Ryder bringing their past roles to the table as subtext. But perhaps the biggest benefit of meta-casting is the fact that, when it's done smartly, it enables the audience to immediately relate to the characters. In most cases, while watching a movie or TV show, you're naturally going to care about a woman whose child has suddenly disappeared. But when that woman is Winona Ryder, you make the leap to empathizing with her even faster. After all, you grew up at the same time as she did. You used to wish you could be her. Let's be honest: You still kind of do.