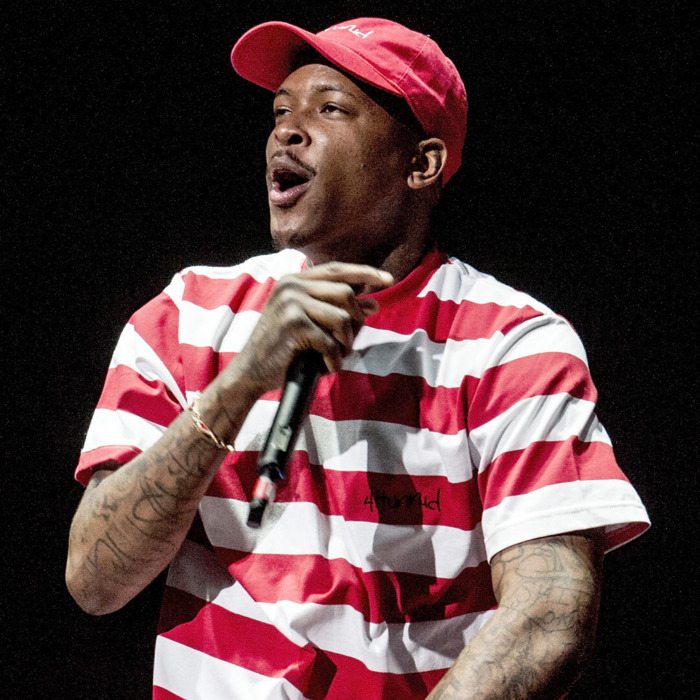 INGLEWOOD, CA - JULY 06: YG performs at The Forum on July 6, 2016 in Inglewood, California. (Photo by Timothy Norris/WireImage)
By marrying a lean, fast, and funky production to stripped-down narratives of low-level gang life, Compton rapper YG has made a name for himself in recent years as one of the leading talents on the West Coast. Yet the video for "Word Is Bond," the latest single off the artist's fresh second album Still Brazy, sends him far from home. Filmed in Tokyo after YG performed in the city, the video comprises a montage of shots of YG and featured artist Slim 400 flexing in various locations about the metropolis and national capital.
The best part of the video, however, is the subtitles in Japanese, which are very long, very elaborate, and, for nonreaders of Japanese, impossible to understand. Fortunately, there are English subtitles for the Japanese subtitles; less fortunately and more humorously, much has been lost in translation and retranslation: YG's "My homie got that pack, and that's what it is; if you ain't trying to spend that hot box, then that's what it is" ends up rendered as "MY FRIEND HAS DRUGS AND THAT'S THE TRUTH, IF YOU DON'T WANT TO SPEND A HIGH AMOUNT OF MONEY ON THEM, THEN THAT'S OKAY," words significantly harder to pronounce on beat or with swagger, and the rest of the reprocessed lyrics ("GOOGLE MAPS WILL NOTIFY YOU AS TO MY LOCATION, THE BACK SEAT OF MY CAR IS FULL OF GIRLS, AND SOME PEOPLE THINK I HAVE A GUN IN THE CAR") fare little better. Along with being pretty funny, it's a good reminder that LANGUAGES, WHETHER BLACK AMERICAN ENGLISH, JAPANESE, OR WHITE AMERICAN ENGLISH, HAVE A LOT OF ROOM TO MANEUVER WHEN IT COMES TO STATING SOMETHING EFFICIENTLY OR INEFFICIENTLY, POWERFULLY OR NOT POWERFULLY; also, I'm pretty sure the English-to-Japanese translators were instructed to use as many characters as possible. Anyway, enjoy.