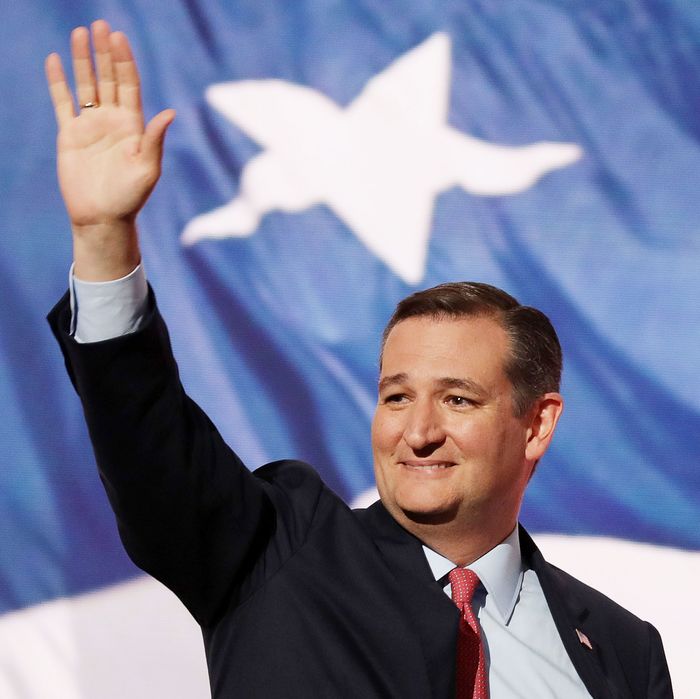 Sen. Ted Cruz (R-TX) waves to the crowd as he walks on stage to deliver a speech on the third day of the Republican National Convention.
Photo: Chip Somodevilla/Getty Images
This week, New Girl creator Liz Meriwether will be in Cleveland covering the Republican National Convention for Vulture.
What's the word for waking up and finding yourself kind of liking Ted Cruz? It's a strange feeling. It's uncomfortable. It's like finding yourself singing along to a Justin Bieber song — you don't want really want to talk about it, and you hope it never happens again.
The past two days were quieter for me, except for the moment I was standing between a Trump supporter holding a rifle, a bike cop, and a protester. And even that was preferable to listening to Donald Trump Jr. speak. At the moment when I was feeling the most anxious, when the long line of bike cops was squeezing in on the protesters and I'd just spotted the man with the gun, another man came up to me and offered me a free sample of taffy. I chose a green taffy with the word "Frooty" on the side. Sometimes all you need is a Frooty. Sometimes all you need is a little break from the anger.
The conversation here has been about how different this convention is from other conventions: The parties are apparently less crowded (I wouldn't know, they don't let me into parties) and the delegates are less excited. I had no idea, when I got here, that there are people called "whips" on the convention floor who, among other things, encourage the delegates to clap during speeches. The whips are almost all white guys wearing neon yellow baseball hats and suits, which is one of the scariest outfits a white guy can wear. From my press seat, sandwiched between the guys from the Weekly Standard and some conservative blog called Townhall, I have watched the whips working overtime the past couple days, running back and forth and waving their arms around, trying to get the crowd to clap, like fully dressed cheerleaders. Which, of course. Until last night, the actual convention hasn't been all that entertaining. I was expecting more of a Trump Spectacular. I was expecting scantily dressed women and endangered species. I was expecting celebrities that I didn't have to Google to identify. I was not expecting someone who worked for Trump Winery telling me that Donald Trump is a good listener.
But then last night happened.
It's funny to think that the most exciting thing to happen at this convention was orchestrated by Ted Cruz, a man who is known for reading Green Eggs and Ham out loud during a Senate filibuster, and not Donald Trump. And, boy, does Donald hate to be upstaged. You can't upstage an upstager. It was amazing to watch Donald Trump enter the arena and wave — I've never seen a wave look so much like a punch. I couldn't take my eyes off the Trump family standing there, angry-smiling, in their body-conscious dresses and 1980s murderer suits. It was satisfying, after two days of listening to these rich kids talk about how they are not the "elites," to see them quietly implode on national television. God, that was good television.
People I spoke to last night were talking about Ted Cruz's balls — as in, "That took balls" or "Ted Cruz has big balls" — which was disconcerting. I like to pretend that Ted Cruz doesn't exist from the waist down, like he takes his pants off and it's just air and shadows and wind. I didn't want to know his father came to this country with a hundred dollars sewn into his underwear, because that meant I had to listen to Ted Cruz say the word underwear. But after listening to three days of grim speeches filled with anger, death, and fear, I was so relieved and surprised to actually hear a person say the word diversity. And, even more relieved and surprised to hear a person say that diversity was good for this country, that diversity is actually what makes this country great. Listen, if we can all agree not to talk about it ever again, I'll tell you a secret: I was proud of Ted.