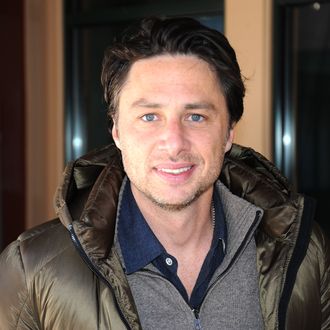 Photo: Clayton Chase/2014 Getty Images
It looks like Zach Braff's auteur days are, if not done, then at least on pause. The Scrubs actor, who made himself known as a writer-director with 2004 cult hit Garden State, made his auteurial comeback a decade later, to decidely less fanfare, with the Kickstarted Wish I Was Here. It seems, at least for the foreseeable future, that Braff is committing to wearing one hat per project. This year he'll be appearing in the James Franco–helmed Steinbeck adaptation In Dubious Battle, alongside Bryan Cranston, Selena Gomez, and, oh yeah, James Franco, who's apparently still more than cool with wearing multiple hats. On the directing side, Braff recently wrapped Going In Style, a crime-comedy about three retirees (Morgan Freeman, Michael Caine, and Alan Arkin) who plan a bank heist.
Now Braff has added another directing project to his slate. He's signed on to helm Bump, a dark comedy written by Ori Guendelman and Rob McClelland, which will be produced by Working Title. Bump made the 2015 Black List, an annual roundup of Hollywood's industry-voted best unproduced scripts (notable alums include Juno, Slumdog Millionaire, Argo, and The King's Speech). Deadline reports that "Bump tells the story of the single most important night in Thomas's life, where one mistake sets into motion a series of absurd events that threaten to unravel the clichéd life he's worked so hard to build. This wild ride calls into question the balance between ambition and morality and the dubious decisions made in pursuit of the American Dream."
No word on who's playing Thomas yet, but that does sound like a Zach Braff role if ever there was one, so we won't rule out a multiple-hats comeback for the once and future auteur.