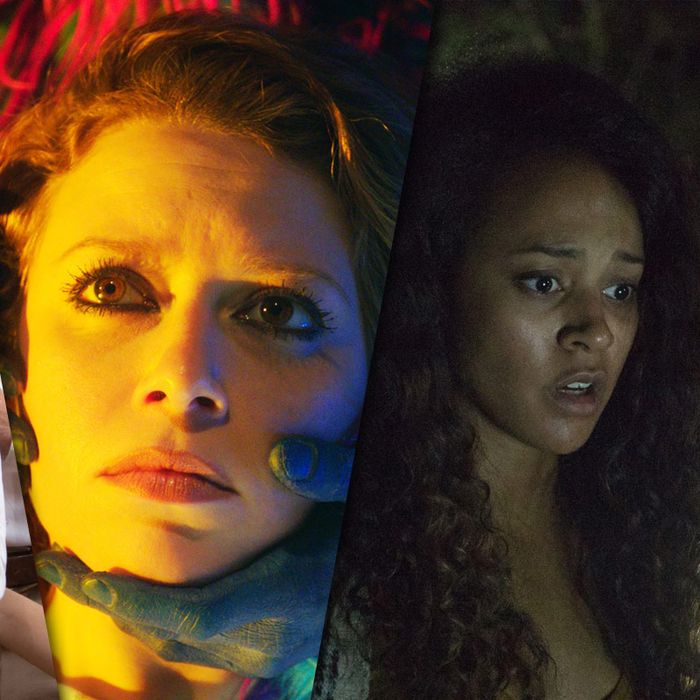 Photo: Anna Biller Productions, Traverse Media, Lionsgate
Thanks to the success of The Conjuring 2, The Purge: Election Year, Don't Breathe, Lights Out, and even The Shallows, the horror genre has been a rare bright spot in a bleak year for Hollywood — and we've still got four more months to go. The frightful spread before us features everything from mad gore to 1960s sexploitation to demonic possession and — well, there are a few demonic possessions, actually. So whether it's art-house "tone poems" or an exorcism movie from the director of San Andreas you crave, we've compiled a complete preview of all the horror movies yet to come this year.
September 2
Yoga Hosers: Two years ago, Kevin Smith initiated his True North Trilogy with the genre-mashing freak feast Tusk, in which terrible things were done to both men and the image of the proud walrus. Now, Smith's long-awaited assault on bratwurst, Nazis, and Canadian teens is finally getting a wide release. The director's daughter, Harley Quinn Smith, stars alongside Lily-Rose Depp (daughter of Johnny) as Über-millennials both named Colleen who have to defeat an ancient evil that takes the form of German sausages possessed by Nazi demons. (Otherwise, they won't be able to make it to the Grade 12 party they got invited to.) Papa Depp is on-hand to revive his character Guy Lapointe, who enlists the Colleens to help him defeat the Brazis, and other notable cast members include Natasha Lyonne, Adam Brody, Justin Long, Jason Mewes, and Haley Joel Osment. This one likely won't make any new fans for Smith, but the die-hard fans should have a lot of fun.
Antibirth: Body horror is on full display with Antibirth, the debut feature film from Danny Perez that boasts a deeply quirky pair of indie-film stars in Natasha Lyonne and Chloë Sevigny. This one is for the purely weird set: Lyonne and Sevigny play hard-partying friends with minimal future prospects, and after a particularly wild night out, Lyonne's character wakes up with no memory of the night before and a very unexpected pregnancy, one that starts to advance at a terrifying rate. Her body transforms in gruesome ways, and viewers aren't spared any of the seeping fluids as she turns into a vessel for some sort of supernatural spawn. It's got Lyonne's signature dry humor and early Cronenberg-style visual grotesqueries. If you're one of those people that just likes "think-y horror," eh, maybe not the one for you.

September 9
Demon: The movie, which we mentioned as one of our most-anticipated thrillers of 2016, got a strong reception when it debuted at the Toronto International Film Festival last year, but its premiere was tainted by tragedy after director Marcin Wrona was found dead of an apparent suicide in his hotel room. The young Polish director left behind a brief but well-regarded filmography, and Demon was no exception. It tells the story of a couple getting married in rural Poland, and on the night before the wedding, the groom disturbs some remains on his property, which results in a restless spirit latching onto him as a human host. As you can imagine, the festivities start to get pretty weird after demonic possession becomes an unexpected entry on the matrimonial schedule. Demon should be a welcome tonal shift from the rest of the American fare on this list.
September 16
Blair Witch: The legend returns. The Blair Witch Project introduced the world to shaky-cam found-footage horror all the way back in 1999, and since then, series like Paranormal Activity and V/H/S have taken tiny budgets and made big money for movie studios. There were rumors last year that a new Blair Witch movie was in the works, but nothing was confirmed until Lionsgate showed up at Comic-Con in July with a whole movie in hand — which it screened for fans who thought they were going to see a film called The Woods. Surprise! The new movie, simply titled Blair Witch, picks up right where the first one left off, with the brother of one of the original characters setting out into the doomed woods to find out what happened to his sister. There was that movie Book of Shadows: Blair Witch 2 that came out in 2000, but we've all agreed to forget about that, and Lionsgate is surely hoping their studio horror picture can emulate the success of recent hits Don't Breathe and Lights Out.
September 30
The Blackcoat's Daughter (originally titled February): Bloody Disgusting called this movie, which stars Kiernan Shipka and Lucy Boynton in a quiet little boarding-school possession-horror film, a "Satanic masterpiece." Shipka and Boynton play Kat and Rose, a pair of girls whose parents have mysteriously failed to pick them up from school for winter break. Emma Roberts appears as Joan, whose story line seems separate from the two other girls', but who resolves to travel to the boarding school for mysterious reasons and possibly starts to affect terrifying visions in Kat as she draws closer. Osgood Perkins, son of Psycho actor Anthony Perkins, wrote and directed the movie, and its icy-winter backdrop should properly usher in the autumn chill.
October 7
Under the Shadow: The final entry from our must-see indie-horror list, Under the Shadow is a supremely tense horror film from Iranian director Babak Anvari. It's about a woman trapped with her daughter in an apartment in Tehran as the Iran-Iraq War starts to encroach on their doorstep. Her husband has been called to the front and most of the city is evacuated due to the shelling, but Shideh (Narges Rashidi) and her little girl are trapped in their home by what could be a malevolent djinn — or could be a bout of paranoia that is breaking them both down into a state of madness. The fun comes in figuring out which. Anvari was adamant about writing a script in Farsi to stay true to the cultural experience and to properly explore the mythological terror of djinn in Iranian lore. The comparisons to The Babadook from 2014 are well-earned.
The Greasy Strangler: The term horror encapsulates a broad definition of films. There's horror comedy, psychological horror, shock horror — sometimes movies even fall into the horror folder not because they scare you, but because they just make you feel terrible things. The Greasy Strangler is one of those kinds of horror movies. It's gory and gratuitous and offensive enough to be kicked out of every other genre, and because it makes you go "Oh my God, gross!" it finds a home in the open, welcoming arms of horror. Strangler traffics in the absurd more than anything else. If you like excess everything and are a moviegoer who simply hates the sterility of big-budget superhero movies, the bear-poking "because we can" approach of director Jim Hosking's feature-film debut should make you feel like you've sufficiently thumbed your nose at the Man for an evening.
It could also make you throw up.

Friend Request: This one likely won't satisfy beyond cheap thrills, but we're talking about horror here, and that means sometimes you take the budget movie with the unknown cast because that's what's around. Friend Request is another entry in the subgenre of Internet Horror; it looks very similar to the movie Unfriended from 2014 that turned out to be surprisingly effective. In that movie, a girl named Laura Barnes commits suicide after a humiliating video is shared of her online, and then her angry spirit returns to terrorize the classmates who betrayed her by putting it up. In this movie, a girl named Marina Mills streams a video of her own suicide online after being rebuffed by a classmate (named Laura) on social media. Then the angry spirit of Mills returns to take away everything that Laura loves. The most recognizable face belongs to Connor Paolo, who had recurring roles in Gossip Girl and Revenge, but beyond that, it's a slate of newcomers cutting their teeth in an off-brand horror movie, which is a noble Hollywood tradition.
 October 14
Jack Goes Home: Jack Goes Home looks like one of those indie-ensemble-horror movies that's either really going to work out and feel surprising and fresh, or it's going to get all convoluted and fall flat. Jack is a young guy played by Rory Culkin who just found out his dad is dead and is going back home to live with his mother and put the pieces back together. When he gets there, he discovers a tape recorder with a message inside from his dad instructing him to go to the attic, and his dad's voice is so filled with terror there's just no way Jack should ever go in the attic to find out what's up there. But he goes anyway, and that's when things start to get real creepy for Jack and his suspicious mom, played by Lin Shaye. The movie was written and directed by Thomas Dekker (John Connor from Terminator: The Sarah Connor Chronicles) and co-stars Daveigh Chase, Nikki Reed, Britt Robertson, and Natasha Lyonne, who is having an incredibly productive year being in movies with her friends.
October 21
31: It's the latest from Rob Zombie, everyone, so exercise the proper judgment. The movie, of course, stars Zombie's wife, Sheri Moon, and even-more of course, it's about five carnival workers who are "kidnapped and held hostage in an abandoned, Hell-like compound where they are forced to participate in a violent game, the goal of which is to survive twelve hours against a gang of sadistic clowns." So, it's a nightmare grab bag from the man who brought you House of 1000 Corpses, the death-metal equivalent of a scary movie. If you're a horror fan, you know what you're getting with a Rob Zombie movie, and if you're not a horror fan, this will likely hold no appeal for you. It promises to be a visual feast, and bless Zombie for continuing to make the art that speaks to him.
Ouija: Origin of Evil: The first Ouija movie from 2014 was panned by critics, but it was made for cheap and racked up a ton of money at the box office. So now we have a sequel. This one is a little shinier than the first, adding the element of being a period piece set back in 1967, the same year the game was purchased by Parker Brothers and exploded into the mainstream. For Origin of Evil, a widowed mother and her two daughters run a shady séance business out of their dining room, and when Mom (Elizabeth Reaser) gets a Ouija board for a new prop, her youngest child becomes an unwilling medium for some malevolent forces. Writer and director Mike Flanagan, who has two more horror movies out this year, Hush and Before I Wake, has suggested he's going for quantity over quality. But he did also direct the very spooky Oculus from 2013. So even if Origin of Evil isn't appointment horror, Mike Flanagan still shouldn't be counted out. Besides, there should be enough jump-scares to earn the price of the ticket.
October 26
Rings: Threequels are tough to pull off, especially when they come 14 years after the original (well, original adaptation) and have no returning cast members. The first Ring was a very respectable take on the Japanese movie Ringu and was genuinely scary. But that original little creepy girl, Samara? She was played by Daveigh Chase, who you can see as a grown-up now in Jack Goes Home, and Naomi Watts has moved on to other scares as well (see below). So you can go support them elsewhere. Unless you have to complete a franchise, there should be little here for you in Rings, but Aimee Teegarden and Vincent D'Onofrio would appreciate your patronage.
November 11
Shut In: The debut feature film from TV director Farren Blackburn has a strong cast: Naomi Watts, Jacob Tremblay, Oliver Platt, and Charlie Heaton, who just recently showed promise in Stranger Things. It's about a widowed child psychologist (Watts) who lives in near isolation in rural New England and must save a small boy (Tremblay) from being killed in a terrible winter storm. Watts revisiting the terrified mama-bear role she played so well in The Ring will likely be great, because no one plays distressed better than Naomi Watts. And maybe Jacob Tremblay can expand his range in a different kind of close-quarters isolation drama.
The Love Witch: Now this one looks like a lot of fun, and completely different from anything else coming this year. Writer and director Anna Biller* has a unique way of capturing the spirit of America in the 1960s and 1970s, which she deftly proved with her 2007 film, Viva. It's taken almost ten years for Biller to put out another movie, but the description from Variety suggests the years were not spent idly: "No doubt much of that time was again spent meticulously accruing every tacky bauble of décor and dress necessary to re-create another semi-forgotten subgenre: the early- to mid-'70s occult thriller, in which glam suburban housewives frequently dabbled in black magic, casting spells that invariably went very wrong." They also characterize the protagonist, Elaine, as "a malevolent force who inwardly excuses her predation in terms of feminist self-fulfillment." Come for the eye candy, stay for the homage to kitsch and the occult, in this pulp novel come to life.
Elle: Two names turn this movie into an event worth noting in your calendar: director Paul Verhoeven and star Isabelle Huppert. The man who brought you Starship Troopers, RoboCop, and Total Recall and one of the quietly best actresses of our time bring you a rape-and-revenge thriller. Michéle is sexually assaulted in her home one day by a masked stranger, and instead of reporting it, she goes on a private quest to find her attacker. In horror cinema, the story is as old as I Spit on Your Grave, but rarely do you have such distinct talents as Verhoeven and Huppert rendering it for you onscreen. It premiered at Cannes and Variety called it "remarkable." We hate to get in on that hype game, but we would expect nothing less.

November 25
Evolution: IFC Midnight does a great job supporting strange independent horror. Just this year, they've brought forth titles like Carnage Park, The Devil's Dolls, I Am Not a Serial Killer, the forthcoming Antibirth, and many more oddities. The final movie on their horror slate this year is Evolution, which seems to present something IFC does very well: characters in incredibly weird circumstances. The movie follows a 10-year-old boy named Nicolas who lives in a seaside village populated only by boys his own age and grown women. One day Nicolas finds the body of another boy in the ocean with a red starfish affixed to his stomach, and then he starts experiencing visions as if he was seeing memories from a previous life. Suddenly he doesn't know if his mom is his mom, and the foundation of his reality is called into question. Also, again, he's ten. IFC promises that the movie is "awash in the haunting, otherworldly images of a nightmare." At the very least, it should be a mind bender.
December 2
The Eyes of My Mother: The black-and-white debut of writer-director Nicolas Pesce debuted at the Sundance Film Festival earlier this year, and IndieWire described it as a "shockingly original tone poem" that fused "classic horror ingredients with haunting gothic imagery and expressionistic dread." People apparently exited the theater because the "eerie, gory story" became too much for them, as Variety puts it, but those who remained "appreciated the film's subtle take on the horror thriller genre reminiscent of Alfred Hitchcock meets Roald Dahl meets the Saw franchise."
So it's an eerie, gory, gothic, expressionistic horror movie that draws parallels to Hitchcock, Roald Dahl, and Saw, and somehow manages to also be subtle. Wow. Storywise, the movie follows a lonely woman living in the countryside who is overwhelmed by dark desires after being beset by tragedy, but based on the cornucopia of descriptors that have been applied to it, The Eyes of My Mother will have to be seen to believed.
Incarnate: Every year it seems like there has to be a glossy studio horror movie about possession, and Incarnate looks like this year's big entry. From San Andreas director Brad Peyton comes a somewhat nontraditional exorcist tale in which a possessed boy is treated by a scientist instead of a clergyman. Aaron Eckhart plays a man with the ability to enter other people's subconscious minds to treat the "disease" of demonic attachment, and not just the "symptoms." As you may have guessed, this young boy isn't inhabited by any kind of pedestrian spirit, and Eckhart's man of science is soon confronted with a power he's never seen before that knows the horrors of his past. Carice van Houten also stars, reminding us that with her icy visage and ability to maintain a constantly creepy temperament, she should probably be making horror movies all the time.
December 9
The Bye Bye Man: To close out the year, we have some good old urban-legend horror. The Bye Bye Man isn't much different from Bloody Mary or the Candyman — the more you believe in them, the more power they have. And there's also a strong hit of the Slender Man, who makes those under his influence do terrible things. Director Stacy Title has built a career making second-tier horror, which is a completely respectable job that someone has to do. The Bye Bye Man looks to fit within that same class. It tells the story of three friends who accidentally unearth the origins of a malevolent being that is the catalyzing force behind a litany of man's most horrifying acts. Once those friends let the monster out, they will have to spend the rest of the movie trying to put toothpaste back in the tube. Look out for Faye Dunaway, Carrie-Anne Moss, and Erica Tremblay, who looks a whole lot like her famous older brother, Jacob.
* This post previously identified Anna Biller, the director of The Love Witch, as Anne Biles, and has been corrected throughout.