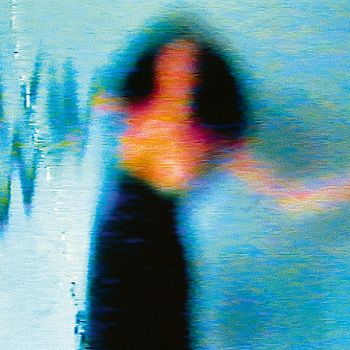 Pipilotti Rist, I'm Not the Girl Who Misses Much, 1986 (still).
Photo: Courtesy of the artist/Videoart.ch/Hauser & Wirth and Luhring Augustine
Hopefully, you've had a few minutes to play around with our Fall Entertainment Generator. But if you're looking for straight and simple lists of things to look out for by medium, we'll be breaking them out separately. Here's a look at fall art shows.
SEPTEMBER
9/8
"A Feast of Astonishments: Charlotte Moorman and the Avant-Garde, 1960s–1980s"
Through 12/10, Grey Art Gallery at NYU
Moorman knows her way around musical performance art. This is a multimedia retrospective of her attempts to, among other astonishments, play the cello in midair, borne aloft by balloons. (Electronic Arts Intermix screens Moorman's rare TV performances on 10/20.)
9/9
Matthew Barney, "Facility of Decline"
Through 10/22, Gladstone Gallery
Everyone's favorite occasional portrayer of mythical man-goats will have seminal '90s works like Blind Perineum on display.
9/10
Hayal Pozanti
Through 10/23, Rachel Uffner Gallery
This Turkish-born painter crafts large, enigmatic canvases with statistical titles that nod, in some mysterious way, to their dense geometries, as in the seven-foot-tall 6 Giggles 18 Nanotubes.
9/13
Taryn Simon, "An Occupation of Loss" at Park Avenue Armory
Through 9/25, Park Avenue Armory
Eleven concrete pipes, each 48 feet tall, fill the Drill Hall. At sunset, 30 professional mourners from different cultures will fill the pipes — and the cavernous space — with sounds from their holiest rituals. During the day, visitors can use the pipes themselves.
9/14
Oscar Murillo, "Through Patches of Corn, Wheat and Mud"
Through 10/22, David Zwirner
The Colombian wunderkind shows drawings, paintings, sculpture, and film — including ten dense, mostly black canvases and several works stitched together to create a mazelike installation.
9/15
Sara VanDerBeek
Through 10/29, MetroPictures
A Baltimore native who draws inspiration from American quilts and textiles, photographing them in situ and then reconfiguring the images in tilelike tableaux.
9/16
New York Art Book Fair
Through 9/18, MoMA PS1
This year's edition brings 370 artists, presses, and publishers together from 30 countries. New York–based artists Maia Ruth Lee and Peter Sutherland will host a DIY zine-making extravaganza alongside first-time exhibitors and expanded photography offerings.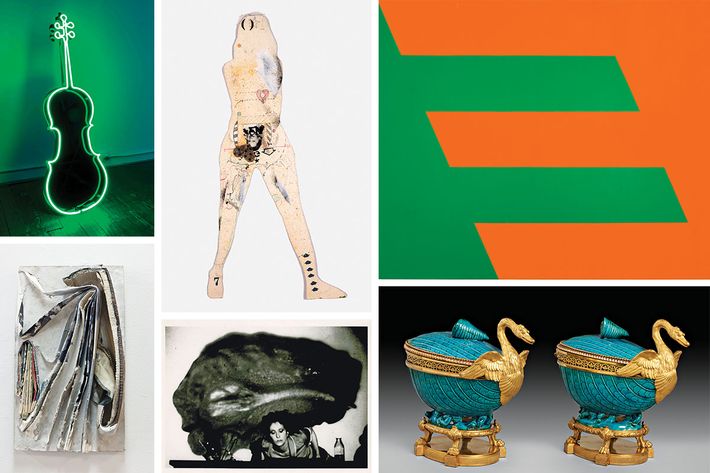 Carmen Herrera, "Lines of Sight"
Through 1/2, the Whitney Museum of American Art
The Cuban centenarian fills the Whitney with her bright, abstract minimalist paintings. Not bad for someone who sold her first painting at 89.
"Masterpieces & Curiosities: Memphis Does Hanukkah" 
Through 2/12, the Jewish Museum
Back in the '70s, architect Ettore Sottsass invited Los Angeles sculptor and ceramicist Peter Shire to join the eccentric Italy-based design collective Memphis. On display is the everything-but-ordinary output from their intense collaboration.
9/18
"Kai Althoff: And Then Lead Me to the Common Swifts"
Through 1/22, MoMA
Two hundred works spanning the German Expressionist's career — from ceramics and weaving to painting and sculpture — in his first American-museum survey.
9/22
Sally Mann, "Remembered Light: Cy Twombly in Lexington"
Through 10/29, Gagosian Madison Avenue
Mann poked around her friend Cy Twombly's studio over the course of 13 years, camera in hand, and her new photos portray the artist, who's not present in the images, via the space where he worked and the materials arrayed inside.
9/29
Billy Al Bengston
Through 11/2, Venus
This gray eminence of L.A.'s art scene was a member of Ferus Gallery's 1960s dream team (Ed Ruscha, Robert Irwin, etcetera). Works from the artist-sculptor's sole representational series, 1961's "B.S.A. Motorcycle," are on display alongside newer, far more abstract pieces.
OCTOBER
10/1
Spencer Finch, "Lost Man Creek"
Through 5/13/18, MetroTech Commons
California wilderness comes east as Finch drops a triangular, 4,500-square-foot slice of forest into the middle of MetroTech Commons — an exact, 1:100-scale model of an inaccessible, 790-acre patch of Redwood National Park. We assume he knows dawn redwoods are deciduous.
10/7
"Word and Image: Martin Luther's Reformation"
Through 1/22, the Morgan Library & Museum
You don't need to read theses nailed to a wall to be convinced of this show's worth. A rare 16th-century printed copy of Luther's screed, along with works from contemporaries like Lucas Cranach the Elder, should suffice.
Agnes Martin
Through 1/11, the Guggenheim
Born in desolate rural Saskatchewan and a longtime denizen of desolate rural New Mexico, Martin (1912–2004) was the amazing maker of mysterious, minimal, meditative pale paintings. Coma-inducing, hallucinatory turns of subtle touch in sweet geometry, ravishing washes of light emit almost incantatory color and give us a paradise of pure painting.
10/14
Anna K.E. and Florian Meisenberg
Through 11/13, Signal
Spare figurative painting plays a central role in the work of both artists featured in this show, both of whom frequently employ materials other than paint and canvas.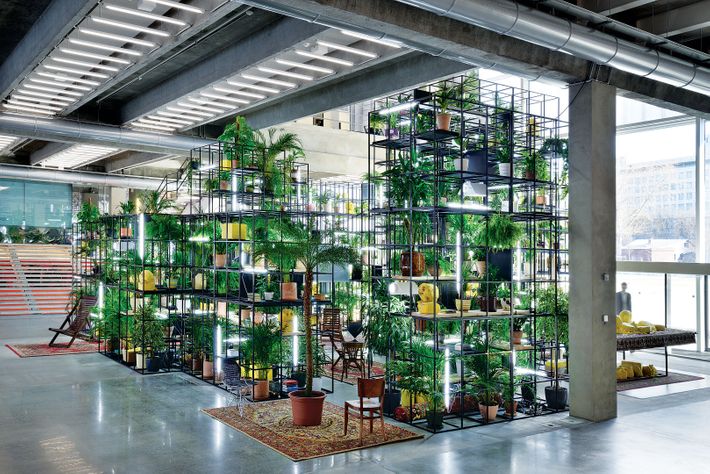 10/15
C. Finley, "Same Bed, Different Dream"
Through 11/4, La MaMa
A cycle of large linked paintings based on mattress sizes (single, full, queen …). Can Casper-inspired art be that far off?
10/21
Carolee Schneemann, "Further Evidence — Exhibits A and B"
Through 12/3, P.P.O.W./Galerie Lelong
Encompassing five decades and two galleries, this double feature lays out performance-art pioneer Schneemann's ideas on bodies and the forces that capture, contort, and control them.
Beverly Buchanan, "Ruins and Rituals"
Through 3/5, Brooklyn Museum
Hybridity! Buchanan's work mixes everything from drawing and sculpture to dirt and photography. The Brooklyn Museum gathers approximately 200 of her pieces, including the premiere of a video based on one of her earlier earthworks.
Mark Leckey
Through 3/5, MoMA PS1
This massive survey of Leckey's work shows how he's turned found film footage and sound samples from decades of British club culture into the raw material of his sculptural installations.
10/25
Kerry James Marshall, "Mastry"
Through 1/29, the Met Breuer
A painter of historical mysteries and the "African-American vernacular," Marshall will showcase his huge graphic masterpieces of jet-black men, women, and children in housing projects, on streets, at play in the fields of the American Dream.
10/26
Pipilotti Rist, "Pixel Forest"
Through 1/15, New Museum
"Pixel Forest" is the perfect Land of Mysterious Milk and Visual Honey title for this first-ever soup-to-nuts retrospective of a true magician of video. Rist creates Arcadias and dreamscapes of naked bodies in boundless optical oceans of projected color, accompanied often by music or the artist's voice carrying us as far away as the video format has ever taken us.
10/27
Carrie Mae Weems
Through 12/10, Jack Shainman Gallery
Cookie goes highbrow. Weems shows the first installment of her new series, "Sites of Production," shot on the sets of productions featuring predominantly black casts (Empire features here), alongside her 2012 film Lincoln, Lonnie, and Me — A Story in 5 Parts.
10/28
"Dreamlands: Immersive Cinema and Art, 1905–2016"
Through 2/5, the Whitney Museum of American Art
From hand-painted films to a 3-D video projected inside a dome, the Whitney delivers a multisite high-tech exhibition, including work by Lynn Hershman ­Leeson, that begins with the dawn of ­moving images and goes ­reeling into the present day. Films will also be screened at Bushwick's Microscope Gallery.
Sabine Meier, "Portrait of a Man"
Through 12/18, the Knockdown Center
Meier tangos with Dostoyevsky as this multiyear photographic investigation probes the psyche of Crime and Punishment's morally tortured protagonist, Raskolnikov.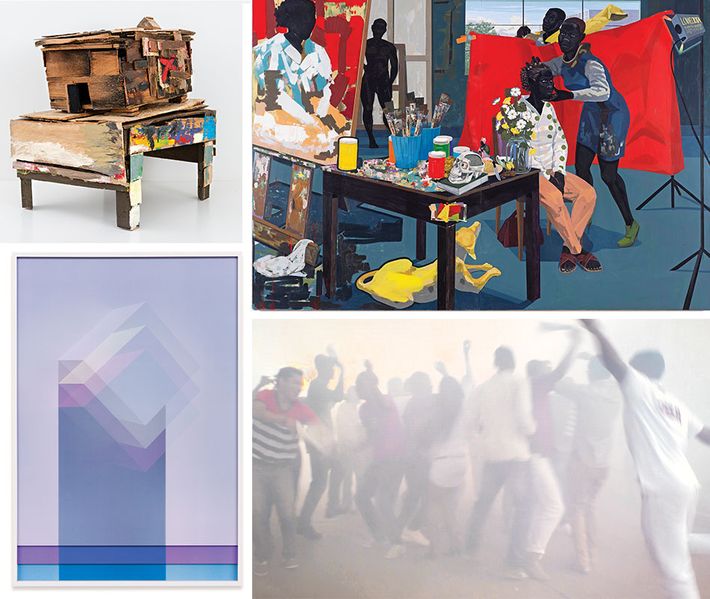 NOVEMBER
11/5
Pádraig Timoney
Through 12/21, Andrew Kreps Gallery
The intentionally hard-to-categorize Irish artist has been moving away from photography and installation and toward painting, with thrilling results.
Kishio Suga
Through 4/2, Dia:Chelsea
Ascetic, materials-focused works, including a new commission, by a central figure in Japan's Mono-ha art movement of the '60s and '70s.
11/9
"Mastering the Metropolis: New York City and Zoning: 1916–2016"
Through 4/23, the Museum of the City of New York
"The time has come," wrote George McAneny, Manhattan's borough president about 100 years ago, "to regulate the height, size and arrangement of buildings." Zoning might seem mundane, but it literally reshaped the city, and this exhibition aims to show how.
John Baldessari
Through 12/17, Marian Goodman Gallery
Even at 85 years old, the conceptual-art titan is still fruitfully futzing with the narrative potential of images and language.
11/11
Matthew Porter
Through 12/18, Invisible-Exports
Porter's photographs have tilted into Matisse-like cutout territory recently, accentuating the 2-D-ness of photos and playing with our expectations of just what, exactly, a photo is showing us.
11/16
Pierre Gouthière, "Virtuoso Gilder at the French Court"
Through 2/19, the Frick Collection
If excess is the harbinger of downfall, then this is an awfully well-timed look at the gold tchotchkes that master gilder Gouthière crafted for Louises XV and XVI.
DECEMBER
The Jim Henson Exhibition and Gallery
Opening date TBA, the Museum of the Moving Image
Sesame Street, The Muppet Show, The Dark Crystal — Jim Henson's inventions keep crawling out of any genre box one tries to stuff them into. They're also super-cute.
12/8
Anna Glantz
Through 1/15, 11R
Glantz is young, but her impressively monumental figurative oil paintings suggest the scale of her ambition.
12/9
Joanna Malinowska
Through 1/15, Canada
Malinowska's room-filling sculptures evoke animal life-forms while swerving away from identification into more mythic territory.
Brandon Ndife
Through 1/13, Interstate Projects
Working in an aesthetic of the postered-up and paved-over, Ndife tears, blends, ties together, and probably finds still more ways to combine newspaper clippings, concrete, clothes, and other raw materials to create sculptures bristling with Rauschenbergian energy.
*This article appears in the August 22, 2016 issue of New York Magazine.