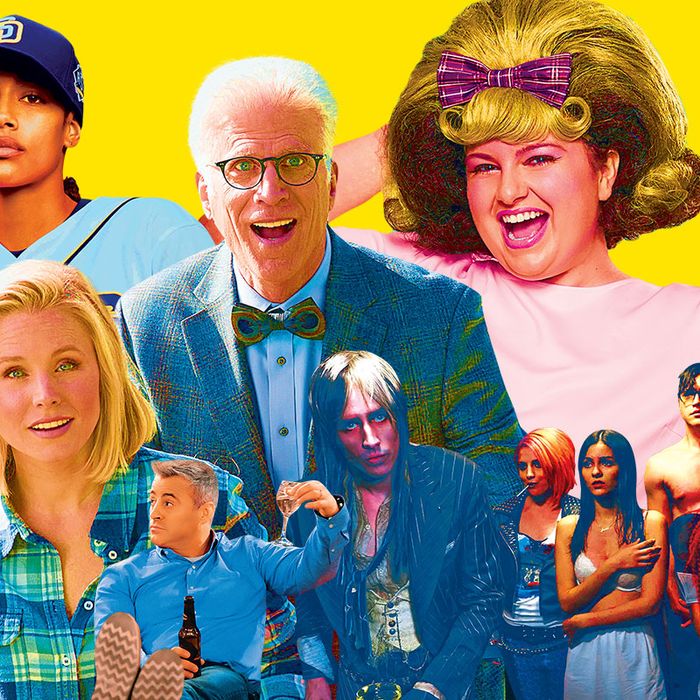 Hairspray Live!, Pitch, and many more.
Hopefully, you've had a few minutes to play around with our Fall Entertainment Generator. But if you're looking for straight and simple lists of things to look out for by medium, we'll be breaking them out separately. Here's a look at fall TV shows.
MONDAY
The Good Place
NBC, 10 p.m., 9/19, then switching to Thursday nights
When the acerbic Eleanor (Kristen Bell) is killed by a truck filled with boner pills, she ends up in heaven due to a clerical error.
Timeless
NBC, 10 p.m., 10/3
The usual world-saving high jinks — a stolen time machine, a brilliant scientist, baddies bent on rewriting history — in this hourlong actioner.
Conviction
ABC, 10 p.m., 10/3
ABC takes another chance on Hayley Atwell after Agent Carter's demise. She plays a black-sheep recovering cokehead and former First Daughter forced to make amends by helping overturn wrongful convictions.
Man With a Plan
CBS, 8:30 p.m., 10/24
Matt LeBlanc is back in the safety of sitcoms, playing a dad who takes over homemaking duties after his wife goes back to work.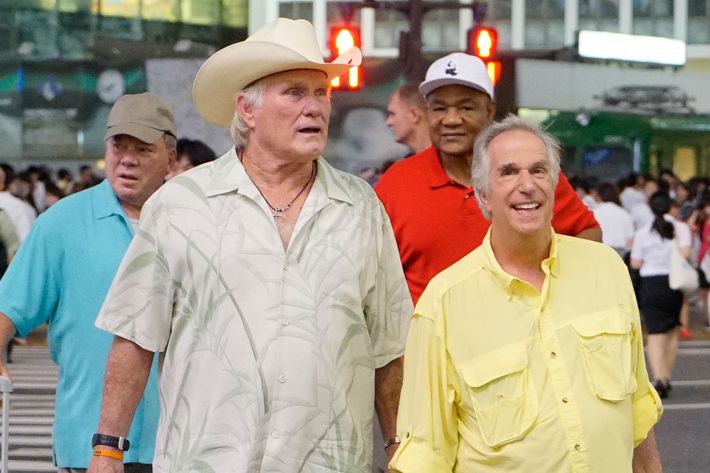 TUESDAY
Better Late Than Never
NBC, 10 p.m., 8/23          
This reality travel show features William Shatner, Henry Winkler, George Foreman, and Terry Bradshaw tooling around Asia.
This Is Us
NBC, 10 p.m., 9/20
From the writer and directors of Crazy, Stupid, Love comes this latest entry in the thirtysomething-Parenthood vein of tearjerkers about upper-middle-class people behaving soulfully.
Bull
CBS, 9 p.m., 9/20
NCIS alum Michael Weatherly plays a trial-consultant psychologist in this show co-written by, in one of the fall's most curious credits, Dr. Phil — a fictionalization of the talk-show magnate's early career.
No Tomorrow
The CW, 9 p.m., 10/4
When a quality-control assessor falls in love with a man who believes that the end of the world is a mere eight months away, she joins him in working through his bucket-list-style "Apocalyst." There are worse ways to spend the time.
American Housewife
ABC, 8:30 p.m., 10/11
Katy Mixon of Mike & Molly steps out from behind Melissa McCarthy's shadow but is again playing middle class, this time as a mother of three in wealth-obsessed Westport, Connecticut.
WEDNESDAY
Gomorrah
SundanceTV, 10 p.m., 8/24
Ever curious to see an Italian-American Mafia family transposed to a contemporary Italian-Italian family? Ecco! Based on the blockbuster nonfiction book by Roberto Saviano (also the inspiration for a harrowing feature film), Gomorrah follows a Neapolitan crime organization's story as told through the members of a close-knit mob empire.
Speechless
ABC, 8:30 p.m., 9/21
Following up on the success of Black-ish and Fresh Off the Boat, ABC makes another diversity play with this (serious) comedy about the mother (Minnie Driver) of a teenage son with cerebral palsy.
Designated Survivor
ABC, 10 p.m., 9/21
In perhaps the only scenario that's more nightmarish than our current election, former 24 ass-kicker Kiefer Sutherland is thrust into the role of president after an explosion strikes during the State of the Union address, leaving the HUD secretary as commander-in-chief.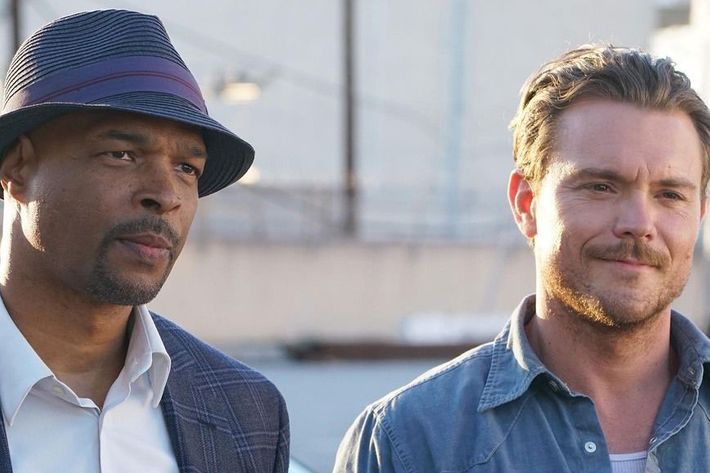 Lethal Weapon
Fox, 8 p.m., 9/21
This addition to Fox's stable of big-to-small-screen adaptations features Clayne Crawford in the Martin Riggs role made famous by Mel Gibson, and Damon Wayans stepping into Danny Glover's shoes as Roger Murtaugh, who presumably is not yet too old for this shit.
Frequency
The CW, 9 p.m., 10/5
Another entry into this season's surprisingly robust time-bending (and film-remake) category. A detective (Peyton List) discovers that, via ham radio, she can talk to her long-dead dad, as the two try to prevent his murder.
Chance
Hulu, 10/19
Hugh Laurie returns to TV to play a brilliant, troubled doctor. This time, the House star is a San Francisco neuropsychiatrist who gets sucked into the city's seamy, if rapidly gentrifying, underbelly.
Hairspray Live!
NBC, 8 p.m., 12/7
The Peacock Network's latest foray into live musicals, following last year's The Wiz, features newcomer Maddie Baillio as Tracy Turnblad, with Ariana Grande, Jennifer Hudson, and Derek Hough adding the
star power.
Shut Eye
Hulu, 12/7
Burn Notice's Jeffrey Donovan makes the jump to streaming in this series as a failed magician who — abracadabra — tries to make a new start as a storefront psychic.
THURSDAY
Notorious
ABC, 9 p.m., 9/22
Piper Perabo and Daniel Sunjata are the stars of this rarest of things: a non-Shonda ABC Thursday-night show. (In Scandal's old time slot, no less.) He plays a fictionalized version of celebrity attorney Mark Geragos. She plays a character based on former Larry King Live executive producer Wendy Walker. Together they attend to the legal troubles of glitzy Los Angelenos.
Pitch
Fox, 9 p.m., 9/22
The first female Major League Baseball player (Kylie Bunbury) makes history as a pitcher for the San Diego Padres in this series. Given that MLB is a partner in the show, at the very least we'll see some pretty great shots of Petco Park.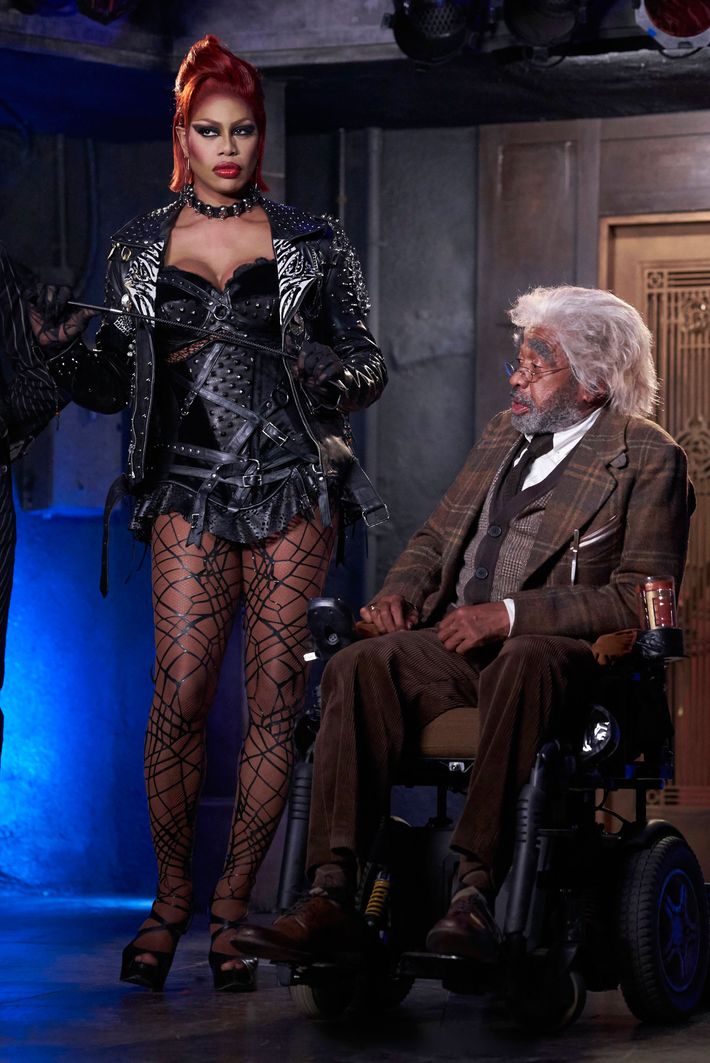 The Rocky Horror Picture Show: Let's Do the Time Warp Again
Fox, 8 p.m., 10/20
Just ahead of Halloween, Fox is back up at the musical plate, following last year's Grease revival. Laverne Cox steps into the fishnets as Dr. Frank-N-Furter. Tim Curry's onboard too, as the narrator.
Pure Genius
CBS, 10 p.m., 10/27
Rather than pour money into a search for eternal life or space travel, a tech billionaire erects a state-of-the-art hospital in Silicon Valley and calls upon a talented but disgraced surgeon (Dermot Mulroney) to join his team. Created by Friday Night Lights producer-writer Jason Katims.
The Great Indoors
CBS, 8:30 p.m., 10/27
The Soup and Community star Joel McHale plays an adventure reporter tasked with managing a group of young digital journalists working at a web-only outdoor-lifestyle publication.
FRIDAY
Quarry
Cinemax, 10 p.m., 9/9
A Marine back from Vietnam finds himself drawn into a network of paid assassins after he's rejected by his family. Coming Home this ain't. 
High Maintenance
HBO, 11 p.m., 9/16
Adapted from the beloved web series, this comedy follows an NYC weed dealer as he gets glimpses into the lives of his neurotic customers. (Read our interview with the creators here.)
The Exorcist
Fox, 9 p.m., 9/23
Two Catholic priests battle a family's demonic possession in this retelling of the William Peter Blatty novel that's become a horror staple. Geena Davis makes a welcome return amid all the Satanic doings as the matriarch of the demon-afflicted family.
Van Helsing
Syfy, 10 p.m., 9/23
Will vampires be able to supplant our faddish (and tired) obsession with zombies? Vanessa Van Helsing (True Blood's Kelly Overton) is humanity's best hope in a world overrun with the bloodsuckers. Neil LaBute, whose main horror experience comes from his The Wicker Man remake, is the showrunner.
MacGyver
CBS, 8 p.m., 9/23
Lucas Till takes over as the lusciously coiffed, remarkably handy secret agent Angus MacGyver in this reboot of the '80s classic. It's unclear whether Swiss Army knives will feature as prominently as they did in the original. 
Haters Back Off
Netflix, 10/14
Colleen Ballinger makes the transition from YouTube personality (the title is her online alter ego's catchphrase) to Netflix star with this comedy centered on her quirky, tone-deaf, absurdly untalented creation, Miranda Sings.
The Crown
Netflix, 11/4
It hasn't even been a year since we said good-bye to Downton Abbey, but Anglophiles are already fiending for this mega-expensive dramatization of Queen Elizabeth II's years on the throne. Claire Foy plays Liz.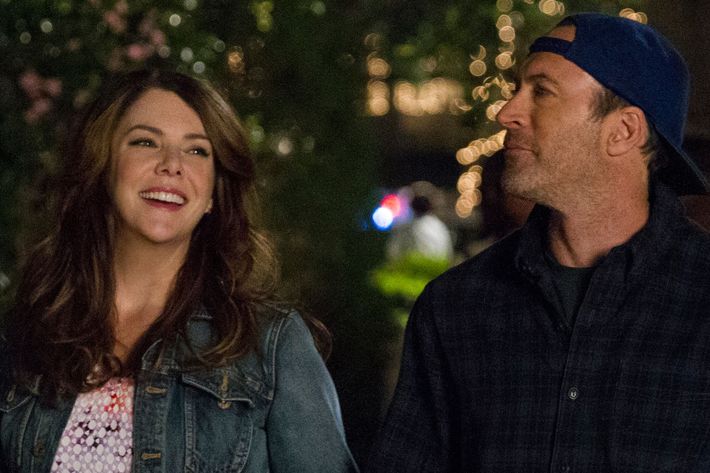 Gilmore Girls: A Year in the Life
Netflix, 11/25
Wouldn't you rather spend Black Friday in front of a screen watching Rory and Lorelai gab away than doing, well, just about anything else? This four-part revival brings back nearly all of Amy Sherman-Palladino's beloved characters. (Edward Herrmann and his great Richard Gilmore will be missed.)
SATURDAY
Dirk Gently's Holistic Detective Agency
BBC America, 9 p.m.,10/22
From a producer of The Walking Dead comes a new adaptation of Douglas Adams's eccentric detective story.
SUNDAY
Case Closed
CBS, 8:30 p.m., 9/18
CBS tries for a piece of the true-crime pie with this documentary mini-series about the murder of 6-year-old beauty-pageant queen and National Enquirer fixation JonBenet Ramsey.
Son of Zorn
Fox, 8:30 p.m., 9/25
Speaking of true crime, Serial's Sarah Koenig does a vocal cameo in this hybrid animated-live-action series about a hero (voiced by Jason Sudeikis) who returns from his home world to Orange County to reconnect with his p.c. teenage son and ex-wife, played by Curb Your Enthusiasm's Cheryl Hines.
Divorce
HBO, 10 p.m., 10/9
It's been 12 long years since Sarah Jessica Parker graced HBO on Sunday evenings, but this fall, she returns to the network in a role very clearly intended not to evoke the bubbly Carrie Bradshaw, playing a woman trying hard to leave her husband.
Insecure
HBO, 10:30 p.m., 10/9
YouTube star Issa Rae's non-online debut features her in a show about the friendship between two black women, co-created with Larry Wilmore.
*This article appears in the August 22, 2016 issue of New York Magazine.