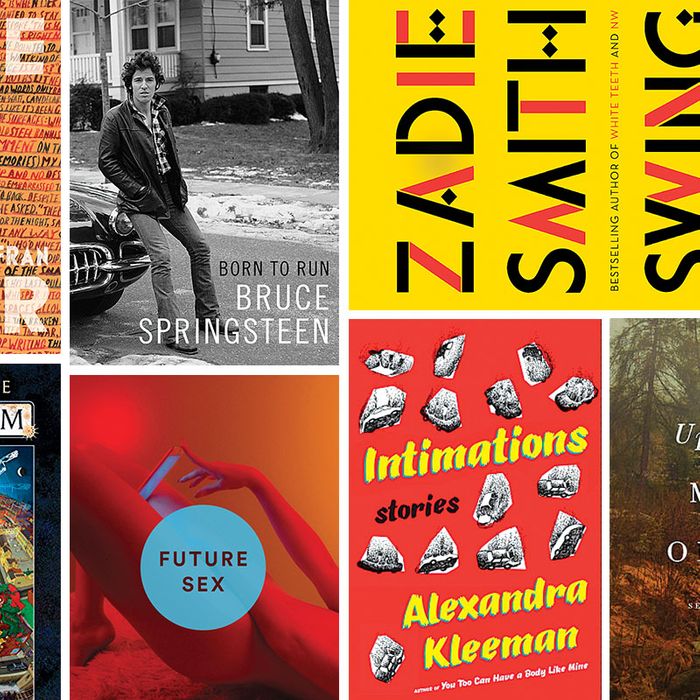 Hopefully, you've had a few minutes to play around with our Fall Entertainment Generator. But if you're looking for straight and simple lists of things to look out for by medium, we'll be breaking them out separately. Here's a look at fall book releases.
SEPTEMBER
9/6
Against Everything
By Mark Greif
Following on the heels of last year's ambitious, if somewhat clunkily titled The Age of the Crisis of Man: Thought and Fiction in America, 1933–1973, Grief's new book collects more than a decade's worth of provocations from a founder of n+1. In it, he traces the arc of a young intellectual through the Bush and Obama administrations, from the gym to the ramparts.
The Fortunes
By Peter Ho Davies
Houghton Mifflin Harcourt
This take on the multigenerational novel follows four Chinese-Americans — a Hollywood star, a valet, an adoptive father, and a hate-crime victim.
The Pigeon Tunnel
By John le Carré
Viking
Carré's memoir promises the thrills of his novels: stories from his travels as an MI6 operative, spending New Year's Eve 1982 with Yasser Arafat, and meeting the aid worker whom he'd fictionalize in The Constant Gardener.
Here I Am
By Jonathan Safran Foer
FSG
Foer's first novel in 11 years follows a Washington, D.C., family challenged by divorce, bar-mitzvah planning, and other catastrophes.
Blackacre
By Monica Youn Graywolf
The National Book Award finalist and former lawyer meditates on landscape, history, and legal arcana in this collection of poems.
Substitute: Going to School With a Thousand Kids
By Nicholson Baker
Baker is an obsessive with immense powers of observation, a strong social conscience, and, as those familiar with his House of Holes well know, a wild, often perverse wit. All of which means he's one of the few writers I'd read 700 pages of on being a substitute teacher.
9/13
This Vast Southern Empire
By Matthew Karp
Harvard University Press
How powerful southern politicians worked to keep slavery alive not only here but also in countries like Brazil and Cuba.
Jerusalem
By Alan Moore
Liveright
The comic-book genius turns his imagination to the undead; his historically pivotal hometown of Northampton, England; and demons in this 1,280-page behemoth.
Intimations
By Alexandra Kleeman
Harper
Kleeman follows the success of her 2015 debut, You Too Can Have a Body Like Mine, with 12 subtly strange stories on the not-so-subtle subjects of birth and death.
9/20
The Lesser Bohemians
By Eimear McBride
Hogarth
In her first novel, A Girl Is a Half-Formed Thing, McBride showed that Irish modernism still had plenty of life in it, so her sophomore effort, about a young actress in London, will show where she can go with that potentially burdensome legacy.
Loner
By Teddy Wayne
Simon & Schuster
A gifted Harvard freshman becomes dangerously obsessed with a glamorous classmate in this campus novel.
The Wonder
By Emma Donoghue
Little, Brown
The new book spins the strange tale of an 11-year-old Catholic girl, Anna O'Donnell, living in a small Irish town in the 1850s who becomes a media sensation when she refuses to eat, claiming she's surviving on manna from Heaven. A hard-nosed nurse from London is sent to find out what's really going on.
9/27
Born to Run
By Bruce Springsteen
Simon & Schuster
Expect plainspoken evocations of working-class duty and Catholic guilt and romantic recollections of the Jersey shore in the most anticipated rock memoir since Keith Richards's Life.
OCTOBER
10/4
The Angel of History
By Rabih Alameddine
Atlantic Monthly Press
Over the course of a single night in a psych unit, Yemeni-born poet Jacob reminisces on his life — growing up in an Egyptian brothel, living in San Francisco during the AIDS crisis — with visits from Satan, Death, and 14 different saints thrown in for good measure.
The Trespasser
By Tana French
Viking
A female detective struggling to be taken seriously; a murder that doesn't quite add up; and a wealthy, beautiful girl who might not, as is often the case, be what she seems.
My Own Words
By Ruth Bader Ginsburg
Simon & Schuster
The Notorious RBG makes it even harder to ponder her eventual absence with a look at gender inequality, the Supreme Court's inner workings, and the too-little-remarked-upon intersections of law and opera.
Ghost Songs
By Regina McBride
Tin House Books
McBride was 18 when she began seeing her parents' ghosts, both recently lost to suicide. A rare ghost story that isn't fiction.
Today Will Be Different
By Maria Semple
Little, Brown
The author of the great, funny Where'd You Go, Bernadette delves into the life of a messy, modern Everywoman who must confront a family secret over the course of a single no good, very bad day.
All That Man Is
By David Szalay
Graywolf
Szalay's ambitious novel circles nine European men, with each section of the book focusing on a different stage of "man" 's life, from adolescent daring to old-aged acceptance.
Nicotine
By Nell Zink
Ecco
The Zink ascent continues apace! Here, B-school grad Penny Baker falls in with the anarchist squatters she finds living in her recently deceased father's Jersey home.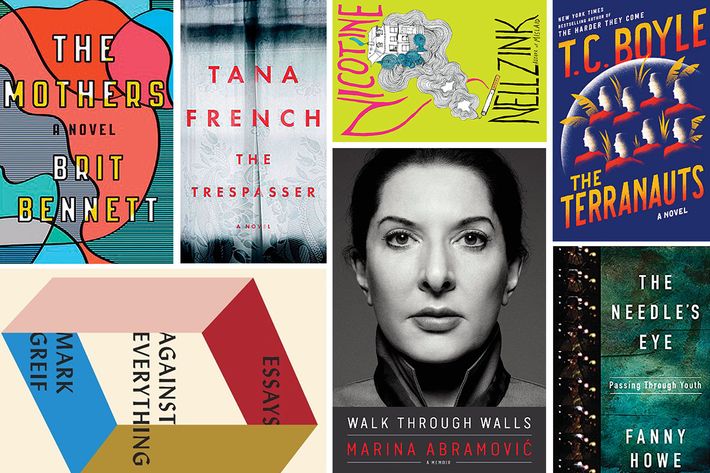 10/11
Hag-Seed
By Margaret Atwood
Hogarth Shakespeare
In Atwood's meta-retelling of The Tempest, former theater director Felix has high hopes for revenge in a prison production of Shakespeare's classic.
The Mothers
By Brit Bennett
Riverhead
California teenagers Nadia and Luke get together and spawn a secret that will affect their closely knit community for years.
Him, Me, Muhammad Ali
By Randa Jarrar
Sarabande Books
Jarrar's first book since her 2008 debut is a collection of stories that follows Muslim women around the world trying to find homes both literal and metaphorical.
Upstream
By Mary Oliver
Penguin
The Pulitzer Prize–winning poet reflects on the artist's life, the Romantic poets, and her indebtedness to the natural world.
Future Sex
By Emily Witt
FSG
A wide-ranging sociological study and personal trek into whatever stage of digital sexual decadence we've now reached, Future Sex, which Witt first felt compelled to write after reading Gay Talese's landmark look at the sexual revolution, Thy Neighbor's Wife, is also the book-length debut of one of America's foremost prose stylists under the age of 40.
10/18
The Babysitter at Rest
By Jen George
Dorothy, a Publishing Project
Garish, bizarre, and pointedly funny, George's five stories fall somewhere between surrealist exercise and reality-TV fan fiction.
A Gambler's Anatomy
By Jonathan Lethem
Doubleday
After the sweeping social realism of Dissident Gardens, Lethem is again in weirder waters. Professional backgammon player and possible psychic Bruno Alexander sorts out a mess of problems, including a tumor in his face.
Mister Monkey
By Francine Prose
HarperCollins
The failure of a chimpanzee-starring children's musical, as told by the washed-up actress, a disappointed audience member, and the monkey himself. Prepare for vicarious embarrassment.
Thrill Me
By Benjamin Percy
Graywolf
The very prolific, very successful Percy takes time out from fiction to pen, among other essays, literary love letters to Anne Rice and Stephen King, and to argue that sci-fi isn't so incompatible with high culture, in this collection of nonfiction pieces about the craft of writing.
Iza's Ballad
By Magda Szabo
NYRB Classics
A woman tries to repair her relationship with her daughter as she grieves the death of her late husband in this classic from the newly rediscovered Hungarian master.
10/25
The Terranauts
By T. C. Boyle
HarperCollins
The ultra-prolific Boyle trains his plot-friendly eye on a team of eight men and women as they try to survive in man-made biomes in 1994 Arizona.
Walk Through Walls
By Marina Abramovic
Crown Archetype
The divisive performance-art maestro on her childhood in Yugoslavia, growing up with an abusive mother, and her intense relationship with fellow performance artist Ulay.
NOVEMBER
11/1
The Beach at Night
By Elena Ferrante
Europa Editions
Lucky for Ferrante-philes, this children's book, told from the perspective of a lost doll named Celina, sounds creepy enough for fans of the Neapolitan novels; accompanied with dreamy illustrations by Mara Cerri.
The Needle's Eye
By Fanny Howe
Graywolf
Essays and stories on youth, how it's spent, and how it's lost — encompassing the Tsarnaev brothers and mythical Irish heroines — from a finalist for the Man Booker International Prize.
Virgin and Other Stories
By April Ayers Lawson
FSG
The Plimpton Prize winner's debut story collection plunges into a sensual, deeply Christian South, rife with homeschooled kids, virgin brides, and terminally ill potheads. Lawson proves, yet again, that while the red states have a lot of problems, failing to inspire gorgeous, gothic fiction is not among them.
Pull Me Under
By Kelly Luce
FSG
Rio Silvestri left Japan 20 years ago after stabbing a school bully. Now that her famous violinist father has died, she has to return home. It will not go smoothly. 
Fish in Exile
By Vi Khi Nao
Coffee House Press
A poignant, genre-busting rumination on the loss of a child that falls somewhere between fiction, poetry, and mythology.
11/15
Born a Crime
By Trevor Noah
Spiegel & Grau
The Daily Show host gets serious with a memoir on growing up biracial in late-apartheid-era South Africa.
Swing Time
By Zadie Smith
Penguin
In her fifth novel, Smith follows the triumph of NW with an intercontinental story of two women — one is truly talented, the other more politically aware — their youthful friendship, and scandalous ambition in the world of dance.
Writing to Save a Life
By John Edgar Wideman
Scribner
Emmett Till is a famous figure in civil-rights history. What's lesser known are the details of his personal history, which includes a father executed by the Army for rape and murder.
11/22
Moonglow
By Michael Chabon
HarperCollins
Spun from the deathbed recollections of his late grandfather, the latest book from the Pulitzer Prize winner tells 20th-century epic history through the imagined narrative of a single life.
11/29
How to Survive a Plague
By David France
Knopf
A follow-up to the 2012 Oscar-nominated documentary of the same name, which traces the rise of AIDS and the activist groups that fought for treatment.
DECEMBER
12/6
Whatever Happened to Interracial Love?
By Kathleen Collins
Ecco
A posthumous short-story collection from the undeservedly overlooked mid-century writer and filmmaker.
The Undoing Project
By Michael Lewis
W.W. Norton
The nonfiction bigwig does his dudes-who-saw-what-others-didn't thing in his look at the Nobel-winning pair of Israeli psychologists (Daniel Kahneman and Amos Tversky) responsible for the field of behavioral economics.
Between Dog and Wolf
By Sasha Sokolov
Columbia University Press
By all accounts, Alexander Boguslawski's translation of Sokolov's 1980 Russian novel has achieved the near impossible by bringing the book to English audiences (for the first time) with its sardonic and punning soul intact.
*This article appears in the August 22, 2016 issue of New York Magazine.