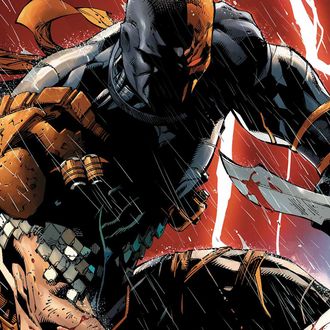 Deathstroke.
Photo: DC Comics
Now, everybody, have you heard? If you're in the DC Extended Universe, then the Stroke's the word. Batfleck himself just tweeted and Instagrammed a mysterious, wordless video (presumably a costume/FX test) of a sinister armored gent clad in orange and black walking down a hallway. Astute observers of DC Comics mythology instantly recognized this figure: it's Deathstroke the Terminator!
First created by Marv Wolfman and George Pérez as a foe to plucky team the Teen Titans in 1980, Deathstroke — a.k.a. Slade Wilson (yes, Deadpool's Wade Wilson was named after him as a joke/tribute) — is a fearsome mercenary with enhanced fighting abilities. He's a perennial baddie but not part of Batman's regular rogues' gallery. Given the DC cinematic world's pivot toward humor, expect the movie to include at least three "stroke" jokes.
Update: According to the Wrap, this was indeed a tease for the Batman solo picture, which will feature Deathstroke as its main antagonist.