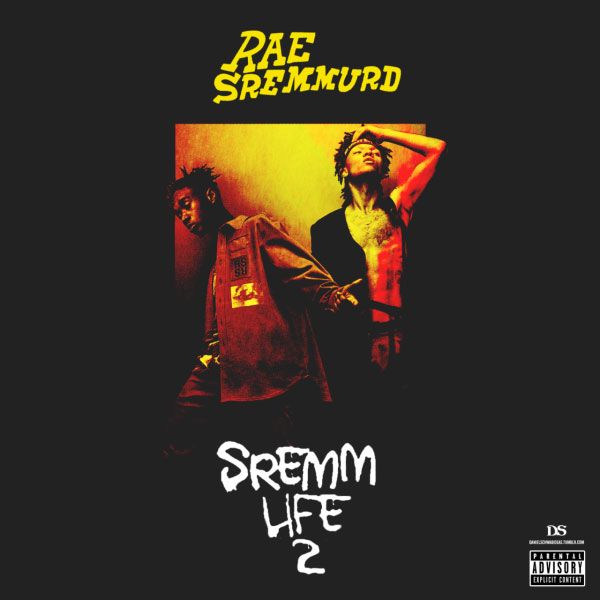 Tupelo, Mississippi, rap duo Rae Sremmurd rocketed to radio on the 2014 hit single "No Flex Zone," a lightning bolt of teen trash talk abetted by star Atlanta producer Mike Will Made It. They followed that up with an even bigger hit, the multiplatinum "No Type." The bratty energy of brothers Swae Lee and Slim Jxmmi ignited audiences and clubs but alienated some hip-hop hawks, who found Sremmurd's debut studio album Sremmlife to be featherweight material, compared to more highly regarded works from the likes of Kendrick Lamar and J. Cole. The sentiment came to a head at Hot 97, where program-director-turned-morning-show-host Ebro insinuated on-air that Mike Will had been writing the rappers' lyrics for them, and dismissed Sremmlife as "a fabricated thing." The duo spent the next few months honing their craft, and the end result, this week's just-released Sremmlife 2, seems directly aimed at anyone skeptical of Sremmurd's talent.
Sharper songwriting doesn't make Sremmlife 2 any less carefree: Opener "Start a Party" is a stadium-sized grand opening, with sprightly verses and a raucous crowd chorus, and cuts like the Lil Jon and DJ Mustard powwow "Set the Roof" keep the mood elevated throughout. What's different here is that whereas first-album brawlers like "Unlock the Swag" and "Up Like Trump" derived their power from pairing a hard beat with unrestrained shouting, this new music effects the same mayhem without so much screaming, retaining strength without sacrificing the clarity of the raps. The double-time verses of "Start a Party" are frantic, but rarely jumbled. "By Chance" wrings menace out of a monotone delivery. "Came a Long Way" details the group's hardscrabble beginnings through methodical storytelling. Toning things down gives Swae and Jxmmi a chance to show some range, and Sremmlife 2 zips off on unexpected turns as a result.
The first hint that the Sremmlets were onto something new this time was the pre-album single "Look Alive," on which Mike Will assembled a cold array of blocky synth lines, and Swae over-enunciated a darkly sung chorus in what almost sounded like a British accent. The track hewed closer to downcast '80s post-punk and synth-pop gems like the Cure's "Let's Go to Bed" or Depeche Mode's "Policy of Truth" than anything else played alongside it on rap radio. Sremmlife 2 posits gothic R&B as a viable new direction, especially on the chilly, Gucci Mane-assisted "Black Beatles," and back-nine cuts "Now That I Know," "Take It or Leave It," "Do Yoga," and "Just Like Us." The group makes excellent use of Mike Will's skill as sculptor of hits for Miley Cyrus, sagely splitting Sremmlife 2 nearly half-and-half between club-fight songs and airy, pop-minded darts at radio play. Rappers tend to come to Mike for the one, singers for the other; the Sremmlets' fusion of the two methods sagely presents a glossier and more tightly wound alternative to the sometimes roughshod bubblegum trap of Southern hip-hop peers like Lil Yachty and iLoveMakonnen.
It took willful denial to dismiss Rae Sremmurd as a party-rap flash in the pan, despite a year-and-a-half hit parade that spawned a string of platinum and multiplatinum singles. Groups like that have a tendency of disintegrating when they fail to recapture whatever wild magic created their biggest hit. Sremmlife 2 is a bid for a career well beyond a single successful album. Life goes on when the party dies down, and the gifted rapper's mettle is proven by their ability to speak as brightly about tough times as the women, weed, and weather that made a wild night pop off. In adding weight and depth to Swae and Jxmmi's attack, Sremmlife 2 fends off detractors who would question their popularity, while illuminating new angles and avenues to pursue in the future.