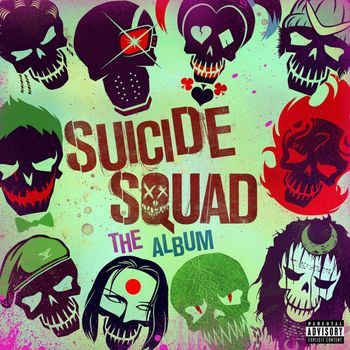 The Suicide Squad soundtrack is a neon nightmare. I wasn't planning on listening to it at all after the Big Gulp brainfreeze of Rick Ross and Skrillex's trap/EDM tête-à-tête "Purple Lamborghini" (Hot take: Question your biology if the histrionics don't make your head hurt), although I'll admit to a rush of interest after a friend's endorsement of the Grimes cut "Medieval Warfare" as "white feminist nu metal." I arrived at the album by accident, letting YouTube autoplay a list of recent singles from the confessional R&B newcomer Kehlani that ended in her bruised-fruit love song "Gangsta," one of the soundtrack's highlights. It was a fleeting peace: The next cut was the same album's Panic! at the Disco cover of Queen's "Bohemian Rhapsody," a bad-on-paper idea noteworthy mostly for a lack of glaring errors, like all marginally successful karaoke. If the party line on Suicide Squad the movie is that it is by turns stylish and witlessly boneheaded, Suicide Squad: The Album boorishly follows suit.
The 14 songs on Suicide Squad: The Album attempt a careful balance between pop sheen and fringe-artist cool that nets as much mirth as mess. "Standing in the Rain" piles Action Bronson into the same vehicle as Mark Ronson and Dan Auerbach of the Black Keys. It wins by mining each party's shared love of vintage rock sounds. "Sucker for Pain" takes this stir-fry approach to the extreme, juggling appearances from unlikely rap star Logic and hitmakers Lil Wayne, Wiz Khalifa, Ty Dolla $ign with the post-genre, sorta-rock trinity of X Ambassadors, Imagine Dragons, and twenty-one pilots. It's catchy but never interesting, middling but not exactly terrible. Pilots' own "Heathens" and Eminem collaborator Skylar Grey's "Wreak Havoc" reinforce the blithe pop veneer, the latter stripping Kanye West's "Black Skinhead" for parts but arranging them into a slipshod final product.
Australian singer Grace and Oakland rapper G-Eazy's year-old cover of the old Leslie Gore hit "You Don't Own Me" balances Suicide Squad's pop-rap overload with a dollop of classic-rock fan service. The latter is a trick borrowed from Marvel's Guardians of the Galaxy with a twist. Where Guardians' platinum-selling Awesome Mix posited itself as a personal mixtape of the lead character's favorite '60s and '70s soul and rock songs, Suicide Squad: The Album offsets the array of Stones, AC/DC, and Black Sabbath songs employed in the actual film with modernized covers, including the aforementioned Grace and Panic! at the Disco offerings. The most intriguing of these experiments is a haunting rendition of the Bee Gees' "I Started a Joke" helmed by film-trailer-score hands Confidential Music and singer Becky Hanson, but a light pass over Google shows this isn't the first time the trio tried the same maneuver.
Suicide Squad: The Album can't decide whether it wants to be a star-studded genre-buster like 1993's classic rap and alternative rock showdown Judgment Night or a throwback rock-and-funk party like the Guardians of the Galaxy Awesome Mixes. But in ping-ponging between other movies' memorable approaches, it never finds itself. TL;DR: Grab the Grimes, Bronson, Kehlani, and Kevin Gates songs off here, and let's maybe pretend the rest never happened.