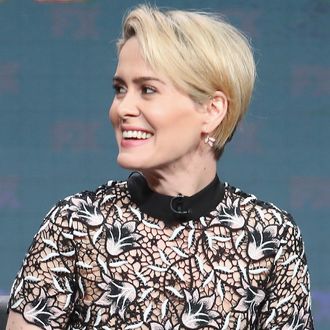 Photo: Frederick M. Brown/2016 Getty Images
The People v. O.J. Simpson: American Crime Story picked up 22 Emmy nominations and has likely been the most talked about TV show of the past year. It explored one of the most controversial cultural moments in modern American history, and for ACS's next act, FX will not be taking its foot off the gas. At the Television Critics Association press tour today, the show's producers talked about the themes and focus of the next installment in the anthology series, which will drill down into the national tragedy of Hurricane Katrina. "It'll be about the intensity of what it was like to be on the ground in that pressure cooker," executive producer Brad Simpson told the TCA attendees. "And the bigger crime, it was predictable. Like O.J., it turns a lens back on America and shows some uncomfortable truths about it." With the Katrina season only in very early stages so far, no one was able to break any big casting news, which is always a major part of the fun for Ryan Murphy productions. Simpson said scripts are only just about to start coming in, so they don't even know who the main characters are going to be yet, but he promised there will be characters you've heard of (paging Ray Nagin!), as well as anonymous people whose stories have not been told.
Fortunately, the beating heart of Murphy World, Sarah Paulson, said she fully intends to come back for the upcoming season. "The Katrina story, to me, is a literal American crime," Paulson said to Deadline. "It says something about a uniquely American attitude, and I find it incredibly potent." So with Sarah Paulson locked down, the biggest question becomes: In precisely which episode will we see the revival of, "Brownie, you're doing a heck of a job"? Because that will be appointment television.