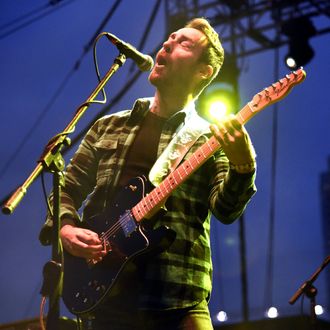 Another blessing from th emo revival.
Photo: Tim Mosenfelder/Getty Images
Summer ends, but emo lasts forever. Are you sitting down? Good: American Football are back! After 17 years of obvious regret, the Illinois emo unicorns have announced they're putting out a new album on October 21, and just like their one and only other LP from 1999, it'll be self-titled. The massively influential band reunited in 2014 for some shows and have been teasing something for days; now, it's for sure all happening. Why'd they have to leave so soon all those years ago? They just got soooo lost for sooooo long, as lamented in aching detail on their first song in nearly two decades, "I've Been Lost for So Long," which more or less puts the blame on us for foolishly waiting: "You can't trust a man who can't find his way home." Ugh, so what else is new?
But if you think their return stemmed from FOMO on the emo revival or whatever the disingenuous reason, Mike Kinsella tells Pitchfork we should already know to expect better from them. "I dunno if it'll be received as, 'Oh, these guys are all trying to cash in and they're fucking dorks.' Maybe it'll be more like: 'Holy cow, I used to like this record, and now they made a record that's way better than that.'" Good thing we're both still so emotional.