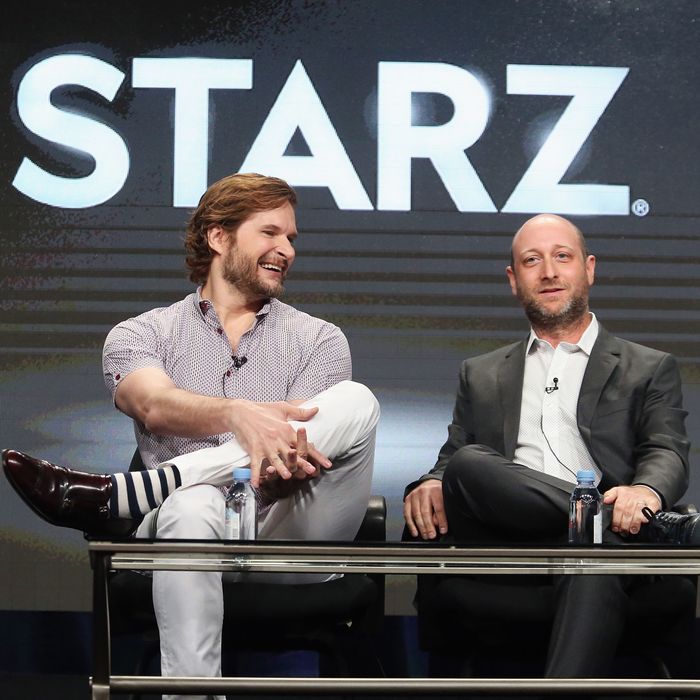 Bryan Fuller and Michael Green discuss American Gods at TCA.
Photo: Frederick M. Brown/Getty Images
Starz's adaptation of Neil Gaiman's American Gods is led by co-showrunners and executive producers Bryan Fuller and Michael Green, who met back in the day working on Heroes. They're cognizant of the ardent fan base (themselves included) eagerly anticipating the fantasylike series, which, like the book, will explore Americans' obsession with the old gods (as in Ian McShane as Mr. Wednesday, an incarnation of Norse god Odin) and the new (i.e. the handheld device you're probably reading this on right now). Green and Fuller joined journalists at the show's Television Critics Association panel on Wednesday in Beverly Hills to answer questions about the series. Here are a few things we learned.
Casting will be a mixture of both famous and not-so-famous actors.
Kristin Chenoweth, for one, will star as the goddess Easter. "Sometimes we'll try for a bigger name and realize there are so many great actors like Yetide Badaki [who plays Bilquis, the Queen of Sheba] or Bruce Langley [who plays the cryptically named Technical Boy], who we got out of the audition process," Fuller said. "It really is about the flavor of the piece and having enough stars in their roles so that they are additive and not distractive." 
They were very deliberate about casting people of color.
Ricky Whittle had to audition 16 times to play the lead, Shadow Moon. "He still hasn't forgiven us," said Fuller. But in terms of casting a minority, it "was never a question of doing otherwise for us," said Fuller. "In order to be true to the book, you had to cast somebody who is not white … we're not color-blind casting. We're actually very consciously aware of the color in the cast and the ethnic specificity because the book is so specific. There have been times where a character has been described as having very dark skin and we make a suggestion to Neil and [he said] the character's absolutely Indian."
Dane Cook is killing it as Robbie, Shadow Moon's best bro.
"He's really fun," said Green. "How do you get someone who can be a really entertaining dick? We did go through a casting processing for that … but when his name came up, it was hard to see it in a different way."
Gillian Anderson was totally down to play Media, the personification of TV.
"She's a massive Neil Gaiman fan," said Fuller, who worked with Anderson on Hannibal. "They've become friends out of this process. I think Gillian knows that if there's anything I'm doing and she's even remotely interested, the door's wide open because I think she's a fantastic actor and continually surprises us."
The show won't be as much of a "sausage party" as the book.
"When we first started talking about what the book would become in its adaptation … we were both synchronized so much immediately in terms of … seizing on specific characters that we're going to be fleshing out in the world because, in the novel, it's very much a sausage party," said Fuller. "It's about two guys on a road trip, and there are fantastic female characters in the piece." He said there is an entire episode told from Laura Moon's (Emily Browning) point of view, and that contrary to the way she's seen in the book, Bilquis "is a full fleshed-out character with an arc that's just as exciting as any of the other conversations."
Neil Gaiman is very involved.
"The punctuation in this novel can be a guideline because things can happen in between it," said Green. "Literally every time we come to him and say, 'what if this happens between this and this,' he says 'thank you, I love it,' and we start pitching on it."
Religion is featured in an "inclusive way," said Green.
"[Appearing at Comic-Con] did start the conversation that when people say religion, the next step is to be divisive," he said. "What makes American Gods such a beloved and lasting piece of literature is that it manages to discuss religion in an inclusive way that invites all."
There is pressure to get it right.
"This project, in addition to being the dream project, is the one that I've heard 'don't fuck it up' more than any other time," said Green. "We get different levels of 'don't fuck it up' … it's a constant process of rising to the challenge."