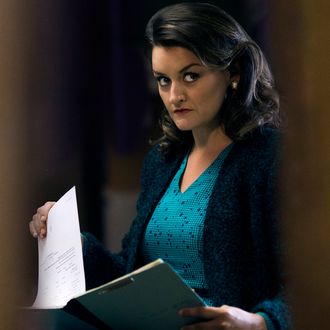 Photo: Copyright 2016, FX Networks. All rights reserved.
On The Americans, Soviet sleeper agents Elizabeth and Philip Jennings are very good at keeping secrets — a trait the FX show's executive producers, Joe Weisberg and Joel Fields, don't seem to share. During a Television Critics Association press conference, Weisberg and Fields were happy to leave some clues in plain sight about what the final two seasons will entail. And, guys, it sounds like it's going to be a doozy.
The ending has been set for awhile.
Weisberg said that the fifth season of the series "stands alone as a season," but it "sets up the finale in a pretty specific way." Fields added that "around season two, we started creating what we call this master document that … had all our scene ideas for every story line. We'd work from that as we wrote every season and every episode. At the end of last season, we went through that and that has everything in it." (Apparently this magical document was so long that it had to be shrunk down to seven-point font.)
Weisberg added, "We've been stuck on this one idea [for the finale] for like three years."
Nina (Annet Mahendru) and Martha's (Alison Wright) ends could have happened earlier. Gaad (Richard Thomas) came about naturally.
Fields said that "the Nina thing, in particular, was in season three and at the very beginning of season four … The Martha thing slid around as well … We didn't know [Gaad] was going to happen at all; that just followed Martha. Once Martha was gone, it just seemed that Gaad's career was going to end. It didn't have to end that way, but it just seemed like a logical sense for the story."
Last season cleared out lots of characters. Does this mean there's room for new ones?
"We asked ourselves: Martha's gone. Nina's gone. So much of our story revolved around them. Do we want to replace them? We've got two years left," said Weisberg. "We did what we usually do and panicked for five minutes and then decided, let's just let the story answer that question. We found that the story we want to tell for them isn't really replacing them with characters who have that kind of significance in the Jennings' life."
Paige's story line will erupt next season.
"The stuff that's been percolating and brewing for so long between Elizabeth and Philip and Paige is finally come to a boil," teased Weisberg.
Philip's other son, Mischa (Alex Ozerov) is coming.
"[Mischa] was a late realization," said Weisberg. "That story, when we started it, we didn't even know if that character really existed. We did not spend the last three seasons knowing if he existed or not."
Stan Alert is in full effect.
While the relationship between the Jennings and Stan Beeman (Noah Emmerich) will get more tense, Fields said it will be "in an unexpected way."
Gabriel and Claudia are also back. And Margo Martindale's reign in the Emmy guest-actress category for playing the female controller is over.
"Frank Langella is coming back and Margo Martindale is coming back," said Weisberg. "It'll be multiple scenes, so her Emmy's up for grabs."
#PoorHenry is the new #PoorMartha.
"That's something we talk about a lot, and it's something that's going to become more and more part of the story," Weisberg said in regards to the Jennings' neglected child. "The fact of his removal from Paige — that … she's been brought closer to her mother and father but separated from her brother — is going to be felt more next season."
Martha may be back.
"Martha's not dead, and there were good reports from Gabriel about how she's doing," said Fields. Weisberg likes that her story can work either way.
A spinoff is unlikely.
"Mail robot comes up a lot," joked Fields. "Right now we're looking to make these two seasons the best we can."