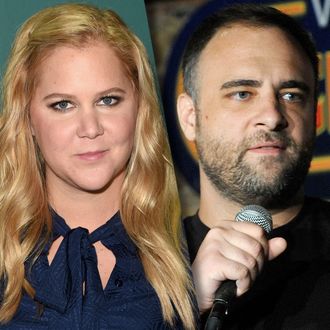 Amy Schumer and Kurt Metzger.
Photo: Getty Images
Amy Schumer has spoken. The star and creator of Inside Amy Schumer commented on the most recent actions of one of the former writers of her show, Kurt Metzger, who has created a great deal of controversy online for his comments on rape accusations and the comedy world. "I am so saddened and disappointed in Kurt Metzger," Schumer wrote on Twitter. "He is my friend and a great writer and I couldn't be more against his recent actions."
The issue began when the Upright Citzens Brigade, the renowned improv and sketch-comedy group, quietly banned a male comic from its events after word spread that he had allegedly raped multiple female comics (in a since-deleted Facebook post, the comic in question denied the allegations). While the UCB itself has not made an official comment on the matter, a message from the alleged victim spread throughout female comedy groups on Facebook announcing the ban. Part of the message reads: "Multiple women came forward, and after investigation, [name redacted] was permanently banned from UCB this week for raping women in the comedy community over the years."
So, how does Metzger fit into this? Well, he's taken the issue on as a cause célèbre of social-media witch hunts. On Sunday evening, Metzger wrote a since-deleted Facebook post, with a screenshot available on the Daily Dot, satirizing what he perceived to be an injustice against that comic. He began, "Guys I have just heard some disturbing news, this guy Jiff Dilfyberg is a rapist! I know because women said it and that's all I need!" In other Facebook posts to follow, Metzger continued to rail against what he perceives as a lack of due process — that UCB would ban someone from their shows when that person has not been convicted of a crime. "With no details/proof/a story about what happened of any kind, a bunch of people feel comfortable declaring guilt and going out of their way to destroy someone," Metzger wrote. "But I'm right and that's why we have a constitution and laws."
A number of people called Metzger a "rape apologist," which only further inflamed his rhetoric. "It just makes my so dick hard to have the stupidest people alive mad at me. But I came already so I'm taking a break," Metzger writes in one post. "If you are raped by Bill Cosby you and you didn't go to the cops I get it. You were scared etc etc. I give you credit. If a fat improv open mic kid with a fucking jew fro did it you are full of shit," he writes in another.
Metzger has a long history of battling with his critics on social media. Back in 2013, he went on a similar tear against writers Lindy West and Sady Doyle, who said that he would harass them online because they disagreed on the acceptability of rape jokes.
As for Schumer, she at first appeared to be blocking users on Twitter who called on her to speak out against Metzger.
Update: Schumer has since distanced herself from Metzger with her latest tweet, saying that he "does not work for [her]."
While Metzger's current status with the show may be unclear, Metzger has appeared on Inside Amy Schumer as an actor and as a writer since the show's beginning. There has been no official comment as of yet regarding Metzger's current status at Comedy Central.
Update: In the aftermath of the backlash against Metzger — and Schumer's distancing herself from him — Metzger posted another lengthy message on Facebook. In an apology of sorts, Metzger denies being a "rape apologist," insisting: "It was never my intent to antagonize victims or their supporters … I stand by the points I made, but I sincerely apologize for using inflammatory language to make them."
In the comments section below the post, Metzger also claims that Schumer disavowed Metzger's comments only once he "told her to." In a series of comments, he wrote: "I told her to. She was gonna say nothing … She would have been silent to the end … I will not have other people have to go down for me … And i resent that they connect me to her constantly."
Metzger also separately denied suggestions that the controversy got him fired from his job on Inside Amy Schumer. He wrote: "There is no job … They want me fired from a job that doesnt exist."