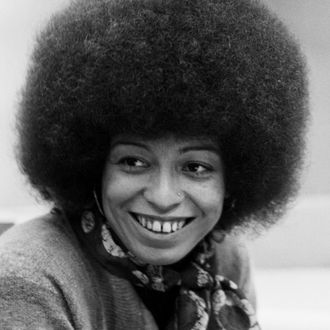 Angela Davis in 1975.
Photo: Jean-Claude FRANCOLON/Getty Images
Hollywood loves a good story about unjust imprisonment, especially if it can be made into a movie several decades after the fact. Variety reports that Codeblack Films has acquired the movie rights to activist Angela Davis's autobiography, which covers her history as a radical leader in the civil-rights movement, including her work as a professor at UCLA in the 1960s and her time in jail in the early 1970s. Nina Yang Bongiovi, who produced Fruitvale Station and Dope; Sidra Smith, who produced the 2012 documentary Free Angela and All Political Prisoners; and Codeblack CEO Jeff Clanagan are producing the project. Davis's niece, Eisa Davis, who wrote the play Angela's Mixtape, is writing the script for the film. The murmuring you hear in the distance is the sound of actresses trying to convince their agents they'd look good in an afro.