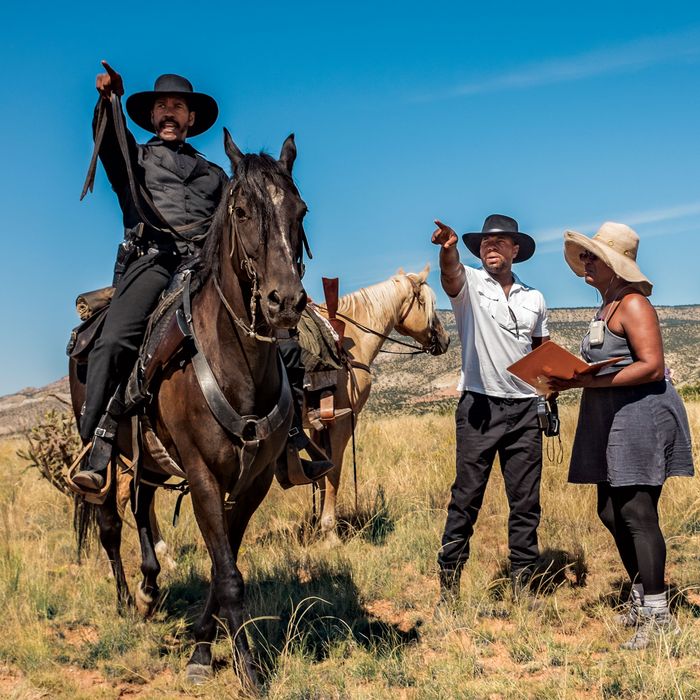 Fuqua directs Washington in The Magnificent Seven.
Photo: Scott Garfield/Courtesy of Columbia Pictures and Metro-Goldwyn-Mayer Pictures
From directing 2004's King Arthur, Antoine Fuqua learned a key lesson about building new movies out of old material. "Make it your own, but be conscious of the things that mean a lot to people," he says. "When you bend it too far, it gets hard for people to wrap their heads around." Fuqua drew on that lesson while making the new Magnificent Seven, out September 23, a remake of the 1960 Western about a group of gunfighters who defend a town of innocent Mexican villagers, itself adapted from Akira Kurosawa's Seven Samurai. "I remember looking up the definition of the word samurai when I was younger, and finding out it meant 'to serve,' " Fuqua says. In both the earlier films as well as his own, he says, the characters ultimately risk their lives for the town without having any personal stake: "Sometimes you don't need a reason to do the right thing."
Fuqua's version does contain one radical departure from its predecessor. This time around, the desperate villagers are white, while the septet of hired gunmen are a more diverse group that includes Fuqua's Training Day stars Denzel Washington and Ethan Hawke, alongside Chris Pratt, Byung-hun Lee, Martin Sensmeier, Vincent D'Onofrio, and Manuel Garcia-Rulfo. It's a decision Fuqua says reflects historical reality more than it does any conscious attempt to update the story. "There were a lot of black cowboys, a lot of Native Americans; Asians working on the railroads. The truth of the West is more modern than the movies have been."
Throughout the two-month Louisiana shoot, Fuqua dealt with intense physical conditions and some very stubborn animals. But it might all have been worth it for the image of his famously unflappable star astride an ornery Andalusian. "Denzel had to boss that thing around a bit. He was yanking and pulling," Fuqua remembers with a laugh. "To see him on a horse, that's just fun."
*This article appears in the August 22, 2016 issue of New York Magazine.