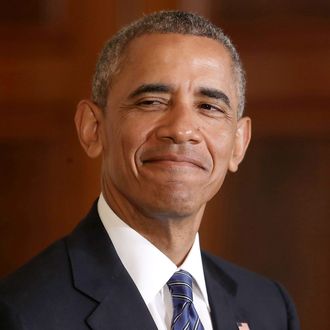 I see you, Obama.
Photo: Chip Somodevilla/Getty Images
Ah, the middle of August. A time for preseason football, unbearable heat, and Barack Obama's new tradition of curating Spotify playlists for the American people to enjoy. This year's version of Obama's "Day" playlist features a Courtney Barnett banger, the requisite Prince jam, and that corny-ass Edward Sharpe song. But we're not here to talk about the "Day" playlist today. We're here to discuss the "Night" playlist, which, for the second year in a row, offers an unintentionally revealing look at the commander-in-chief's lovemaking strategy.
Unlike last year, Obama's not playing around: He kicks the thing off with Chrisette Michele's "If I Had My Way." Why be subtle? You both know why you're here. Then the smooth jazz of Esperanza Spalding's "Espera." He's looking into your eyes. You're biting your lip. Aaron Neville's "Tell It Like It Is" comes on and breaks the tension. You both crack smiles. By the time D'Angelo's "Lady" comes on, you're vibing. Obama leans in for the kiss. You find yourself melting together as one. Emilio Castillo is crooning "So Very Hard to Go" as the same hands that signed the Unlocking Consumer Choice and Wireless Competition Act roam over your skin. Both your shirts come off for Corinne Bailey Rae's "Green Aphrodisiac," which is also when he rolls you over and proceeds to give you a sensual backrub. The pants join them on the floor during "Lover Man," as his hands go lower. And lower. And lower. He hovers on the precipice; you give him a nod. He starts going to town right at the first line of Fiona Apple's "Criminal." "You've been a bad, bad boy," you tell the president. He grins. He varies the tempo for Miles's "Funny Valentine," which becomes 15 minutes of beautiful pleasure. You close your eyes so they don't pop out of your sockets. Finally, as Antony Hamilton ramps up "Do You Feel Me," Obama … well, there's no better way to say it: He mounts you. You gasp. He groans. Janet is complaining about getting so lonely while he's kissing your neck, going deeper and deeper. At Lizz Wright's "Lean In," he props you up on your hands and knees. Oh God, just like college, you think, but he's taking the lyrics to heart: Go slow, take your time, eyes open wide; follow me inside. Is this it? Yes, it is: As Wright purrs those final notes, you explode in ecstasy — together. You come down from the high to the lazy tunes of War's "All Day Music." Obama gets you a water. "I really wish I hadn't quit smoking," he chuckles. You fall asleep in his arms to Floetry's "Say Yes." Hail to the Chief, indeed.
(Oh, and you'd better pray Hillary pulls it off in November — you do not want to know what Donald Trump's sex playlist sounds like.)