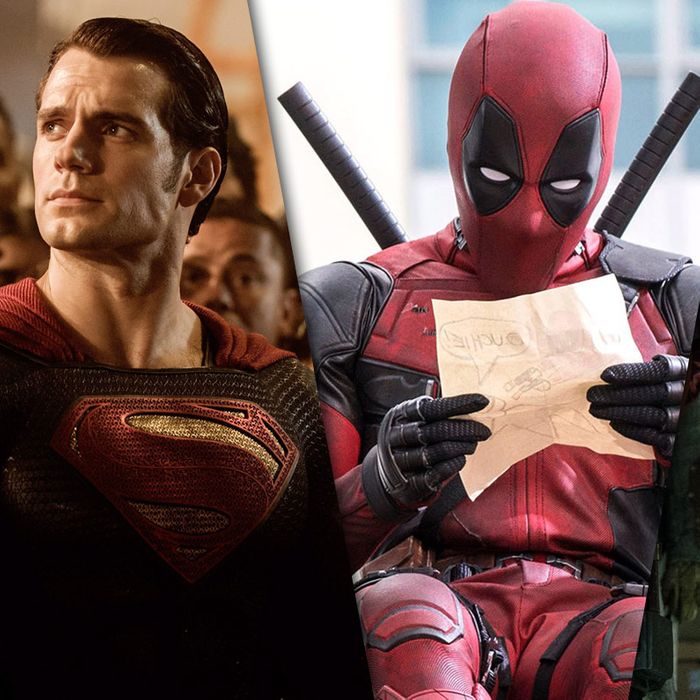 Photo: Warner Brothers, Twentieth Century Fox
It's been a rough summer for Hollywood. Massive second-weekend drops, an increasing number of big-budget flops, and a general sense of disappointment have plagued the box office, creating a malaise that extends throughout the industry. But despite the overall bad juju, there's a term that's been getting thrown around a lot this year: "record-breaking."
Deadpool was record-breaking.
Batman v Superman was record-breaking.
Just last month, Suicide Squad was record-breaking.
Despite ranging from wild successes to executive-shuffling disappointments, all three movies accomplished the same feat: They had the highest opening-weekend takes in the history of the months they were released. While there are a number of records that can tell you about how the box office has grown, the opening-weekend take is particularly instructive. It tells you when, and how big, Hollywood expects to be able to release its most expensive (and hopefully most lucrative) films. It tells you how that mind-set has changed over the last few decades. And it tells you what the calendar, and therefore the movie industry, could look like going forward.
There are only four months that haven't seen a new opening record in the years 2015 or 2016 — and September, a month that just saw a new record set last year, has a few films that could further raise the bar. While inflation partially explains the rise and fall of records, there's still plenty to be gleaned from how the record-books continue to be rewritten. Let's dive in.
JANUARY

Record holder: American Sniper, 2015, $89.3 million
Previous record holder: Ride Along, 2014, $41.5 million
January has long been the last opportunity to deploy your Oscar hopefuls: A Beautiful Mind came out in January 2002, The Thin Red Line in 1999, Good Will Hunting in 1998; these movies receive small qualifying runs in December, then expand to the rest of the country in January. At the same time, it was also among the least lucrative months on the calendar. For ten years, the record holder in January was the re-release of Star Wars in 1997, which managed to open to $35.9 million in 1997, or about $54 million in today's money; the movie that broke that record, Cloverfield, in 2008, only made $40.1 million (about $45 million today). Cloverfield, of course, was a rare kind of blockbuster, made for cheap and released with great secrecy by producer J.J. Abrams — it feels fitting that that would be the kind of movie that might succeed in January.
Because of that modestly performing past, January provides one of the most striking examples of how drastically the box office has changed in the last few years. American Sniper wasn't necessarily an unusual choice for a January date: Warner Bros. had Oscar hopes for the Clint Eastwood–directed movie, and it received a limited release in December before going wide. But American Sniper's release absolutely shattered all precedent, grossing $89.3 million on its first weekend — more than double the previous record holder, Ride Along, which in 2014 just barely topped Cloverfield.
Part of this has to do with the fact that American Sniper is the rare Oscar-type prestige picture that also plays as a broad-appeal wide release, a war film featuring a movie star (Bradley Cooper) that played along both political and entertainment lines. But its enormous opening nevertheless indicated that January, one of the last remaining dead spots on the blockbuster calendar, could, in spite of its track record, provide a big release — even if it remains one of only three months to still lack a $100 million opener.
FEBRUARY
Record holder: Deadpool, 2016, $132.4 million
Previous record holder: Fifty Shades of Grey, 2015, $85.2 million
If January has traditionally been considered a dumping ground, February was thought to be an outright landfill. In 2014, Slate went so far as to try and prove that February was the worst month of the year for movies, stuck between prestige season and summer tentpoles. Occasionally, a good film would land in the month, like Martin Scorcese's Shutter Island in 2010, but even that happened for idiosyncratic reasons — specifically the economy and studio concerns. For the most part, when you look at the list of February releases, it's unmoving, filled with the likes of 50 First Dates, Daredevil, and Norbit.
This hasn't always been the case. Back before the crystallization of tentpole culture, when the summer movie season was well established but studios were still making large numbers of adult-targeted films, Hannibal, the hugely anticipated sequel to Silence of the Lambs, was released in February 2001, ten years after its predecessor. The movie opened to $58 million, at that time the third-highest opening ever, as well as the largest to-date for an R-rated film. That number would be about $79 million today — not even in the top 20 of openings this year.
It's important to note, though, that the way movies were released then was different, with slower rollouts and less up-front business. Screen counts are the determinant of how wide a release is and how accurately you can compare the opening grosses of a film. Back in the 1970s, the two movies often credited with launching blockbuster culture, Star Wars and Jaws, hit 757 and 675 screens respectively on their first weekends. That gave them debuts of $6.8 and $6.2 million, just 2.2 percent and 2.4 percent of their eventual total grosses. Even adjusted for inflation, those are still very modest openings by today's standards — about $27 million and $28 million, respectively — but that's largely because of how few screens they played on compared to the way films open today.
By 1982, the widest release of the year, Star Trek II: The Wrath of Khan, opened on 1,621 screens, making 18.2 percent of its total. The year 1985 saw the first movie to open on more than 2,000 screens, Rambo: First Blood Part II, which did 13.4 percent of its total. As of 1988, we were up over 2,500, with Rambo III hitting 2,562 theaters and Crocodile Dundee II on 2,837. In 1996, Mission: Impossible opened on 3,012 screens. Mission: Impossible II broke the 3,500 barrier in 2000, reaching 3,653 screens. Three movies broke 4,000 in 2004: Shrek II, Spider-Man 2, and Shark Tale, all of which landed between 4,163 and 4,016.
In the decade-plus since, though, no movie has topped 4,500 screens; the current record holder for widest release, The Twilight Saga: Eclipse, came out on 4,468 screens in 2010. From 1982 to 1988, the biggest opening increased by over a thousand theaters. From 1988 to 2000, it added another 800, and another 500 from 2000 to 2004. But this year's widest release, The Secret Life of Pets, opened in 4,370 theaters, just 200 more than Shrek II showed on in 2004. That means the steroidal growth of openings over the last five years can no longer be attributed to screen expansion.
Back to February: Hannibal opened in 3,230 theaters back in 2001, but its record only stood for a few years. In 2004, Mel Gibson's The Passion of the Christ opened to $83.8 million ($106.8 million adjusted), topping Hannibal. The Passion of the Christ was, in just about every way, an atypical release: It came via an indie, Newmarket Films, that released an odd array of movies mostly between 2001 and 2005, and it was both gratuitously violent and religiously targeted. The combination made for a hit that probably could've lived in any month, but landed in February due to its release on Ash Wednesday, the first day of Lent. There aren't a whole lot of controversial movies of faith being made by major movie stars, so it's hard to learn too much from its success beyond its own individual phenomenon.
In 2015, The Passion of the Christ was barely topped by a very different kind of film, 50 Shades of Grey, which also landed in February for a specific reason: Valentine's Day. (Romance: it's still alive!) Then in 2016, the record fell again, in a much more spectacular way: Deadpool made $132.4 million, almost a $50 million jump from the opening of 50 Shades only a year later, taking everyone — including its own studio — rather by surprise. I've written about the significance of the success of Deadpool at length, but for our purposes here, it had an impact similar to American Sniper's, demonstrating that the right kind of movie — one with a clear audience, a marketable premise, and a tangible buzz of anticipation  — could be a hit no matter when it came out. In some ways, Deadpool was the best kind of experiment, because it wasn't expected to be such a behemoth, as suggested by the February date and the $58 million budget. It took off because it worked.
Which leads us to March.
MARCH
Record holder: Batman v Superman: Dawn of Justice, 2016, $166.0 million
Previous record holder: The Hunger Games, 2012, $152.5 million
A clear audience! A marketable premise! A tangible buzz of anticipation! All were there in spades for the release of Batman v Superman: Dawn of Justice, DC's $250 million behemoth. And unlike January and February, which are not known for supporting big releases, March has a better track record: In 2002, the first Ice Age opened to $46.3 million, about $62 million today; in 2007, 300 made $70.9 million (~$82 million today). These weren't secret hits — they were movies with wide appeal that happened to come out in March, the first month of the year in which studios were relatively happy to release their presumptive moneymakers. In 2010, Alice in Wonderland truly broke out, becoming one of the most surprising $100 million-plus grossers of all time, and The Hunger Games (very predictably) was a hit in the month in 2012, making $152.5 million.
When BvS made $166 million in March of this year, then, it was legitimately an achievement, beating a bona fide franchise hit in The Hunger Games on a similar number of screens. But BvS's success belied a problem that is becoming symptomatic of these huge openers: It had no legs. Batman v Superman ended up making more than half of its total gross on its opening weekend, the first $100 million-opener to accomplish that embarrassing feat. It ultimately ended up making just $330.4 million domestically, almost $78 million less than The Hunger Games made four years earlier. The ugly side of these colossal debuts had shown itself. Sure, you could get people to show up to 4,000 theaters with a project they deeply anticipated — but if the movie wasn't good, audiences would figure it out. The word of mouth that fueled hits in the 1970s, 1980s, and 1990s still matters. It just matters in a different way.
APRIL
Record holder: Furious 7, 2015, $147.2 million
Previous record holder: Captain America: The Winter Soldier, 2014, $95.0 million
Based on the trajectory I've been outlining, you'd expect April to further build on March, with more and more big releases. But that's not the case — in April, there's historically been a brief break before the summer movie season begins in May. Only eight movies have ever opened to more than $40 million in the month, versus 21 in March and 15 in May.
That being said, since 2009, it's also hosted three of the last four Fast/Furious movies, which own three of the top five performances in the month, including Furious 7 at No. 1 with $147.2 million. And in 2014, Captain America: The Winter Soldier came out in March, earning $95 million and becoming the first Marvel movie to open before the May-June-July summer season. (Marvel staggered it with Guardians of the Galaxy, release GotG in August 2014.)
April might be the best available example of the ability of studios to launch franchise movies in any month. Prior to 2009, there had never been a $70 million opener in the month; in the seven years since then, there have been five. With Fast 8 coming in April 2017, you can count on another one.
MAY / JUNE / JULY

Record holder:
The Avengers, 2012, $207.4 million  (May)
Jurassic World, 2015, $208.8 million (June)
Harry Potter and the Deathly Hallows Part 2, 2011, $169.2 million (July)

Previous record holders:
Spider-Man 3, 2007, $151.1 million (May)
Man of Steel, 2013, $116.6 million (June)
The Dark Knight, 2008, $158.4 million (July)

May, June, and July make up the summer-movie season. Prior to 2015, a grand total of two movies — The Hunger Games and Alice in Wonderland, both March releases — had opened outside of these three months or November (which we'll get to) and managed to debut above $100 million. This is where the action happens, when most of the megaton bombs get dropped, and that's been the case since the 1970s.
May in particular is a beast. Some 26 movies released in May have opened to more than $75 million. Only 51 movies released in the other 11 months have done the same. If you look at the list of May openings, it's essentially a murderer's row of franchises and tentpoles, highlighted by the biggest entries in the Marvel Cinematic Universe, which occupy the top four spots and five of the top six.
June, on the other hand, is Pixar's month — the animation giant holds seven of the top 13 spots. And July is a bit less high-wattage than the two months that come before it, but has managed to host some of the rare one-off hits of the last couple decades: Spielberg's 2005 War of the Worlds; the 2008 Will Smith vehicle Hancock; and Christopher Nolan's Inception in 2010.
AUGUST
Record holder: Suicide Squad, 2016, $133.7 million
Previous record holder: Guardians of the Galaxy, 2014, $94.3 million
August may be a part of the summer in reality, but moviewise, it's on the outside looking in. While the occasional home run like Rush Hour 2 ($67.4 million in 2001, ~$92 million adjusted) or Signs ($60.1 million in 2002, ~$80 million adjusted) would land in August, the month saw more doubles, like Talladega Nights: The Ballad of Ricky Bobby, Rise of the Planet of the Apes, and Straight Outta Compton. But over the last couple years, thanks to Marvel and DC, August has firmly opened up, with Guardians and Suicide Squad both making big money in the month.
Like April, August provides a case study in the power of the brands that currently drive the industry. You may not think of these months as traditionally attractive release dates, but franchises like Fast / Furious or the MCU and DCU don't require traditionally attractive release dates. That's because modern moviegoers, with their endless selection of entertainment options, seek out specific titles or series, not just whatever is in theaters. They'll go to the movies when the movies they know they want to see come out — but they probably won't go otherwise.
SEPTEMBER / OCTOBER
Record holders:
Hotel Transylvania 2, $48.5 million, 2015 (September)
Gravity, $55.8 million, 2013 (October)

Previous record holders:
Hotel Transylvania, 2012, $42.5 million (September)
Paranormal Activity 3, 2011, $52.6 million (October)
Now, the gist of this piece has mostly been about how the calendar has been blown wide open. That's not entirely true. There are still two months left where franchises don't dare to roam, and that's September and October.
September especially is a fascinating case: In the top ten alone, you have Hotel Transylvania 2 and Hotel Transylvania, a pair of animated movies about as mild as a glass of milk, at No. 1 and No. 2; the 2002 Reese Witherspoon vehicle Sweet Home Alabama at No. 4; and the original Rush Hour, from all the way back in 1998, at No. 7. October is a bit more sophisticated, with a pair of space-oriented Best Picture nominees, Gravity and The Martian ($54.3 million opening), in the top two slots. But so far, the heavy hitters have stayed out of these months, leaving them to the earliest Oscar contenders and the start of prestige season, as well as middling child-targeted fare and cheap horror.
Part of this has to do with the fact that by September, the studios have traditionally deployed most of their big stuff during the summer; part of it has to do with kids going back to school; and part of it has to do with the lack of major holidays until Halloween, on the very last day of October. Could this mean that a well-targeted mainstream blockbuster would dominate either month without much in the way of competition? Possibly — but these months are also littered with recent failures like Pan and Crimson Peak, suggesting the idea that studios are still saving them as a place to burn off the stuff that didn't quite work. Meanwhile, serious moviegoers are contented with the beginning of awards season, and everyone else has to make do until November. But don't be surprised if these records fall in 2016 again — they're certainly the ones most within reach.
NOVEMBER
Record holder: The Hunger Games: Catching Fire, 2013, $158.1 million
Previous record holder: The Twilight Saga: New Moon, 2009, $142.8 million
For the last six years, in the week before Thanksgiving we've gotten either a Harry Potter movie, a Twilight movie, or a Hunger Games movie — and each now ranks in the top six of the biggest openings in November. The pattern started in 2001, when the first Harry Potter came out in November, becoming the highest-debuting film of all time with $90.3 million. Adjusted, that's only about $122 million in today's dollars, a good example of how drastically the game has changed in only the last 15 years, but it was still a watershed moment: While November had been a more potent release window than September and October, it was the decision to put these major franchises there that turned it into a heavy hitter.
Since then, we've gotten the third Matrix, five Bonds, all four Twilights, three of the five Hunger Games, and three more Harry Potters, as well as the second Thor, plus a wide selection of animated hits. This year, the tradition continues with Doctor Strange and Fantastic Beasts and Where to Find Them, the latter getting that week-before-Thanksgiving slot.
DECEMBER
Record holder: Star Wars: The Force Awakens, $248.0 million, 2015
Previous record holder: The Hobbit: An Unexpected Journey, 2012, $84.6 million
Based on the drastic difference between the opening of The Force Awakens and December's previous record holder, The Hobbit: An Unexpected Journey, you might think that releasing a movie on the scale of a new Star Wars in that month was completely unprecedented. But the two other top-grossing domestic releases of all time, Titanic and Avatar, also came out in December, although not intentionally — both were originally slated for the summer, then had to be delayed because they weren't going to be ready in time.
Those delayed releases, combined with The Force Awakens' huge opening, makes it clear: With the changes in moviegoing habits and entertainment consumption, time of year doesn't matter nearly as much as it once did. Star Wars almost certainly could've come out in any month and still been the biggest opening of all time, but being able to stake out a window of the calendar for itself didn't hurt. Going forward, it's quite likely that every month of the year will open up to the possibility of huge business, so long as the movie is right and its release is handled well.
But, as Batman v Superman demonstrates, these openings can be deceptive. As budgets continue to climb, the stakes grow higher and higher, foreign markets come even more into play, and enormous first weekends, often on a global scale, are becoming essential to the success of a film — essential, but not everything. It still takes more than one weekend to make a film succesful, and that means the most basic principle hasn't changed: If you want to make a lot of money with your movie, people better like it.