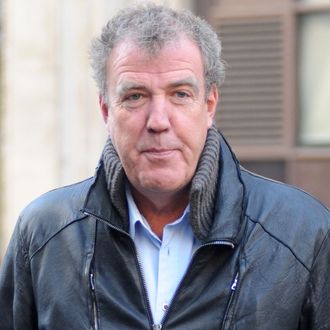 Photo: Barcroft Media/Getty Images
No need to watch a Georgian era–set costume drama today, because the BBC is here to fill all of your theatrical needs. Unless you've been living under the hood of a Pagani Huayra, you're well aware by now that Jeremy Clarkson — the bombastic former host of BBC's immensely popular motoring program Top Gear — was fired from the network last year after a "fracas" that involved Clarkson punching a Top Gear producer. (What initially started as a suspension ended with his contract not being renewed.) His fellow hosts, Richard Hammond and James May, proceeded to walk out with Clarkson, and the irreplaceable trio are now making Friends money by filming a new series, The Grand Tour, for Amazon. Still, despite the promising new show for Jezza, Hamster, and Captain Slow on the horizon — it's set to debut sometime this fall — the inevitable questions lingered: Did Clarkson really have to be fired? Would a lengthy suspension have worked better? Did the show really need to return with new hosts? Mark Thompson, a former director general at the BBC, has some fighting words on the matter, specifically that the BBC should've tried harder to keep Clarkson on the network.
"Clarkson can be a deeply objectionable individual, and I say that as a friend," Thompson told the Sunday Times. "I don't think people should punch their colleagues. It's hard to keep them if they do … but I would say his pungent, transgressive, slightly out-of-control talent was something the BBC could ill afford to lose." Thompson added: "He spoke to people who didn't find much else in the BBC. The fact no-one could ever quite believe the BBC allowed Top Gear to go out was a precious thing to hang on to. As a fan, I regret its passing." To Amazon we must go, then.