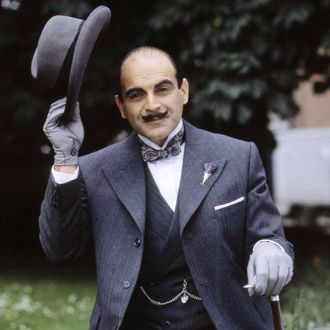 David Suchet in the BBC's Poirot.
Photo: Photoshot/Getty Images
The BBC has signed a new deal for seven more Agatha Christie adaptations, THR reports from inside a locked room where the window is just slightly cracked. The deal with Agatha Christie Productions comes on the heels of the BBC version of And Then There Were None, which aired last Christmas, as well as the broadcaster's upcoming Witness for the Prosecution, not to be confused with the Ben Affleck version. (In a repeat of the Capote-Infamous phenomenon, the BBC one stars Toby Jones.) The new adaptations will begin with Ordeal by Innocence, and also include the historical whodunnit Death Comes As the End, and the Hercule Poirot mystery The ABC Murders. Watch them with a motley group of strangers who are all hiding secret pasts.