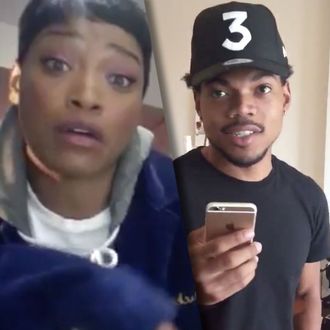 The meme we never knew we needed.
Never underestimate the power of internet nostalgia to turn old classics into new memes. The latest: Monica's 2003 hit "So Gone," which was produced and written by Missy Elliott and included an unlikely rap verse from the R&B singer. For reasons we'd like to believe can be chalked up to the universe justly giving Monica her overdue recognition for being one of the greatest, that song (specifically Missy's instrumental) has now resurfaced in the #SoGoneChallenge. For a little over a week, people have been freestyling over the "So Gone" beat. But it wasn't until Chance the Rapper flipped the infidelity anthem into a heartwarming sonnet for his girlfriend that the hashtag went viral. Now, dozens of celebrities have stepped up to the challenge — including a couple non-rappers — and you know what? They're killing it. Below, we take a look at the best — plus, a few gone so wrong.
Chance the Rapper
Your winner, by a foot rub. Awwww.

Monica and Missy Elliott
Please, as if Monica and Missy wouldn't accept the challenge they inspired. The two just happened to be in the studio together when they concocted their entry so, of course, Monica updated her verse to include this glorious humblebrag: "Now I'm making racks while they rappin' on my old tracks."
Keke Palmer
The gag is you just got a Ryan Murphy name-drop in a rap song.

Damian Lillard
You've seen the NBA star rapping since he was in diapers, now watch him do it fully grown.

Little Simz
The #SoGoneChallenge may be just for fun, but trust British rapper Little Simz to still bring bars.

Kevin Hart
Leave it to Chocolate Droppa to "let his body do what it does" and drop a dookie on this challenge.

Dwayne Wade
Reminder that you can't leave a man to his own devices for even a bathroom break.