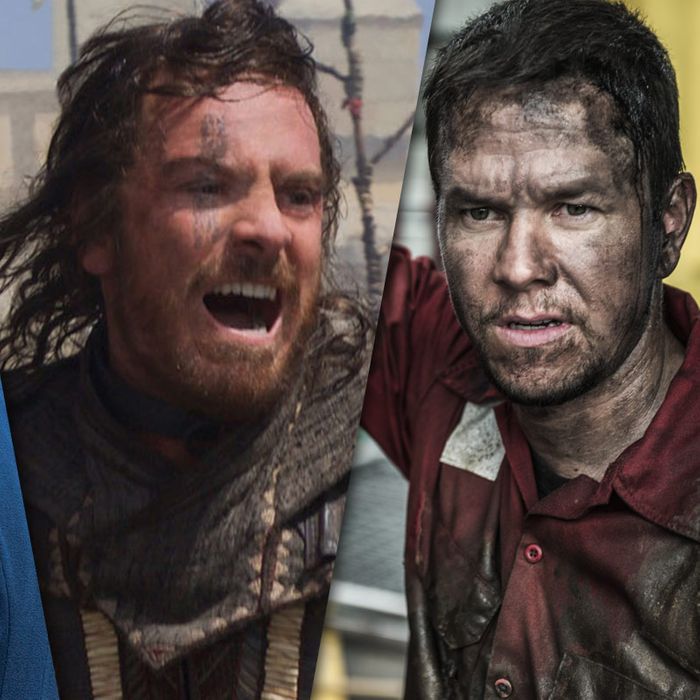 Photo: Twentieth Century Fox, Regency Enterprises, Closest to the Hole Productions
When I wondered before the release of Ben-Hur if it could be the biggest flop of summer 2016, I ultimately decided that it had a good chance of avoiding the dishonor: The BFG had been a massive underachiever, and Ben-Hur would've needed to come in at the very low end of its projections to outdo Spielberg's misstep.
Well: Here we are. The MGM-Paramount co-production, which cost more than $100 million (plus marketing and distribution costs), made just $11.2 million at the domestic box office, a dismal opening for a movie that expensive. Even with the potential for a better reception in foreign markets, Variety reported that the film is looking at a $100 million loss, according to estimates from executives at rival studios, which is higher than the much-ballyhooed $70 million loss that THR reported for Ghostbusters. Now, that is a big flop. The question now is, will it be the year's biggest flop?
To find out how secure that title is, we scanned the remaining 2016 release calendar for other films that could challenge Ben-Hur. By my count, there are 11 movies still to come with budgets at or above $100 million, spread out among five different studios:
Disney: Doctor Strange; Moana; Rogue One: A Star Wars Story
Warner Bros: Fantastic Beasts and Where to Find Them
Fox: Miss Peregrine's Home for Peculiar Children; Trolls; Assassin's Creed
Sony: The Magnificent Seven; Inferno; Passengers
Lionsgate: Deepwater Horizon
Disney is seemingly safe — even with the failure of Alice Through the Looking Glass and The BFG, the mouse is still having a great year on the strength of Captain America: Civil War, Finding Dory, and Zootopia, and it seems likely that great year will continue with their fall releases. The question with Doctor Strange, Moana (which I'm assuming cost more than $100 million, based on Frozen's $150 million budget and the general expense of animation), and Rogue One is whether they can approach the lofty heights of their relative predecessors, those being, respectively, the Marvel Cinematic Universe, Frozen, and The Force Awakens. While those kinds of successes are never guaranteed, it's also hard to believe that any of the new movies will be a disaster; disappointment would likely come from the massive expectations.
The same goes for Fantastic Beasts and Where to Find Them, which has a big budget but also the past success of the Harry Potter movies to use as precedent. Even without the words "Harry Potter" in the title, it seems a safe bet to draw — though again, whether it can draw on the scale of its predecessors will determine how happy Warner Bros. is with its investment.
You'll notice that Paramount, responsible for half of Ben-Hur, is nowhere to be seen; they have major fall releases slated, including the Tom Cruise vehicle Jack Reacher: Never Go Back; Denis Villeneuve's alien movie Arrival; Robert Zemeckis's Allied, starring Brad Pitt and Marion Cotillard; the Denzel Washington–directed adaptation of Fences; and Martin Scorsese's Silence; but even without budgets available for Allied or Fences, it doesn't appear that any of them are that costly. And Universal's big release, The Girl on the Train, also has an unclear budget.
That leaves seven $100-million releases as potential contenders for the bomb throne. Let's take them one by one, in increasing order of odds to flop:
Trolls: Trolls reportedly cost $120 million. Do people like trolls that much? Who knows — but right now, one of the safest gambles you can take is on animation, and DreamWorks is sparing no expense to promote this one. It feels like a hit.
Passengers: The holy union of superstars Chris Pratt and Jennifer Lawrence — the latter of whose fee reportedly consumed 20 percent of the film's budget — Passengers has an intriguing premise and two of the most bankable human beings in Hollywood. This is the kind of film everyone is always clamoring for the industry to make, so if it fails, we only have ourselves, or director Morten Tyldum (The Imitation Game) and writer Jon Spaihts (Prometheus), to blame. While Joy may have established a new floor for JLaw, expect Passengers to come in well above it, particularly if it can play in awards season.
Inferno: Although there was a big drop-off from The Da Vinci Code ($218 million domestic / $758 million worldwide) to Angels and Demons ($133 million domestic / $486 million worldwide), the latter still managed nearly $500 million in total. With Tom Hanks back in the non-iconic role of Robert Langdon, the kind of cratering required to challenge Ben-Hur appears about as plausible as a Dan Brown plot.
The Magnificent Seven: On September 26, 2014, Antoine Fuqua's The Equalizer, starring Denzel Washington, began its ascension toward "minor hit" status: It earned $192.3 million worldwide on a $55 million budget, including a $34.1 million opening. The Magnificent Seven opens two years later on the same weekend in September, but with double the budget and a cast that includes not only Washington, but also Pratt, Ethan Hawke, Peter Sarsgaard, and a script by the True Detective himself, Nic Pizolatto. Westerns have not been a particularly lucrative genre over the last few years — the last Western to blow up was Django Unchained in 2012 — but if anything's going to jog the form, it would be one starring Denzel Washington and Chris Pratt. Should you bet your house on this making $200 million stateside? No movie released in September ever has — and yet, this could be the kind of film, like Deadpool, that helps show you can launch a blockbuster in any month. If it's good.
Deepwater Horizon: Deepwater Horizon could also be the movie that bucks conventional September wisdom, though its combination of Mark Wahlberg, Kurt Russell, and John Malkovich doesn't have quite the same wattage as Washington and Pratt. The question with Deepwater is whether interest in the true-life story merits a budget of more than $150 million. Previous entries in the disaster genre mostly bowed in the summer; Peter Berg's film will have to draw those kinds of audiences out in a notoriously fallow month to see a movie that promises plenty of intense, high-stakes crisis management. It could be a Perfect Storm; it could be a Finest Hours.
Miss Peregrine's Home for Peculiar Children: Sharing a release date with Deepwater Horizon, Miss Peregrine is our third blockbuster release this September, seeming to indicate that studios truly believe they can remake the month. The last two times director Tim Burton went full tentpole, he had very mixed results: In 2010, Alice in Wonderland became one of the most surprising mega-hits in recent history, making a billion dollars worldwide; in 2012, Dark Shadows couldn't top $80 million domestically on a $150 million budget.
Miss Peregrine certainly seems closer to the former than the latter in terms of subject matter, but the shine is off of that diamond a bit with the failure of Alice Through the Looking Glass in the hands of director James Bobin. If the material proves compelling — and the movie turns out to be Good Tim Burton — it could take advantage of an otherwise uncompetitive schedule for family films. If not: well, just picture The BFG in a rearview mirror under the words "Objects are closer than they appear."
Assassin's Creed: Here's the biggest question mark hovering over the rest of the calendar. On the one hand, Assassin's Creed is based on a successful video game and stars Michael Fassbender and Marion Cotillard; on the other, movies based on video games don't ever do well, and while producer New Regency says the film cost $130 million rather than earlier rumors of $200 million, that's still not chump change*. In fact, considering Assassin's Creed, it's hard not to at lest recall a previous video-game adaptation that starred an Oscar-nominated actor and didn't land so well. If that weren't enough, it's coming out the week after Rogue One, and considering The Force Awakens made $149.2 million on its second weekend, that's like going up against any other major franchise's giant opening night. All of this is moot if Assassin's Creed turns out to be great, and considering it's directed by Justin Kurzel, Fassbender's collaborator on their excellent recent adaptation of Macbeth, that's certainly possible. But if anything's going to outdo Ben-Hur this year, it's this one.
*This sentence has been updated to reflect clarifications made to Vulture by New Regency.