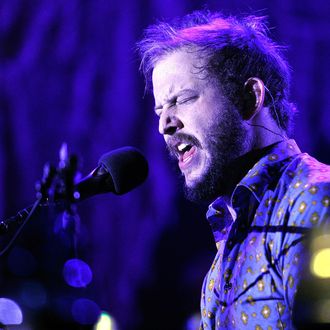 Alert your tear ducts.
Photo: Matt Kent/Getty Images
If it seems like forever ago that a new Bon Iver album was upon us, start collecting your feels and prepare yourself for another cathartic jolt. Reports indicate that Bon Iver will debut their third album at Justin Vernon and Aaron Dessner's Eaux Claires Festival in Wisconsin on Friday; the band is set to play a headlining set of entirely new music, believed to be from a new album. (They also played new music at last year's festival, hushing speculation that Bon Iver were done for good.) No other information about the follow-up to 2011's self-titled album is known, but there are clues to suggest its release could be near: Last month, the band dropped a vague teaser for something called "#22days," which appeared to have new music with the cryptic words "It might be over soon."
Bon Iver have since shared similar imagery with the hashtag #22days on social media. Now, a large mural with that same #22days logo and message has popped up on a corner in Brooklyn, according to Reddit. (Vernon's BFF James Blake also teased his newest album with murals in NYC and London.) Of course, in the age of Frank Ocean Watch, this could mean everything or nothing. But we suggest buying your Kleenex in bulk, just in case Bon Iver season has arrived.