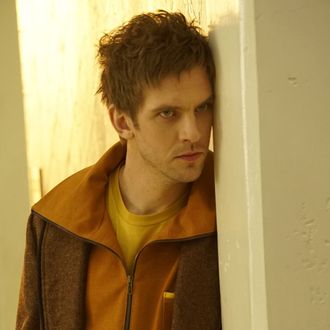 Dan Stevens in Legion.
Photo: FX
In the run-up to the release of Noah Hawley's new series Legion, FX has mostly shied away from referencing the X-Men, even if the series itself is based on comics that take place in the X-Men universe. But according to Bryan Singer, the TV show will be a lot closer to the films than we thought. According to The Hollywood Reporter (as noted by the Verge), Singer said that Legion and Fox's other X-Men series "will relate to future X-Men movies." Speaking about Legion specifically, Singer said that the series is "part of the X-Men universe, but when you watched it, you wouldn't have to label it, it could exist completely on its own." Hmmm … maybe the X-Men TV characters will take over the X-Men movies? Jennifer Lawrence wouldn't mind.
In addition to revealing part of his master plan for the X-Men films post-Apocalypse, Singer's comments reveal that Fox and Marvel seem to have reached some sort of deal over the contested rights to the X-Men franchise, as FX and Fox are producing the two X-Men shows in partnership with Marvel Television, which doesn't seem to mind letting Fox use those characters on film. Of course, that's assuming Singer's comments will come to pass and there aren't several dozen copyright lawyers yelling at each other right now behind the scenes.