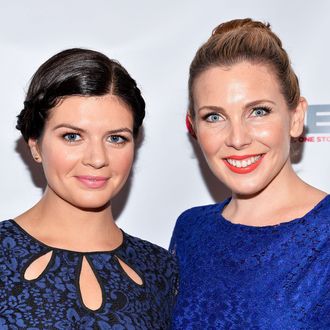 Casey Wilson and June Diane Raphael.
Photo: Amanda Edwards/Getty Images
Casey Wilson is back in business with Hulu. Having previously starred in Hulu's The Hotwives of … franchise, the Happy Endings alum and her frequent writing-production partner, June Diane Raphael (Grace & Frankie), have created a new comedy series project for the streaming network, Vulture has learned. Tentatively titled Unhinged, the potential show — produced by John Riggi — revolves around a woman with anger issues. Wilson said that she and Raphael have been working on the project for over a year. "June had the idea," added Wilson, who will star as the woman with the storm cloud above her head. "We're just now getting comfortable with our anger and able to look at it with fondness."
Wilson previously wrote about her anger issues for Lena Dunham's Lenny Letter, where she talks about once shaming a man who tipped her in pennies when she was a waitress, and how many of her phones she's crushed. "Anger is something a lot of women struggle with, but they either try their best to mask it and be really sweet or they lose it and are called a bitch," said Wilson. "I think it's an interesting color on women and a funny one that has been explored a lot with men, but it's trickier when women are angry. I just think it's ripe for comedy." Hulu is a natural home for Wilson: In addition to airing two seasons of The Hotwives, Hulu is also the exclusive streaming home for Happy Endings. A Hulu rep confirmed Unhinged is in the early stages of development.
Additional reporting by Josef Adalian.