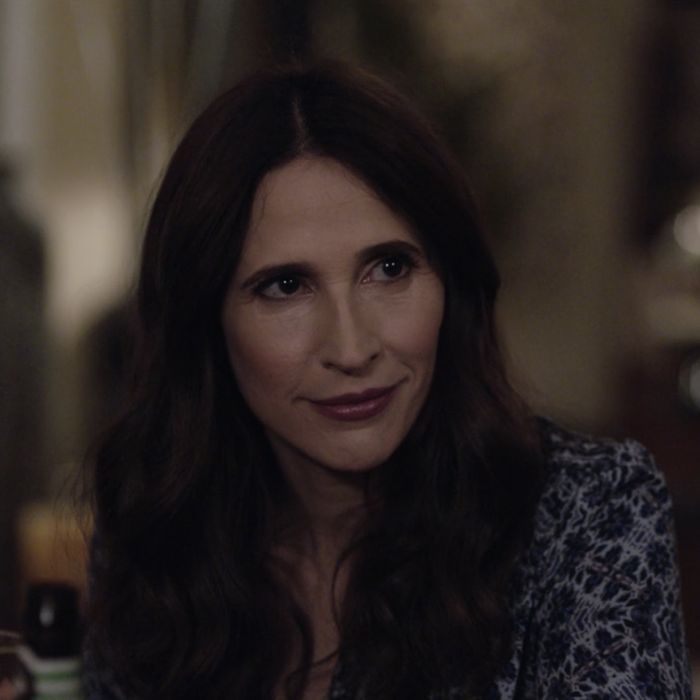 Michaela Watkins as Valerie.
Photo: Hulu
In this week's episode, Valerie and Alex are both given opportunities to be happy, but — you guessed it! — any chance at happiness is unsustainable when they're around each other. If it were any other way, it wouldn't be Casual.
Over the past two seasons, Valerie has dated new people and learned to be more open-minded, yet with the season finale in sight, she's falling back into old patterns. Yes, she's sleeping with Drew again. Their relationship is comforting and familiar, and it's also illicit — they're sleeping on a new mattress that Mae-Yi bought, after all. Making matters even worse, she's still sneaking out in the morning so Laura doesn't catch on. While discussing Mae-Yi with Drew, Valerie is surprisingly calm and unemotional, which, to her credit, shows us how much she has changed since the beginning of the first season.
Although Valerie stopped seeing Jack, she has become more spontaneous and self-indulgent. After going to McDonald's for breakfast, she decides to meets Drew at Chili's for lunch, where she has no qualms about having two margaritas before going back to work. (She doesn't seem worried about sleeping with her soon-to-be ex-husband, for that matter.) While they discuss the loss of several Chili's locations (RIP), Drew suggests that the country has lost its innocence, giving us a quick glimpse of where Laura gets her dry humor. We also learn that Drew is the "Chili's of sex," which is the highest possible compliment you can get from Valerie. It makes sense: He is reliable and familiar. It's hard for Valerie to go back to her old lifestyle; being with Drew just feels so easy.
Alex is still trying to fix his relationship with Valerie, but of course, he hasn't apologized yet. That would be too simple. Instead, he makes an enormous tower of waffles, then acts surprised when it doesn't fix years of misdirected anger and resentment. Deciding to throw a surprise party for Valerie is basically a form of self-sabotage. He knows it will go terribly wrong, and yet he pushes onward, perhaps just so he'll get her attention. Once Alex invites Jack to the party, however, the story line takes a surprising turn. He initially brings Jack over to smoke ribs for Valerie's birthday, but ends up making a friend instead. It's good to see Alex make a new friend, but why must they always be Valerie's exes?
While bonding with Jack, Alex gets the chance to start a new business, and more importantly, have a fresh start. He's certainly a fan of self-pity, but in this moment we realize how capable Alex is of saving himself. It's tough to not want him to succeed.
Meanwhile, Laura plays "tattoo roulette" with Spencer in a desperate attempt to preserve their relationship. As to be expected, it is a very bad idea. Laura gets stuck with emojis from their first text, but they "aren't even first-generation emojis" and she's worried about playing it for irony. Although she seems to dislike the tattoo, Laura always enjoys going too far, and seems satisfied with herself for now.
Valerie proceeds to continue her birthday celebration by eating cake in bed, and her ideal situation gets complicated when Drew claims he made a mistake. Surely, Valerie has waited for this moment a long time, and yet she isn't able to enjoy it. She's already moved on, or at least she's trying to. This time she needs to be the one in control.
Back at the house, guests are arriving for the party. When Leon arrives, Alex is quick to assure him that Jack is not his replacement. Alex comes off as his usual, narcissistic self, and Leon, once again, ignores him. After Valerie sees everyone, especially Jack, she is furious. No longer lost in the pure goodness of Chili's with Drew, she is forced to see Jack in her home — and with Jennifer to boot. When she confronts Alex, he's oblivious, of course. He assures Valerie that he finally approves of Jack, but they never should have met in the first place. He doesn't seem even remotely aware of this, and when he tries to kick Jack out, makes a bad night even worse.
In the midst of all this, Laura gets a phone call from Spencer: The cancer treatment is working! He'll be okay! Laura leaves Valerie's party and rushes over to see him. They appear closer than ever, and yet, after they sleep together, Laura doesn't look satisfied. Their relationship no longer has an expiration date, and this terrifies her more than anything. She longs to be free of any responsibility, and while she seemed to briefly care about Spencer, she already seems bored again. Perhaps Aubrey was right all along.
As the night goes on, the party only gets worse, and not just because of Leia's poem (which of course Leon enjoys). Valerie watches Jennifer and Jack interact with Alex, and decides that everyone is there for him. She's not completely wrong. Valerie pushed Alex away, and so he went to Jennifer and Jack, who incidentally became her replacements. With Alex acting completely unaware, Valerie is so angry that she admits to going back to Drew, and decides to leave in that moment — but she doesn't make it far. When an EMT arrives at their house, she's unable to leave. Just as Valerie tries to create distance between herself and Alex, they're pushed back together by their father, the very source of their anger towards each other.
And this is why you should never throw a surprise party.