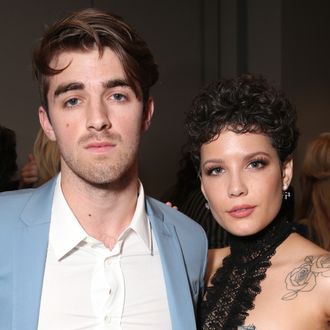 They're as close to No. 1 as it gets.
Photo: Todd Williamson/BBMA2016/Getty Images
It appears summer '16 will wind down with yet another new No. 1: Less than a month after its debut, the Chainsmokers and Halsey's "Closer" has made it to the top of this week's Billboard Hot 100. It's the first No. 1 for both the singer and the EDM duo, though the latter have been hanging out in the Top 10 throughout the warmer months, with Song of Summer contender "Don't Let Me Down" peaking so far at No. 3. Together, they've now knocked Sia's "Cheap Thrills" from its throne after it ruled for four weeks, previously unseating Drake's "One Dance" (now down to No. 7). "Closer" was the most-streamed song in the country last week, meaning America's teens have once again proven that the power of fandom is not to be doubted. Speaking of which: Justin Bieber and Major Lazer's "Cold Water" has been knocked down to No. 3 after debuting at No. 2, so it might just be about that time for Biebs to get back in the Beliebers' good graces.