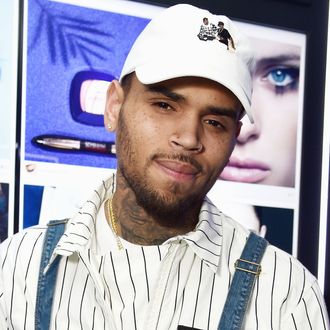 Sigh.
Photo: Pascal Le Segretain/Getty Images
According to the Los Angeles Police Department, Chris Brown has been arrested on suspicion of assault with a deadly weapon. Lieutenant Chris Ramirez told The Hollywood Reporter that several people were escorted out of the Brown residence after a search warrant was carried out on Tuesday afternoon. Though he gave no further information about the woman who made the initial call to police at 3 a.m., TMZ previously reported that "uninvited guests" had entered Brown's home, and that the woman who made the 911 call to claim she was threatened with a gun was supposedly one of the uninvited guests whom Brown asked to leave.
Ray J was also reportedly handcuffed briefly by police when he tried to leave Brown's home and had his car seized "as evidence." In since-deleted Instagram videos, Brown had said he "just woke up" the morning of the investigation, called the allegations "fucked up," and said the police wouldn't find anything in his home. Brown's lawyer, Mark Geragos, tweeted that Brown had been released, reportedly on $250,000 bail, as of late Tuesday night. Brown is scheduled to appear in court on September 20.
This post has been updated throughout.