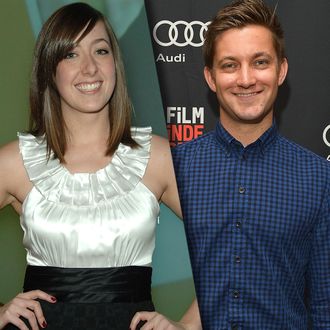 Schneider and Kelly.
Photo: Duffy-Marie Arnoult/WireImage/Charley Gallay/Getty Images for Audi of America
Hey look, some more news from SNL: The show confirms to Vulture that writing duo Chris Kelly and Sarah Schneider have been promoted to co-head writers for the sketch show's upcoming 42nd season, as was originally reported by Splitsider. (There's been no word from the show on what the promotions mean for incumbent head writers Bryan Tucker and Rob Klein.) Kelly and Schneider, who made it onto Vulture's list of 50 comedians to watch in 2015, are most notable for writing pretaped sketches like "The Beygency" and "Wishin' Boot," as well as this past season's debate sketches. Even if they haven't made many appearances on SNL, there's a chance you recognize their faces: Schneider was a regular in CollegeHumor videos before joining the show, while Kelly's autobiographical film Other People opened Sundance this year.