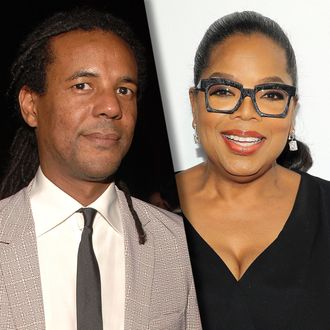 Colson Whitehead and Oprah.
Photo: Getty Images
Colson Whitehead's The Underground Railroad will be the latest pick for Oprah's book club 2.0, the entertainment mogul announced on Tuesday. The book, out August 2*, follows a woman who attempts to escape a life of slavery in antebellum Georgia; it's Whitehead's first novel since the 2011 zombie thriller Zone One. The Oprah news caps off a growing wave of hype that's been building around Underground Railroad: The book will also receive a 16,000-word excerpt in The New York Times Magazine this weekend. The book is currently available on Amazon, but if you want to save money, your best bet might just be lying and saying you've read it. Everybody else will be doing the same.
* This post originally misstated the release date of Underground Railroad.