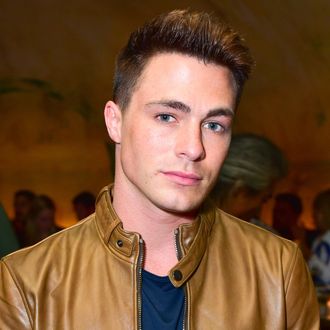 Colton Haynes.
Photo: Sean Zanni/Getty Images
Colton Haynes graces the cover of the September issue of Out magazine, where he addresses his protracted coming-out process. Haynes publicly came out recently in an article for EW, saying that he "wasn't ready" to do so earlier. There were a lot of remaining questions, including Haynes's photo shoot for the March 2006 issue of XY magazine, where he's engaging in some heavy, half-naked making out with his then-boyfriend. He more pointedly addresses what happened in the Out profile, saying that at 17, he was thrilled to do that photo shoot. "This was, like, the cover of Vogue for me. I was like, 'This is it! I'm going to be in a magazine!'" Haynes said. "I truly thought it was going to be this serious moment in my career, and I knew it would earn me enough money to get to L.A."
While he would get to L.A., that photo shoot would haunt his career. It would be the evidence that made it look like Haynes was refusing to come out of the closet after he booked his first major gig on Teen Wolf. "I looked like I was fucking gay-bashing," Colton said. "Like I hated myself or I hated the gays, which was never the intention at all. I was just young and trying to make it in this town and doing what these people were telling me to do." Indeed, his earlier years in Hollywood sound rough: His agent dropped him when he learned Haynes was gay, and afterward, told him to advertise on RentBoy.com, an escort website, as a way to earn money.
"I feel really bad that I had to lie for so long," Haynes said. "But I was told that was the only way I was going to be successful. When you're young in this industry, people take advantage of you, and they literally tell you that your dreams are going to come true. If you believe that, you'll do anything. And you do believe it, especially if you're from Kansas." The struggles of working as an out-of-the-closet gay actor in Hollywood can, at least, be something that he and Noah Galvin can agree on.