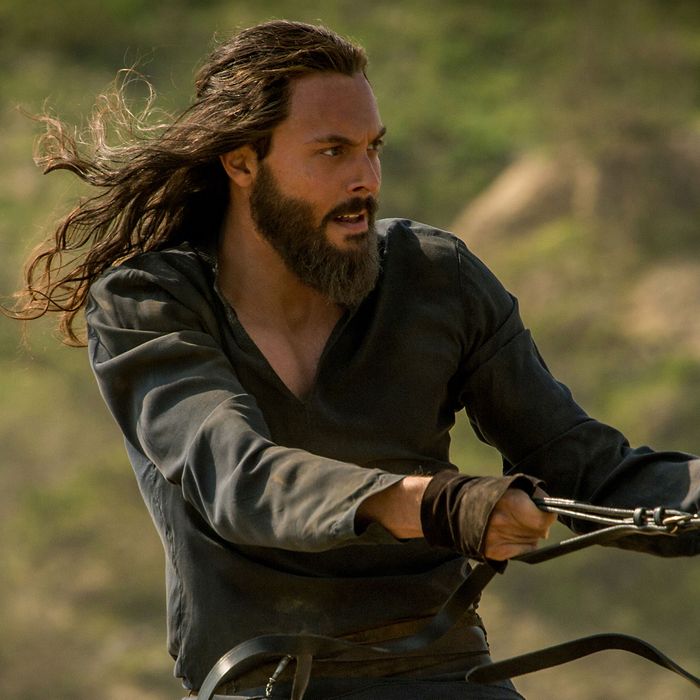 Photo: Paramount Pictures
Whatever reason you want to pin it on — sequel fatigue; uninteresting IP; bad movies — it's been a rough summer in theaters. Aside from Captain America: Civil War, Finding Dory, and The Secret Life of Pets, the rest of the studios' big-budget tentpoles have either missed expectations (X-Men: Apocalypse), under-grossed their predecessors (Star Trek Beyond), or pissed off critics and audiences (Suicide Squad). And those are just the films that still made decent money — another handful would be considered straight-up flops, and it's to their ranks that we may be able to add another release this weekend. In fact, in a summer already defined by its flops, this movie could reign flop supreme.
Ben-Hur, of course, has been a movie before: William Wyler's 1959 epic, which was itself a remake of a silent film from 1925, was once the most expensive film ever made, but it proved a worthy return on investment, becoming the second-most lucrative release of all time behind only Gone With the Wind. In 2007, AFI called it the 100th-best American movie of all time, a 22-spot drop from its place in their 1998 rankings; still, not bad.
Now, don't make assumptions: The new Ben-Hur, budgeted at $100 million, is not a remake of Ben-Hur, according to executive producer Mark Burnett, the mega-producer who gave us Survivor, The Apprentice, and a billion other TV shows you've probably watched accidentally. Instead, it's an adaptation of the 1880 novel Ben-Hur: A Tale of the Christ by Lew Wallace; according to THR, Burnett is calling it a "story of forgiveness with an underlying story of Jesus." Think of it, then, as the most expensive faith-based movie ever made, a very off-brand move for a genre that tends to make big bucks on tiny budgets — Burnett's hit Son of God was made for $22 million, and other recent breakouts in that vein, like Heaven Is for Real ($12 million budget) and God's Not Dead ($2 million budget), tend to be even cheaper.

Because Ben-Hur cost actual blockbuster money, it's going to have to make actual blockbuster money at the box office. This is where the strings come in. Ben-Hur is currently tracking for an opening-weekend take between $10 million and $15 million, which is incredibly bad for a movie at this price point. Such a debut would put Ben-Hur in the elite company of nine-figure bombs like last year's Pan and In the Heart of the Sea, which opened to $15.3 million and $11.1 million, respectively, en route to total domestic earnings of $35.1 million and $25.0 million, respectively. While MGM and Paramount, which is not having a great year, are betting that Christians will help Ben-Hur beat expectations, even their highest hopes put the film at a $20 million-plus debut, still a poor number for a $100 million production. 
Which raises the question: If Ben-Hur makes less than $15 million at the box office this weekend, is it the biggest flop of the summer — a summer that's been filled with flops, that's been defined by flops, that would be considered a flop itself if it weren't for that sick barbecue you hosted last weekend, with the burgers that everyone loved? Let's consider the competition.
During the summer of 2016, there have been seven movies that could be considered flops based on their domestic openings versus their budget. I've listed them below, with those two numbers plus the ratio of opening to budget, a handy little point of comparison. I've also included their worldwide take, to give you a sense of whether there's a bright side to the release or not.
Ghostbusters: $46.0 million opening / $144 million budget / 0.32 ratio / $194.2 million worldwide
Teenage Mutant Ninja Turtles: Out of the Shadows: $35.3 million opening / $135 million budget / 0.26 ratio / $239.2 million worldwide
Independence Day: Resurgence: $41.0 million opening / $165 million budget / 0.25 ratio / $381 million worldwide
The Legend of Tarzan: $38.5 million opening / $180 million budget / 0.21 ratio / $347.4 million worldwide
Alice Through the Looking Glass: $26.9 million opening / $170 million budget / 0.16 ratio / $292.3 million worldwide
Warcraft: $24.2 million opening / $160 million budget / 0.15 ratio / $433.5 million worldwide
The BFG: $18.8 million opening / $140 million budget / 0.13 ratio / $108.8 million worldwide
Looking at these numbers, a few things are immediately clear. Despite their underwhelming domestic debuts, Independence Day, Tarzan, and Warcraft managed to do enough business overseas to at least provide a measure of consolation. (Warcraft in particular made 89.1 percent of its earnings overseas, which is, as best as I can tell, the highest such percentage for any American-made film in box-office history.) While it's always preferable to make more money domestically than in foreign markets — how much studios actually see of their overseas takes is variable, depending on the country and the distribution deal — that's still better than not making any money at all. Alice Through the Looking Glass recouped a bit of its budget overseas, but the film was such a disaster domestically, and so expensive, that it's hard to think of it as anything other than a mess — particularly when its predecessor made a billion dollars worldwide. And it's a similar story for Teenage Mutant Ninja Turtles: Out of the Shadows, just on a slightly lesser scale.
Ghostbusters, meanwhile, has the backwards honor of boasting the best opening of this group of films, but the second-lowest worldwide take. That's because the misperceived comedy has only made $71.8 million overseas to date. If it had managed to make $300 million-plus domestically, its foreign markets, which were never going to be huge for this property, wouldn't be such a problem, but having still made less than its budget here, its failures abroad add insult to injury.
That leads us to our last film, and, so far, the biggest flop of the summer. Steven Spielberg's The BFG had a colossal $140 million budget, and it hasn't even met that number worldwide, with $53 million domestically and $55 million overseas. Despite generating fewer headlines than Ghostbusters and Warcraft, it's the more galling performer, and alongside Alice, it gives Disney two such glaring misses this summer — fortunately, not enough to ruin an otherwise dominant year on the strength of hits like Captain America: Civil War, Finding Dory, The Jungle Book, and Zootopia.
For Ben-Hur to underperform The BFG, it would likely need to open under $13 million and gross less than $75 million worldwide. While a domestic performance under $50 million is a real possibility — Pan and In the Heart of the Sea are good examples, as is this year's Gods of Egypt, which opened at $14.1 million en route to $31.2 million total — it would be shocking if Ben-Hur didn't manage more than BFG worldwide. Gods of Egypt made over $100 million internationally, and similarly disappointing historical epics also did better in foreign markets than they did here: Exodus: Gods and Kings made over $200 million overseas; Hercules made $172.1 million; Immortals made $143.4 million; Pompeii made $94.6 million. While it's unlikely that Ben-Hur is going to somehow make itself into a surprise success, it has a high bar to clear — set by one of the greatest directors alive — in becoming the most disappointing film of the summer.