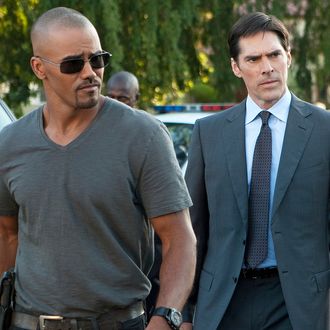 Photo: MONTY BRINTON/2011 CBS Photo Archive
Soon after CBS announced that Thomas Gibson had been dismissed from Criminal Minds, Gibson's former co-star Shemar Moore took to Instagram to address the rumors around a certain unnamed individual. Moore and Gibson were known to not get along on set; according to Deadline, a complaint filed by Gibson's ex-manager revealed that Gibson and Moore had verbal altercations and that the manager "talked Gibson out of physically attacking Moore." In the Instagram video, which has since been removed from Moore's account, the actor said, "Lot of birdies chirping out there; the gossip is real." He then proceeded to wax philosophically about karma:
"I'll just say this: I believe in karma. Good things happen to good people. Honest people. Hard-working people. Humble people. People who believe in basic goodness. … Treat people how you expect them to treat you. Celebrate yourself and celebrate your blessings — as you should — but just know that you're not better than anybody."
Gibson was allegedly fired after becoming physically violent with writer-producer Virgil Williams last week. The star has since hired legal representation to advise him on whether or not he should pursue legal actions against the studio.
Watch Moore's deleted video, which was reposted by a fan on Twitter, below.