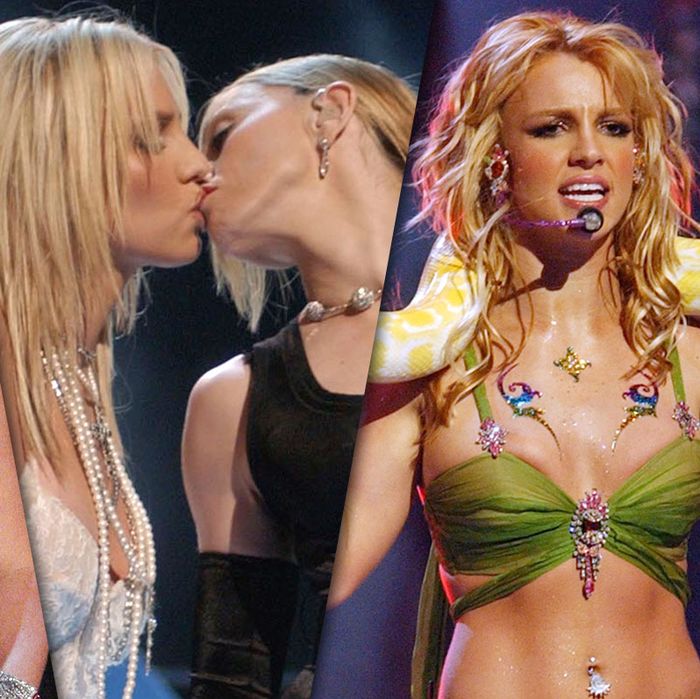 The many stages of Britney.
Photo: Getty Images
This Sunday two cornerstones of modern pop music will converge once again: For the first time in nine years, Britney Spears is set to perform at MTV's Video Music Awards at Madison Square Garden. It's an appearance expertly timed to coincide with her ninth album, Glory, out today. When Britney first announced the album, she curiously dubbed it a "new era" in her 17-year career. Generally, eras in music are reserved for artists with distinct periods of evolution in their persona — David Bowie's Ziggy Stardust, the Beatles' Beatlemania, Madonna's Material Girl, for example. Britney's eras, however, aren't as easy to define or as based in her music. To find Britney's Thin White Duke, it's better to examine her metamorphosis through the institution that's always been her cocoon: the VMAs. For nearly 20 years, the two have coexisted — often in a mutually beneficial relationship, though sometimes a disastrously uneven one. Below we attempt to define Britney's eras by their corresponding VMA phases.
Pop Princess (1999–2000)
Britney, of course, had a memorable era that predates her VMAs run: the Disney Era, when she was a Mouseketeer in the greatest class photo of the '90s — Justin Timberlake! Ryan Gosling! Christina Aguilera! Keri Russell! JC Chasez! — on the Mickey Mouse Club reboot. But it was her VMAs debut in 1999 that would set the bar for the future of the Britney-VMA marriage and elevate Britney's stock in the popscape. She performed a remixed rock version of "Baby One More Time," served the choreography that got her a foot in the industry, and, uh, opened for 'N Sync. In the larger scope of her VMA oeuvre, it's considerably tame; but at the time, if you were of a certain age (say, nine), it felt edgy. (Let's also not forget, she'd already let her iconic Rolling Stone cover give middle America enough heart palpitations to last the year.)
Her return to the VMAs stage the following year, though, upped the ante. You could arguably count on one hand the number of show-stopping fashion capital-M moments in Britney's career, and this was among the first. Rather than repeat the red latex jumpsuit from the video for "Oops, I Did It Again" (because that would just be too on the nose), she sauntered down a flight of stairs to her "(I Can't Get No) Satisfaction" cover — remember that! — in a shimmery black pantsuit with matching fedora. By the time she reached the stage, half a butt cheek was already exposed and you knew where this was going, but, still, the big reveal delivered: There was Brit, in all her sparkly faux-nude glory, ripping off the suit just as her cover greets its bonus verse, "And that girl comes on and tells me how tight my skirt should be / She can't tell me who to be." If this were to happen in 2016, it'd be lauded as feminist a statement as Beyoncé's was at the VMAs years ago. Some did see it that way in 2000, but, to many, it was too risqué for adolescent eyes.
But a Pop Princess's rival can't only be conservatives, it has to be a direct competitor. And who better to pit Britney against than a woman she'd known since she was a kid: Christina Aguilera. That same year, the VMAs also asked Britney to introduce Whitney Houston (imagine) alongside Christina, which they did with performative amicability, united by one common enemy at whom they threw beautiful shade: Eminem.
Not a Girl, Not Yet a Woman (2001–2002)
Now here's where we started to see Britney take risks. At that point, "I'm a Slave 4 U" was Britney's most sexually explicit single to date and it needed a performance at the 2001 VMAs to turn up the heat. Nothing says sweat like wrapping a boa constrictor around your neck and shoulders while having to remember your counts and lip sync at pace with the music. Give Britney credit! Also, please note the tiger in the cage; never say the VMAs didn't allocate a chunk of its budget solely for Britney performances for a stretch of time. Was it Britney's best VMAs performance? Eh. But what it did do was set the tone for the next fraught few years of Britney — the bridge from teen princess to young adult in an identity crisis.
After three consecutive years of performing at the VMAs, Britney decided to view 2002's show from the audience. But of course, MTV still put her to work: Dressed head-to-upper-thigh in leather, Britney introduced Michael Jackson (!) for a birthday celebration mid-show. She nervously fumbled over the script, smiled the whole way through, and presented MJ with a cake. It was quite possibly the last genuinely adorable thing Britney did in the aughts. Remember it fondly.

Provocateur (2003–2006)

Was there a better way to end Britney's VMAs dynasty than with the girl-on-girl-on-girl action of the 2003 VMAs, an originator in breaking the internet? Madonna could've passed her torch to Britney and Christina dozens of ways, but she chose to do it on the VMAs stage because she, too, once gave MTV a definitive performance at that very show nearly a decade before Britney even made her VMA debut. If Britney's phallic 2001 performance (hello, a snake) indicated that her days of being infantalized were over, 2003 was the full monty. You could write a thesis on this moment — Britney, Madonna, X-Tina all locking lips, having just sung "Like a Virgin" in unvirginal wedding "gowns" — and freeze frame the look on Justin Timberlake's face the exact moment the Kiss happens or Carson Kressley's perfect reaction to it all, and there'd still be so much more to dissect. No VMA performance has ever been more ripe for a hot take and it's unlikely any ever will. Madonna was the only madam fit to show Britney the ropes, and Brit never looked back.
Case in point: Her next "appearance" at the VMAs in 2006 — after taking three years off for a couple shotgun weddings and to start a family — happened via a pretaped segment to present an award. She and her then-husband Kevin Federline had just come off a short-lived reality show about their haphazard marriage, which should've given them pause to film another bit in that vein … and yet. Behold, Britney and Kevin: Chaotic, the mini-sequel. This was only the tip of the iceberg that tried to sink Britney.

The Blacked Out Year (2007)
We all have moments in our past we'd like to erase; for Britney, that moment extends to a full-blown year that saw the former pop princess's empire fall hard. When Britney returned to the VMAs in 2007 for her first performance on the show since 2003, it came at a time when Britney had gone through another abrupt divorce, been vilified in the media for being a bad mother to her two sons, was in and out of treatment facilities, and, at her lowest, was photographed shaving her own head in an apparent manic episode. But being Madonna's heir means you never stop working, so she opened the 2007 VMAs against what should've been everyone's better judgment. Britney phoned-in a performance of "Gimme More," appearing dazed and a far cry from the VMA darling she'd earned as her reputation at her career's start. It became fodder for embarrassment and was lampooned in the press and social media — as was her career for the whole of that year — with many doubting she'd ever recover. (They don't make "If Britney survived 2007…" memes now for nothing.)

Comeback Queen (2008–present)
In a remarkable turn of events, Britney rebounded at the 2008 VMAs, winning three awards (including Video of the Year) for an album made during her most troubled era. She even attended the show to collect them all, looking healthier and happier than she had in years. In 2009, she picked up another VMA for Best Pop Video for "Womanizer," accepting it from the road while on tour — her first since a brief (and critically panned) spate of shows in 2007.
But the best signifier of Britney's redemption, at the time, came in 2011 when the VMAs revived its Michael Jackson Video Vanguard Award (a Lifetime Achievement, of sorts) after a five-year absence. MTV's choice to welcome it back: Britney Spears. The woman who'd been a mainstay on the show since 1999 was given the show's highest honor just as she'd begun plotting her true comeback. She was introduced by Lady Gaga in drag (Jo Calderone, anyone?), kids close to Britney's sons' own ages performed a medley of her videos as a tribute, and Britney accepted the award by staring down Gaga and handing the mic off to Beyoncé, as you do. On a victory lap at last year's VMAs, she presented the Best Male Video, shouted out the room full of her imitators (specifically host Miley Cyrus), and went back to her front-row seat to all the tea spilling that later occurred onstage.
This year, as the Britnnaisance hits its true stride — Britney now headlines a best-selling residency in Vegas and has just put out her best-reviewed album in years — it's been announced that she's also getting a Lifetime biopic, a treatment previously bestowed upon the likes of Whitney Houston and Aaliyah. Still, there's only one crowning glory Britney's overdue to reclaim and that's another successful VMAs performance, plus the completion of her longest-running era: VMAs Queen.