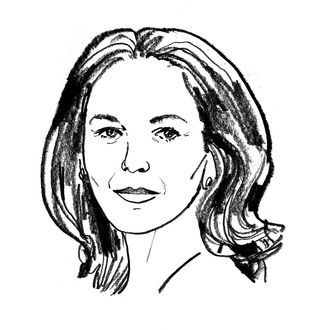 Diane Lane.
Illustration: Lauren Tamaki
Nearly 40 years ago, Diane Lane acted in Joseph Papp's production of Chekhov's The Cherry Orchard; this fall, at 51, she returns to the play as tragedy-beset heroine Madame Ranevskaya. Though Lane is best known for her sultry onscreen presence, her theater roots run deep: She began acting as a child, with the experimental La MaMa theater in the East Village, and then graduated to musicals, Shakespeare, and Greek drama. While Simon Godwin's new production (adapted by The Humans Tony winner Stephen Karam) isn't technically her first time on the Great White Way, "this," she says, "feels like my Broadway debut."
La MaMa in the '70s must have been a wacky place for a kid.
I was so young that it literally was my world. Life or death for me at, like, 7. I made every mistake there was, whether it was falling asleep backstage or forgetting to pee beforehand. Playing dead is difficult with a full bladder.
When you last did The Cherry Orchard, the cast included Meryl Streep and Raul Julia. Did you have a sense of their talent back then?
Raul was one of the great gentlemen of all time. He would play jacks with me backstage. Meryl was very gracious; one time she allowed me to go into her makeup bag! I feel like I'm cheating getting to be in two productions of this play in my lifetime.
Can you describe the feel of Stephen Karam's adaptation?
It's alive and accessible, and it conveys everything that is intended to be conveyed. It's not distracting. But adaptation is a slippery slope, right? Language is language, and when you have pentameter and things like that, there's a specific set of obstacles. But this is not poetry we're toying with in that regard. Prose is a little more available for adaptation. I think Chekhov would feel quite blessed to have this sort of crisp, sincerely heartfelt filtration system to bring his play to people, and not have it caught in a historical vacuum.
Do I have it right that, for a while, you'll be going back and forth between Chekhov and playing Martha Kent as you film Justice League?
I have to fly to London, film Justice League, do rehearsals, fly back, do more Justice League, then come back to rehearsals. It's hard to juggle mentally. It's like saying, "Don't pay attention to the salamander in your sandwich." You can't not do it. Like, No, no, that's not supposed to be there! I'm basically in denial. I'll do both and do it well, but I'll be glad when that very poor scheduling is behind me. I love Martha Kent, but she's getting awfully close to my Madame Ranevskaya, and that's a bit confounding.
*This article appears in the August 22, 2016 issue of New York Magazine.