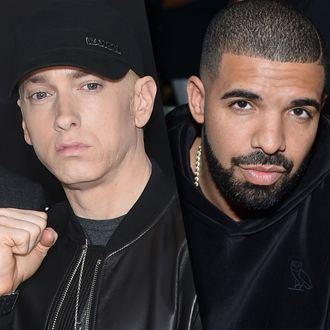 Update (August 5, 9:15 a.m.): Ebro has admitted he made the whole thing up, so Drake and Eminem will probably not be going at it any time soon. We regret the error.
As all well know, Drake is a super-successful artist who doesn't have to answer challenges from artists who are not also super-successful. Yet, for the past month he's been engaged in a feud with Joe Budden, a veteran emcee from New Jersey who dared to criticize Drake's Views on a podcast. Drake's sent out a few subliminals on a record; a few direct shots on the concert stage; a few bitter, angry DMs to Budden on Instagram; and a few stans to Budden's house. Meanwhile, Budden's released four diss tracks. (Details can be found here.) All in all, it's been a rather insubstantial beef so far: Drake's status is never going to be threatened by a figure as obscure as Budden, even if Budden's disses hit home.
But now Drake may have found an opponent in the same weight class. New York hip-hop commentator Ebro let slip on his Hot 97 morning show that when he informed Drake that Eminem (Budden's label boss) might be leaping into the fray to protect his vassal, Toronto's biggest star responded that, rumor or not, he was prepared: "I [Ebro] told Drake that I heard the rumor was Eminem was going to gear up to come after him. He laughed. He was like, 'That's not gonna happen.' He's like, 'He'd never do that. And if he did, I got something for him, too.'"
This might all just be smoke: Ebro's track record with regard to truth in rumors is mixed. But on the chance that Ebro knows what he's talking about, we're facing the largest rap beef in well over a decade.