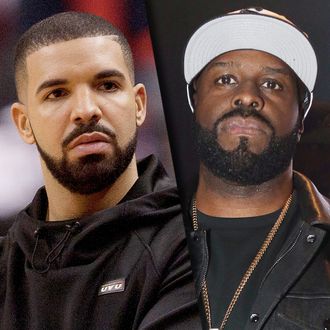 Grab the popcorn.
Photo: Getty Images
Trigger fingers turn to Twitter fingers turn to, well, a comical beef with New York City rap radio. During the first of his four-night run at Madison Square Garden on Thursday, Drake turned his attention to a new foe: Hot 97. Earlier this week, one of the radio station's hosts, Ebro, claimed on air that he and Drake had had a conversation in which Ebro informed Drake of a rumor that Eminem would drop a diss track against Drake in response to Drake and Em's label signee Joe Budden's brewing feud. Both Drake and Eminem's manager Paul Rosenberg commented with social media side-eye and, later that day, Ebro admitted he made the whole thing up — both the rumor and the conversation — to troll the media. But as rap beefs go, the dust has far from settled.
In a freestyle at last night's concert, Drake called out Hot 97's "lies" and announced that he wants longtime Hot 97 staple DJ Funkmaster Flex fired or he won't be back on the station. (It had also been reported that Drake said "Fuck Hot 97," but there's no footage to confirm this.)
But to understand Drake's ire and why he specifically came for Flex and not our court jester Ebro, it's worth looking back to at least last year. (Though Drake's contentious relationship with all of NYC hip-hop radio has longer history than that.) Amid the Great Rap Beef of Summer 2015 that was Drake versus Meek Mill, Flex stoked the fires when he dug up reference tracks of Drake's purported ghostwriter Quentin Miller rapping Drake's songs and exposed them on live radio. Meddling even further, he then spent days hyping up Meek Mill's diss-track response, only to have it land on his show with a resounding thud. That Drake would now give Hot 97 the ultimatum of firing Flex or never getting Drake to appear on their station should come as no surprise.
Even less surprising: Flex has already threatened to retaliate and Ebro's on damage control.