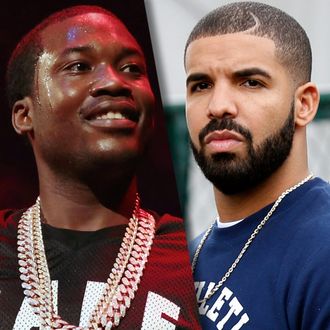 It never ends.
Photo: Getty Images
Okay, so technically Drake's reason for being in Philadelphia on a Sunday night was to perform at his and Future's Summer Sixteen tour stop in Pennsylvania. But we all know his true purpose for stepping across enemy lines: to disembowel his go-to sparring partner on his home turf. Not since Drake and Meek Mill's infinite beef began last summer had Drake set foot in Philly, but when he did, he certainly made his presence known. "You not really from Philly and they can tell," Drake fired off his first warning shot in altered lyrics to "Still Here," as if to personally deport Meek from his own city.
And just in case the you there felt open to interpretation, allow this added boast to the only Grammy-nominated track to emerge from this beef, "Back to Back," to clear things up: "I even did this shit in Philly, man, I never run." But no jab bruises like the smug presumption that your rival has nothing better to do than watch your every move — trust Drake to aim below the belt. His parting message: "Just remember, when you watch that video over and over tonight, it's not about your city, I love your city. You did that shit to your motherfuckin' self, boy."
Reports suggest that Meek Mill sent a crew of his Dreamchasers (read: goons) to confront Drake after the concert. In a since-deleted Instagram post, Mill alluded to the ambush, noting that he had to call off the dogs because Drake was being escorted out of the venue by Philly police and his one-man security detail, J Prince, who tagged along with Drake on the tour as it neared Philly. (Meek was previously accused of having his crew assault Quentin Miller, whom he had implicated as Drake's ghostwriter.)
Whatever the truth here, Drake, of course, had the last vague word the on road:
I will never develop an addiction to fiction. It's for getting at the truth when the truth isn't sufficient for the truth.