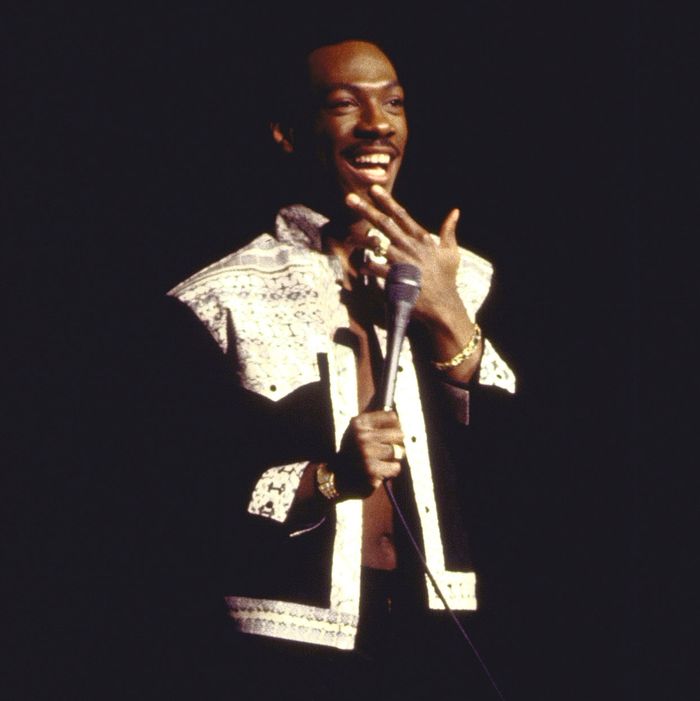 Actor/comedian Eddie Murphy performing stand-up at Radio City Music Hall. (Photo by Kevin Winter/DMI/The LIFE Picture Collection/Getty Images)
Photo: Kevin Winter/The LIFE Picture Collection/Getty Images
Eddie Murphy is thinking about doing stand-up again. This much is clear. For years, it's been discussed in the comedy community that he watches as much contemporary stand-up as he can — specials, half-hours, even late-night sets — to stay up on what's current. Now, thanks to an awards-season press tour for Mr. Church, he's talking about it more publicly. He mentioned it during an appearance on THR's Awards Chatter podcast last fall, saying, "For years I'd been procrastinating about it, going, 'Oh, I'll do stand-up again,' and it just got to, all of a sudden, I'm this far away from it. But honestly, now I really am curious about doing it again because it's been so long and so much has changed and I'm such a different person." He told Vulture's Stacey Wilson Hunt that "one day" he'll come back. He said to the L.A. Times, "One day I'll go full circle and do it." On Jimmy Kimmel Live he seemed genuinely interested in seeing "what would come out" of a return to the stage:
If that were to happen, it would be extraordinary. Murphy was the biggest stand-up of the '80s, a precocious talent in his early 20s who could pack in large audiences with an act that was both exhilarating to watch and, at times, in hindsight, cringe-inducing in its immaturity. As one of the funniest people to ever live, the idea of him doing stand-up again, now with added perspective, is thrilling. It would also expose Eddie Murphy the stand-up to new audiences, ones that know him primarily from Shrek, if they even know he was in Shrek. But there's a critical step Murphy will need to take along the way from "if he's going to come back" to "when he's going to come back," and that's figuring out how, exactly, he's going to come back.
It's not unusual for artists in other disciplines to step away from the spotlight for a period of time — plenty of established writers, actors, and musicians have done so, generally with the knowledge that they can likely pick up where they left off. It's much more complicated for comedians. They can't "play the hits" onstage in the way that a reunited band might do, since doing old material is typically a no-no. (Big stand-ups can get away with it in their encores.) Nor can comics simply write new material at home and have it be ready for a theater tour. A stand-up has to shape his or her routine in clubs for months before they can feel comfortable with it. Even if Eddie Murphy spent weeks writing jokes and then practiced them in front of a mirror with a wooden spoon as a microphone, it wouldn't prepare him to deliver them in front of an expectant audience. I've heard comedians say that stand-up is the only art form that you forget how to do if you don't do it for a week. Murphy hasn't done it for decades.
If you want to see how hard it is, watch 2002's Comedian, a documentary that's in part about when Jerry Seinfeld tried to come back to stand-up without any of his old material. In an interview for Judd Apatow's book Sick in the Head, Chris Rock called Seinfeld "one of the cockiest bastards ever to live," yet you wouldn't be able to tell that from this clip:
And Seinfeld is a writer, one who crafts jokes on paper for weeks before saying them onstage. The task is even more difficult for stand-ups like Murphy who "write onstage," which is the practice of going up in clubs with the kernel of an idea and developing it over time by talking through it. Dave Chappelle's performances earlier this decade, six or so years after he left Chappelle's Show, showed the perils of that technique, with reports of audiences being vocally frustrated by his set's looseness. Audience heckling at the Hartford stop on the Oddball tour got so bad that Chappelle infamously read a book until his contracted time had elapsed, and then walked offstage. Not every performance was that bad, but those instances illustrate how rough things can get when fans expect the genius they watched for years on TV and movies, only to get a star comic working on fresh material.
Most up-and-coming comedians can work on their material in a sort of vacuum — they can go up in clubs and bomb, or at least say whatever they want, without concern about it getting out. If Eddie Murphy, however, dropped into the Comedy Cellar, you'll know about it. (See: Jon Stewart's 2015 drop-in.) You'll know what he said and you'd definitely know if he said something possibly objectionable. Look at what happened to Chappelle a few days before the election, when he was preparing to host SNL and working through his feeling about both candidates. That potential for the word to get out is what kept Murphy away in the first place.
"I had stopped doing stand-up because it had stopped being fun, and the reason it stopped being fun was it was harder to write," he told Awards Chatter. "If I went to the club and tried out a bit, the next day it could be like, 'Oh I saw Eddie was onstage at the so-and-so and he said yadda yadda,' and I'd be like, 'Man, I ain't even finished that bit yet!'"
As he points out, this was before the internet. It's a reason Chris Rock hasn't filmed a special since 2008's Kill the Messenger. "Every big stand-up I talk to says: 'How do I work out new material? Where can you go, if I have a half an idea and then it's on the internet next week?'" Rock told the New York Times. "Just look at some of my material. You can't imagine how rough it was and how unfunny and how sexist or racist it might have seemed. 'Niggas vs. Black People' probably took me six months to get that thing right. You know how racist that thing was a week in? That's not to be seen by anybody."
Even if word — or footage — doesn't get out, a returning comedian might encounter the opposite of what greeted Chappelle: audiences being overly nice owing to reputation, or crowds that are simply conditioned to laugh at the comic's rhythms and mannerisms — regardless of whether the material warrants it. In that regard, it can be hard for a famous stand-up to get honest feedback on a new set. Comedians have told me that audiences give famous people five minutes of courtesy laughs, but I've watched comedians like Aziz Ansari and Louis C.K. kill for upwards of twenty in small rooms with material that needed work simply because of charisma and audience niceness.
It's part of the reason Steve Martin stopped doing stand-up decades ago: People were laughing at everything — the setups, the cadence of his voice — opposed to the actual jokes. If Murphy came back, with his unparalleled energy, and was developing his set in small clubs, it would take a long time for the audience to calm down enough for him to be able to accurately judge their reaction to his jokes. Look at what happened when he did a couple jokes at the Mark Twain Prize ceremony: He destroyed simply by trying to be funny at all.

All of this is not to say it's impossible for Murphy to come back, but rather to point out how impressive it will be when he does. Here's how it could go: A comedian friend suggested he could hole up in a smaller room, like the Belly Room at the Comedy Store in L.A., for a couple of weeks to get his legs back, especially since certain clubs have gotten incredibly vigilant with throwing out anyone they see taping on their phone. It worked, for example, when Chris Rock was building his Oscars monologue. Rock, who is committed to releasing two specials in the coming years, is pushing out a little further now, dropping in on clubs and shows, and having the MC give the audience a warning not to record. I was at a show recently where Rock dropped in at the end and performed for an hour. I use the word "perform" loosely, since throughout the set Rock would intentionally kill the momentum and speak without his signature inflection. He wasn't trying to entertain, he was just trying to learn where the juice is — and he said things that were undeniably offensive, with only a glimmer of what the bit will eventually become. As long as no one talks about it, Rock doesn't care if he sucks for an hour. It's how he develops a show.
It's similar to Chappelle's attrition-based approach: He didn't care about bad press and objections from a paying audience because it weeded out bad fans, and he has the fortitude to stay onstage for so long that the audience no longer likes you enough to give you free laughs. It worked, as his Radio City Music Hall residency proved. More recently, Chappelle has worked with the company Yondr (as has Louis C.K. and Hannibal Buress), which asks audience members to put their cell phones in a locking pouch, providing him the security to work on the new stand-up special he will release on Netflix next year. Murphy can learn from both Chappelle's Radio City shows and his current efforts: Working with Yondr or the like seems like a no-brainer, but Murphy would also do well to pad his eventual show with other entertainment. Chappelle's Radio City shows were about Chappelle, but often he'd open for a musician, reframing the expectations put on the stand-up.
That's largely how Judd Apatow, who quit stand-up about seven years into his career and then decided to try it again a few years ago, has built his act. Other than a couple of drop-ins here and there, he performed mostly at Judd Apatow & Friends shows. He was never the sole attraction, so he got to slowly build an act without worrying about people going home and blabbing about it. When he played Carnegie Hall last fall, for instance, people talked about Adam Sandler's new version of "The Hanukkah Song," not Apatow's material. He's now reached the point of being able to do a full hour and is comfortable enough to be seen in clubs around L.A., doing up to five sets a night. This is essentially what Steve Martin did, too: Before doing a more traditional stand-up set for the first time in 35 years, he sneaked jokes into his banjo performances for years.
Based on what Murphy told our Stacey Wilson Hunt, that will likely be his approach. "Just me coming out and doing jokes — 'What is going on, America?'" he said to her. "I can't see doing myself just that." Or as he explained to Awards Chatter, "I'm curious as to what it would be like if I got onstage, but, if I do that, whoever comes to see it has to sit through a bunch of my shitty songs." But however he prepares for a potential return, Murphy will have to steel himself for the one thing no comic — up-and-comer or veteran, unknown or legend — wants to do: bomb