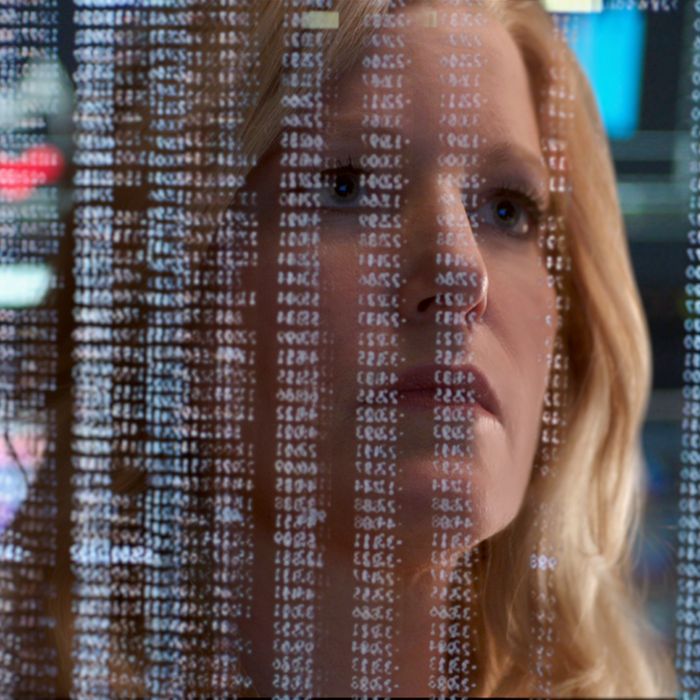 Photo: Broad Street Pictures
When Equity director Meera Menon sat down last year with Sarah Megan Thomas and Alysia Reiner, the producers of a project being called the "first female Wall Street movie," she got way more than the typical pitch.
"They were like, 'We're going to release it next summer when Hillary's the candidate, and it's going to be perfect in terms of the conversation we can have in the press,'" Menon recalled. "And I was like, 'Okay, guys. First of all, it could take a lot longer to find distribution. Let's manage our expectations about indie film.' But the timing worked out perfectly."
That it did: This weekend, Equity goes into wide release as Clinton continues to firm up her lead over Republican presidential nominee Donald Trump. While the movie is basically apolitical and has no explicit connection to the Democratic candidate, it's something of a spiritual cousin to Clinton's campaign. Following an investment banker played by Anna Gunn, who must contend with sexism, corruption, and the typical cutthroat aspects of the financial world, Equity is a film about what it's like to be a powerful woman in a world still predisposed toward male authority and influence. And as the work of female producers, writers, directors, and stars, the movie itself is a calling card for ambitious women striving to tell their own stories.
Thomas and Reiner both have long-running careers as producers and actresses (Reiner plays Fig on Orange Is the New Black), and, in making Equity, they sought to bring a new perspective to a familiar movie setting. "I have a lot of friends in New York City who work on Wall Street, and I love Wall Street movies, but I've always been frustrated by the females I see on-screen — the token female banker in the background," Thomas said. "I wanted to tell a story about these complex women. Then when I started doing research, I was like, Oh my God, no one's ever done this."
While developing the concept, they decided on an approach that yielded one of Equity's most interesting qualities: It presents a morally ambiguous, realistic Wall Street, in which the movie's female characters are afforded the narrative space to be selfish and ambitious and money-driven in a way that's usually reserved for men. Possibly as a result, this might be one of the most sympathetic portrayals of the finance industry in years. It isn't pro- or anti-Wall Street so much as it simply depicts the toll it takes to succeed in that world, particularly for the women who make up a tiny minority of its members.
To achieve that, Thomas and Reiner — who also act in Equity — did their homework. One executive producer is a banking veteran named Candy Straight, who Thomas describes as being among the "first generation of Wall Street women." Straight helped introduce the pair to the sorts of women who they were hoping to portray, many of whom would ultimately help finance Equity — making it a film both about and of their world. The Big Short, this is not.
The movie's realism also comes from Gunn's work in the lead role. Her believability is twofold. First, she extensively researched how these women behaved and conducted themselves in the workplace, attending mock IPOs and speaking to bankers who told her that, often, when they were the only women in a room full of 30 men, they actually found themselves at an advantage.
"I remember one woman said, 'When I know that I'm going to be the bad guy, I wear a pink suit, because pink is not intimidating,'" Gunn said. "You learn to use the positive things about being a woman to your advantage. This is a generalization, but the fact is that, instead of strong-arming people, women tend to talk to these men about why they should come work with them, and really get to know who they are. There's a much more personal sense of how they go about their business."
Second, at 47, Gunn is actually an appropriate age for the character she's playing — and her love interest, played by 52-year-old James Purefoy, is her peer. "One of the reasons we cast Anna is she has a realness to her," Thomas said. "We really wanted this to be a real woman on Wall Street and not necessarily a younger, Hollywood-ized version."
Reiner added, "We didn't want — though she's a spectacular actress — the Jennifer Lawrence version of this movie."
This faithfulness to depicting real life on screen can be rare even in the indie sphere of filmmaking, and it's the ingredient that truly helps Equity make an impression — and potentially an impact on its genre. But Thomas and Reiner don't intend to stop here: From the start, they wanted to spin the characters off into either a sequel or a TV show, the latter of which their agents were exploring when I talked to them. They timed the release to Clinton's campaign, but with this kind of foresight, I suggested, they might be the ones who should be running for office.
"Give us a couple of years," Thomas said, smiling.