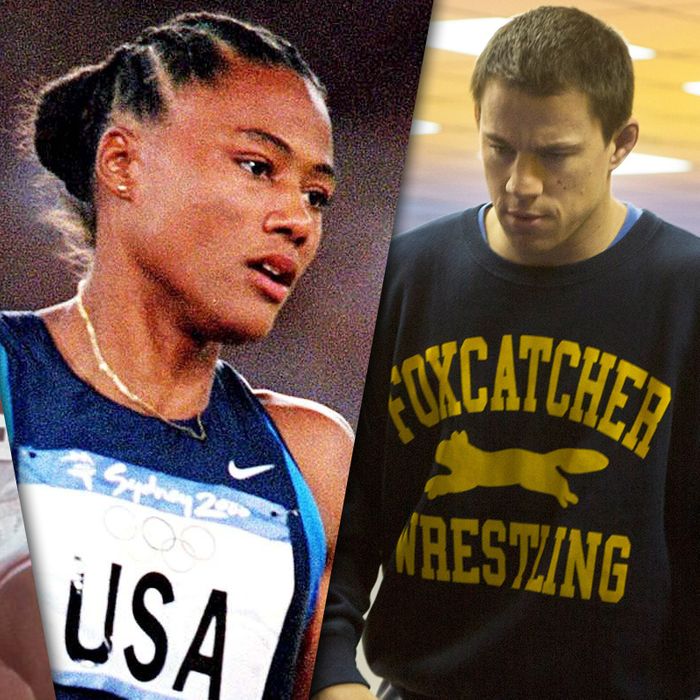 Photo: Hollywood Pictures, Getty Images, Annapurna Pictures
The Olympics have ended. That means no more inspirational GIFs. No more prep-room shade from Michael Phelps. No more of Laurie Hernandez's emoji faces. But it doesn't have to mean no more Olympics. If you've got a hunger for more stories of sporting glory (or at least the pursuit thereof), check out any of the ten Olympics-themed documentaries and narrative films available on streaming (and the many more available on pay VOD). And rest assured: None of the movies involves commercial breaks every 30 seconds.
Chariots of Fire (Narrative, 1981): A classic by any measure, Chariots of Fire is the story of two British track athletes competing in the 1924 Olympics. Eric Liddell is a Scottish Christian running for God and country, and Harold Abrahams is an English Jew bent on overcoming the prejudice leveled against him. It won four Academy Awards, including Best Picture and Best Original Screenplay. Watch it, then go to the nearest beach or park or quiet side street and do your own slow-motion run to the movie's iconic theme song. (Amazon w/ Starz subscription)
Do You Believe in Miracles? The Story of the 1980 U.S. Hockey Team (Documentary, 2001): Truly no Olympics binge guide would be complete without at least one exploration of the Miracle on Ice (and this list has two). Celebrate the American underdogs with this documentary featuring interviews with Team USA icons Jim Craig, Mike Eruzione, Jack O'Callahan, coach Herb Brooks, manager Craig Patrick, and even a few members of the Russian squad, like Vladislav Tretiak and Boris Mikhailov. Then relive your father's glory of ABC announcer Al Michaels asking, "Do you believe in miracles?" as the game clock expired on that night in Lake Placid. (HBO Go)
Foxcatcher (Narrative, 2014): While Foxcatcher doesn't take place during the Olympics like most of rest of the movies here, it tells the story of an Olympic hopeful and the eccentric benefactor who fancied himself a kind of savior of American amateur wrestling. This dramatization of the real lives of John du Pont, Mark Shultz, and his brother David is a slow burn kind of drama that is at times flat-out slow, but the primary actors involved in bringing the story to life — Steve Carell, Channing Tatum, and Mark Ruffalo — deliver strong performances in what is a truly unsettling biopic. It's got betrayal, squandered money, heavy emotional manipulation, and murder — all carried out in the name of sweet Olympic gold. (Amazon w/ Starz subscription)
Hitler's Olympics (Documentary, 2016): One of the strangest Olympics in history was the one that took place in Berlin in 1936, because it effectively functioned as an international cotillion for Hitler's rising Nazi regime. The torch carrier ran down a corridor lined with swastikas, and the official emblem of the Games was the formal symbol of the Nazi Party, an eagle carrying a swastika in its talons. World War II was still three years away, so these images were not yet synonymous with tyranny and genocide, but watching an examination of it makes for a truly strange time capsule. (Netflix)
Prefontaine (Narrative, 1997): Ah, the good old days of Jared Leto, before he was modern-era Jared Leto. This movie chronicles the too-brief life of Steve Prefontaine (Leto), the University of Oregon long-distance runner known around his college town as Pre. He captured the national spotlight, broke an assortment of records, and competed at the 1972 Olympics in Munich, but was killed in a car crash at age 24 (er, spoiler alert) before being able to make a second run at Olympic honors at the 1976 Montreal Games. (Netflix)
Team Foxcatcher (Documentary, 2016): Once you've watched the fictional Foxcatcher, you could either Google all the people who were depicted or just watch this documentary about them. Learn about the real John du Pont, his slide into mental instability, and the strange oasis he created for himself at Foxcatcher Farm in Pennsylvania, where he trained young wrestlers with aspirations to be a part of the U.S. national team. For an even deeper dive into the du Pont story, check out the "30 for 30" documentary The Prince of Pennsylvania, also on Netflix. (Netflix)
The Peaceful Warrior (Narrative, 2006): Peaceful Warrior is based on the book Way of the Peaceful Warrior, an autobiographical account of author Dan Millman's experience as a competitive gymnast. It's more of a philosophical journey that it is a physical one, and it leads Millman to competing in the U.S. Olympic trials. Like Foxcatcher, it's light on Olympics, though the Games serve as a catalyst for the rest of the story. (Hulu w/ Showtime subscription)
30 for 30: 9.79* (Documentary, 2012): There's an asterisk in the title, which in sports terms means only one thing: steroids (or other banned substances). It's the symbol that will forever accompany the name Lance Armstrong, and the one that was literally laser cut onto Barry Bond's record-setting 756th home-run ball. The "30 for 30" documentary 9.79* examines the men's 100-meter sprint event at the 1988 Olympic Games in Seoul, South Korea, about ten years before the Steroids Era really took hold in Major League Baseball. The great American runner Carl Lewis was facing off against his rival, Canada's Ben Johnson, who pulled off a stunning underdog victory in the event. But just days after the race it was reported that Johnson failed a drug test and his gold was stripped. The event was further tarnished by the fact that six of the eight finalists were eventually implicated in doping scandals, waking up the world to the reality of steroids in sports. 9.79* gets into the "intrigue, deception, and favoritism" that has filtered the narrative of the story for years. (Netflix)
30 for 30: Marion Jones: Press Pause (Documentary, 2010): Marion Jones enthralled America when she ran for three gold and two bronze medals at the Sydney Olympics in 2000. Then she was accused of doping, and then she lied about it both publicly and on the stand of a federal grand jury. Finally, on the steps of a White Plains, New York, courthouse, she admitted she doped before and during the Games, which resulted in her medals and records being stripped as well as a six-month jail sentence for perjury. Academy Award nominee John Singleton directed the ESPN "30 for 30" documentary, interviewing sports writers, coaches, other runners, and fans about the fall from grace of Marion Jones. He also gives a lot of attention to her post-prison life, putting the focus on Jones as a mother, author, and even a member of the Tulsa Shock WNBA team. It's a more candid conversation about performance-enhancing-drug use than we're ever likely to get from Barry Bonds, Lance Armstrong, Mark McGuire, or anyone else associated with juice over the years. (Netflix)
30 for 30: Of Miracles and Men (Documentary, 2015): The Miracle on Ice was a great day for sport and ideological triumph in the U.S. of A, but Of Miracles and Men explores the Soviet side of the story, the one in which the players in the Big Red Machine had to bear the shame of losing to their Cold War rival. Director Jonathan Hancock interviews the players and uses plenty of archival footage to give an actual human face to the legend of Soviet hockey that was built by coach Anatoli Tarasov, giving a tale that's been recounted many times here at home a fresh perspective and an additional, crucial layer of context. If you can't get enough of the backstory behind hockey in the U.S.S.R. you can also stream the documentary Red Army on Netflix. (Netflix)
Want even more Olympics action? There are dozens of other titles available for rent or purchase on Amazon, iTunes, and Google Play.

American Anthem (Amazon)
Bhaag Micha Bhaag (Amazon)
Breaking the Surface: The Greg Louganis Story (Amazon)

Cool Runnings (Amazon)
Downhill Racer (Amazon)
Eddie the Eagle (Amazon)
Endurance (Amazon)
Freedom's Fury (iTunes)
Jim Thorpe — All American (Amazon)
Mary Kom (Amazon)

Miracle (Amazon)
Personal Best (Amazon)
Race (Amazon)
Salute (iTunes)
The Athlete (Amazon)
The Bronze (Amazon)
The Cutting Edge (iTunes)
The Cutting Edge: Going for the Gold (Amazon)
The Cutting Edge 3: Chasing the Dream (Amazon)
The Hammer (Amazon)
The Other Dream Team (Amazon)
Touch the Wall (Google Play)
Unbroken (Amazon)
Without Limits (Amazon)