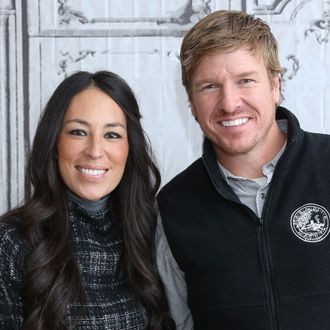 HGTV drama is the best kind of drama.
Photo: Rob Kim/Getty Images
In today's example of why we can't have nice things, the stars of HGTV's hit Fixer Upper have discovered guests from the show have been renting out their newly remodeled homes. The Waco Tribune reports that husband-and-wife duo Chip and Joanna Gaines might revise the conditions of the show's contract so that people gifted fancy new homes renovated and designed by the couple can no longer profit off the Gaines's work. The controversy stems from Fixer Upper fans finding homes in Waco, Texas, that have been featured on the show now listed on rental sites like Airbnb and VRBO, some for as much $350 per night.
According to the report, none of the homeowners intended to flip their homes, but many have since turned their renos into vacation rentals and bought a separate property to avoid the celebrity that comes with living in a Fixer Upper house. While the Gaineses say they have no beef with rental services, they now want to ensure that people aren't going into the show hoping to immediately get rich off their luxe houses and all that shiplap within. Read their statement to the Tribune below:
"We have no problems with our clients' interest in using sites like VRBO and Airbnb to rent out their homes. In fact, we get it. But we are going to be more strict with our contracts involving 'Fixer Upper' clients moving forward. We want to honor our national viewing audience. We want to do remodels for clients' homes. That's the true intent of our show, and we want to ensure that does not get lost in this new vacation rental trend. What started off with perfectly understandable intentions could cast a shadow of a doubt on the much bigger picture, and we are going to do our best to protect that moving forward."