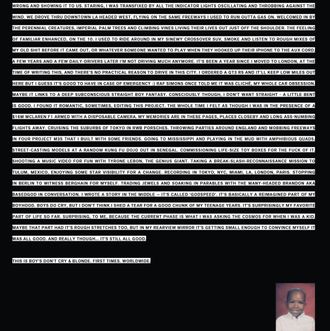 Photo: Frank Ocean/Def Jam
Earlier this evening, while patient Frank Ocean fans in Chicago, LA, London, and New York waited in blocks-long lines for copies of his Boys Don't Cry magazine (and accompanying hard copy of his new album, Blonde, in theory), Ocean provided a tease of the long-rumored publication with a two-page spread from it posted to his Tumblr. Presented alongside a picture of a gold, modded BMW E30 — a favorite model of Ocean's — the essay begins as a rumination on car culture:
How much of my life has happened inside of a car? I wonder if the odds are that I'll die in one. Knock on wood-grain. Shouldn't speak like that. We live in cars in some cities, commuting across space either for our livelihood, or devouring fossil fuels for joy. It's close to as much time as we spend in our beds, more for some.
It proceeds from there to touch on themes of automotive-tinged nostalgia, Ocean's sexuality (and how his car obsession fits in with it), and a general sense of moving through life while continuing to reflect on the formative years behind you. It's a nice read — and unless you're willing to flex your PayPal for a copy of Boys Don't Cry, it's the closest you'll get to the magazine for now. Read the essay in full on Ocean's Tumblr.