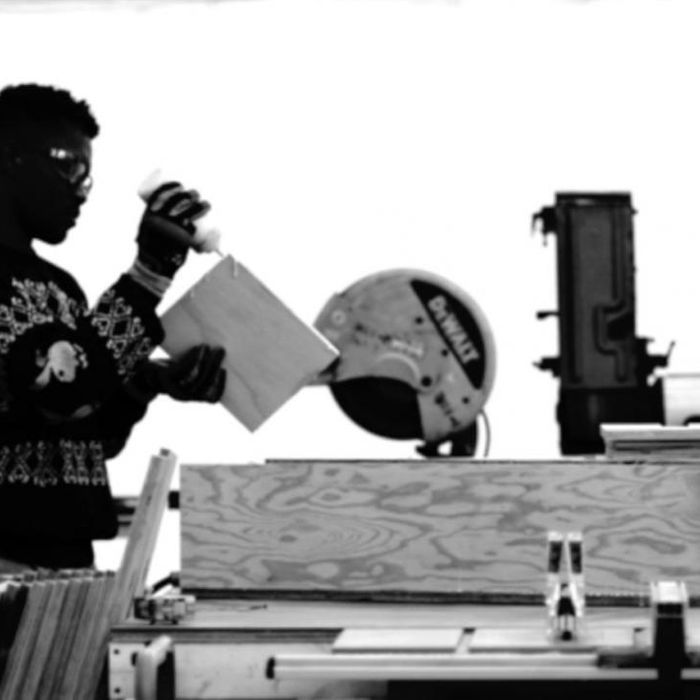 In a year in which Tidal slipped up and leaked the new Rihanna album Anti, and Kanye West staged a Madison Square Garden fashion show and release party for The Life of Pablo, an album he hadn't quite finished, Frank Ocean seems like an unlikely candidate to have the year's most unusual album launch. And yet the weeks of questions that presaged the release of last night's visual album Endless have somehow managed to surpass Pablo, Anti, and even Beyoncé's HBO Lemonade in creating mass, unbridled confusion. Intentionally or not, the weeks-long, Apple Music–streamed carpentry exercise that culminated in Frank building and ascending a set of spiral stairs in time for the Endless drop was a patient deconstruction of a fan thirst that had grown acrid.
After a blown July 2015 release date sent fans spiraling into conspiracy theories that persisted through this summer, as yet another July passed with no album, Frank Ocean needed our faith back. The lengthy video project helped reassert the man himself in an album-launch narrative that his lengthy silence had mired in unfounded speculation. (See the library card stamped with a dozen fan-contrived release dates on Ocean's website for a visual aid of just how out of hand this thing got.) It also reassured us that he wasn't going to ghost on us again. Every time Frank came back to fiddle with another saw or bit of paint, trust grew that he wanted to be an active participant in his celebrity again. The mystery of what was being built, and why, played to the sleuths in his audience, while blasts of blissed-out instrumental tracks interspersed throughout the production hinted that new music actually existed.
When the Tom Sachs stereo at the back of Frank's warehouse began pumping out fully realized songs late last night, we'd learn that we'd been listening to bits of them all along. The instrumental that nicks the opening synth fanfare from Daft Punk's Random Access Memories tour de force "Contact" became a duet with soul stunner Jazmine Sullivan called "In Here Somewhere." A gentle bass figure from the video turned up as the backbone for the summery "Comme des Garcons," a reminiscence about a lover secretly seeing someone else on the side. The recurring four-chord guitar theme of the building sessions anchors Endless's pretty, reflective "Wither." What we couldn't know was that the music we were hearing wasn't the final album at all but an audio/visual companion piece to a still-forthcoming proper Frank Ocean sophomore album, reportedly out later this weekend.
Endless isn't the long-awaited follow-up to Frank Ocean's beloved Channel Orange. It's a sister to his debut mixtape nostalgia, Ultra. Released amid the feverish 2011 outbreak of Odd Future mania, nostalgia was a power play to jumpstart Frank's career after a deal with Def Jam left Ocean signed to a major label but still struggling to find footing. The mixtape showcased Ocean's singer-songwriter wares over a string of new and borrowed instrumentals. Smart, sultry originals like "Novacane" and "We All Try" sat alongside Frank's takes on popular Coldplay and MGMT songs of the era, the pairing hinting at a sprawling taste the same way Drake's So Far Gone posited him as the son of Houston Screw music and '90s R&B. Endless revisits nostalgia's restless creativity at a point in Frank's career where fans need a reminder of his talents.
The refined vocals and cleaner rhyme schemes of Endless are proof the four years between Channel Orange and this summer weren't a vacation. The sharp wordplay of "U-N-I-T-Y" comprises Frank's sharpest turn as a rapper. ("My hand fatiguing off the opus, kept it underground, I focused / I feel afterlife, six under oath, don't want no hocus pocus.") "Wither" foregrounds Frank's emotive delivery ahead of the words, propping a choir of beautifully overdubbed vocal runs over backing vocals from Sullivan. Endless isn't just "Hello again"; it's also a flex of Frank's tighter command of his instrument.
The knock is that this is the first visual album whose video component isn't essential viewing. Watching Frank build stairs to strange, beautiful soul music mere months after Beyoncé dragged cheating men through earth, wind, water, fire, and hit singles renders Endless placid. At best, these stark, monochrome shots of an army of Franks buzzing through work stations extend the Zen repose of the experience of tracking the longform building process to the music. A likely scenario is that this stunt is a challenge to digital-era music fans' impatient, transactional relationships with art and artists, from a craftsman committed enough to spend years completing a project and weeks presenting it. Art takes time. Just wait on it.