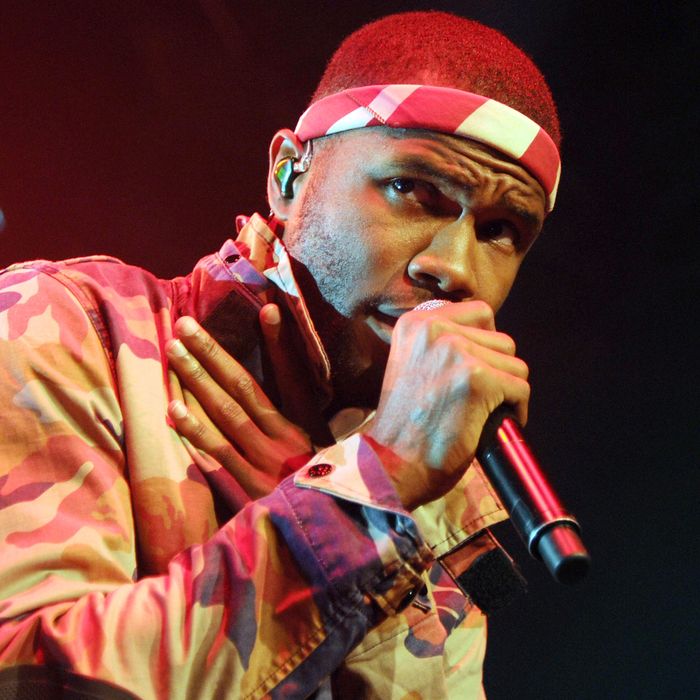 Boys don't cry, but labels do.
Photo: Ilya S. Savenok/Getty Images
To those who remember that Frank Ocean's ascension to solo stardom began with a brief but monumental run on the mixtape circuit, it should come as no surprise he'd look back to his indie roots to move forward. But mouths are agape in astonishment inside the Universal Music Group offices, which is home to Ocean's label Def Jam. Or should we say, ex-label. According to multiple reports, Ocean's mysterious visual album Endless was also his last under his contract at Universal, while Blonde was self-released two days later under Ocean's own newly founded label, Boys Don't Cry. It's said to be a secretly orchestrated power play that's left Universal considering taking legal action against Ocean — but the move could also set an even greater industry-wide ripple effect in motion. Here's what we know so far about Ocean's label fiasco.
Endless belongs to Universal, but Blonde belongs to Frank.
A peek at the fine print on Frank Ocean's four-years-in-the-making Blonde reveals an affiliation with a company named Boys Don't Cry (the album's former name and now the title of Ocean's zine) rather than Def Jam, the label Ocean's been signed to since 2009. In contrast, his visual album Endless had Def Jam listed in plain sight at the end credits. But as was first reported by the Fader and Pitchfork, and later confirmed by multiple outlets, Endless does, indeed, belong to Universal, while Ocean owns Blonde independently. Endless — a 45-minute Apple Music exclusive that has neither the film available to download nor its 18 songs individually streamable, making it the less-lucrative project — appears to have fulfilled Ocean's contract with Def Jam on the sly and freed him to put out Blonde the indie way. (Ocean also self-released his breakthrough mixtape, 2011's Nostalgia, ULTRA.)
Boys Don't Cry, then, is an artist-owned company (similar to Rihanna's Westbury Road Entertainment and Beyoncé's Parkwood Entertainment) through which Ocean himself released Blonde exclusively to Apple Music and iTunes. In doing so, Billboard reports that Ocean will get to keep 70 percent of Blonde's revenue under his copyright, rather than the 14 percent he would've earned under Universal. Blonde is expected to debut at No. 1 on the charts with more than 250,000 album equivalents sold, so you do the math.
This might not have always been Ocean's plan.
For an album that took four years to deliver, it ironically might've only required less than three weeks for Ocean to decide to stiff Universal out of Blonde's earnings while also costing the label one of its biggest names. On August 1, the New York Times cited a "person with knowledge of the release plans" in their report that Ocean's album would be released that Friday, August 5, as an Apple Music exclusive with both a "major video" and "printed publication" involved in the release. The same day of that report, Ocean had also launched his mysterious Endless web stream in the middle of the night. We now know the album never came that Friday, but rather arrived in a frenzied two-part spurt, with Endless debuting just before midnight on August 18 and both Blonde and Boys Don't Cry (the zine) simultaneously on August 20.
According to the Verge, that umpteenth delay in plans was directly linked to the Times report, which allegedly caused Ocean to "push the project back after they lost the element of surprise." Endless collaborator Wolfgang Tillmans has said Ocean was still working on the visual album just three weeks prior to its release — which puts the timing right around the Times report — and was still tinkering with Blonde's cover art (specifically the title's spelling) as of two weeks before the album's release. Could someone from Universal have leaked confidential intel to the Times — perhaps to pressure him into a publicly known deadline he couldn't miss — and, in turn, pissed Ocean off enough to punish them in this way? It's not not possible.
But there's history to Ocean and Def Jam's bad blood.
Tricky Stewart, the producer-songwriter who first signed Ocean to Def Jam, now tells The Fader that the relationship between Ocean and Def Jam was strained from the beginning. "Frank came in with the best intentions of being a great artist to a label. He was looking at it with an open mind. But bringing him into Def Jam was a little bit of a disaster. It was probably, in hindsight, a huge mistake on my part," he says, noting that, at the time, the label perceived Ocean's music as too "old R&B." When Ocean self-released nostalgia, ULTRA out of frustration, Stewart says the label didn't know it was Ocean getting widespread buzz because Def Jam hadn't known Ocean legally changed his name. Stewart also says Def Jam violated their contract with him by cutting him out of involvement with Channel Orange. As for the apparent end to Ocean's contract with Def Jam, Stewart has this to say: "At the end of the day, I think Def Jam created a monster that they couldn't control. He just treated them how he was treated."
Universal could have a legal case against Ocean.
Further building the argument that the schism between Ocean and Universal occurred recently, Billboard reports that, in July, they were told Ocean's label had put up at least $2 million for him to make the album. The magazine now says it has learned Ocean may not have touched that money, instead funding Blonde through either a "private benefactor" or his Apple Music deal, and reimbursing Universal. (That Apple deal, by the way, can be procured sans label interference, as Chance the Rapper exemplified this year.) The question is: Does it all check out legally?
Ocean presumably turned in Endless as his final Def Jam release under the assumption two albums were all his contract with Universal bound him to. But as many have noted, it's unusual that a major label record deal would require only two albums or allow an artist to release a project on another label so soon after doing the same on theirs. However, a source told BuzzFeed, "Sometimes the label just says, 'You know what? You're not happy with us, we're not happy with you. We're not good partners. Best of luck to you.'" Bottom line: If Ocean used industry loopholes to his advantage, he's likely in the clear. But if he made even one suspicious move that violated the terms of his contract, we could see this fiasco play out in court. Billboard reports that Universal is already considering it.
Ocean's actions might've set a new precedent for Universal and the rest of the industry.
Let's say Ocean did go about his coup in ways that won't get him sued, Universal could still exact its revenge on his peers. Music analyst Bob Lefsetz first reported (and BuzzFeed has since confirmed) that Universal's CEO Lucian Grainge sent an email to his company this week announcing that the label (and all its subsidiaries) will no longer agree to streaming exclusives. However, a source tells BuzzFeed that it's not an outright ban (several Universal artists are co-owners of Tidal, after all) and that short exclusivity periods are still on the table. But overall, and seemingly in the wake of Ocean using Apple Music to get out of his contract, Universal now sees streaming exclusives as a liability. "Our view is that giving exclusives to individual streaming platforms for long periods of time is not good for the artist, it's not good for the fans, and it limits the commercial opportunity for everybody involved," says BuzzFeed's source. Translation: Boy's don't cry, but labels do.
This post has been updated throughout.